How To Make Pumpkin Pie From A Can For Thanksgiving: Easy, 7-Step Recipe To Bake The Perfect Dessert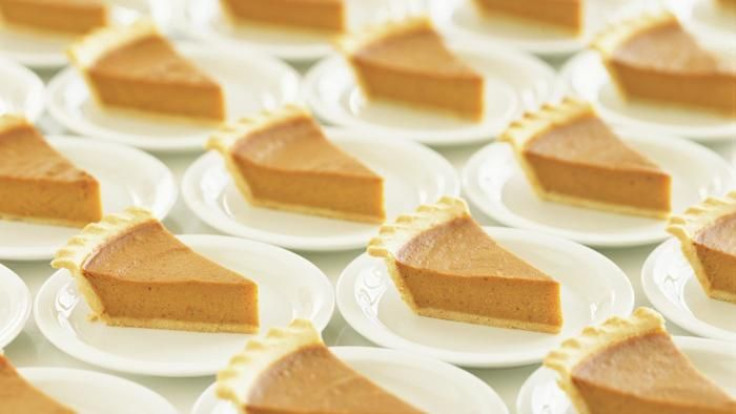 No Thanksgiving is complete without a scrumptious pumpkin pie. But there's no need to spend hours in the kitchen rolling out dough or pureeing raw pumpkin. You can make the perfect pie in minutes with store-bought dough and canned pumpkin, and still take all the credit. Here are three quick and easy recipes for how to make pumpkin pie from a can, including vegan and gluten-free options.
First, let's differentiate between canned pumpkin and "pumpkin pie filling" or "pumpkin pie mix" in a can. The two are generally found near each other on the shelf in the baking aisle in your local grocer. But canned pumpkin is just that -- cooked, pureed pumpkin. Pumpkin pie filling or mix is cooked, pureed pumpkin that's been sweetened with sugar and flavored with spices. Be sure to buy the right one for your recipe.
Simple Pumpkin Pie: This pumpkin pie recipe uses canned pumpkin. After sweetening it and adding spices, you can pour the filling right into a frozen, ready-made pastry crust from the supermarket -- no defrosting necessary.
Ingredients:
One 15-oz. can of cooked, pureed pumpkin
One 14-oz. can of sweetened condensed milk
2 eggs
3 teaspoons of pumpkin pie spice
1/2 teaspoon of salt
1 unbaked, frozen pie shell
Directions:
Preheat your oven to 425 degrees Fahrenheit.
Whisk together two eggs, the canned pumpkin, sweetened condensed milk, pumpkin pie spice and salt in a bowl.
Place the unbaked, frozen pie shell on a baking sheet and pour the filling into the shell. The filling should come almost to the top edge of the crust.
Put the pie into the oven and bake for 15 minutes.
After 15 minutes of cooking, lower the oven temperature to 350 degrees Fahrenheit and bake for another 30 minutes.
Insert a knife into the center of the pie. If it comes out clean, then the pie is done. If it's not ready, continue cooking for an additional 5 minutes.
Let the pie cool completely before serving.
No-Bake Pumpkin Pie: Don't have an oven? This recipe uses pumpkin pie mix and requires no baking. Can't get much easier than that!
Ingredients for the crust:
1 1/4 cups of graham cracker crumbs
1/4 cup of granulated sugar
1/2 teaspoon of ground cinnamon
6 tablespoons (3/4 of a stick) of butter, melted
Directions for the crust:
Combine graham cracker crumbs, sugar and cinnamon in a bowl.
Stir in the melted butter.
Press the mixture onto the bottom and up along the side of a 9-inch pie plate.
Refrigerate the crust while making the filling.
Ingredients for filling:
One 30-oz. can of pumpkin pie mix
1 egg, lightly beaten
1/4 cup of brown sugar, packed
4 teaspoons of unflavored gelatin
1 cup of whipped cream
1 teaspoon of vanilla extract
Directions for the filling:
Combine pumpkin pie mix, egg, brown sugar and gelatin in a medium saucepan.
Cook the mixture over medium heat, stirring constantly for about 3 to 4 minutes, or until the mixture begins to boil.
Remove the saucepan from heat and pour into a large bowl. Cover and refrigerate for 45 minutes or until the mixture is partially set.
Fold the whipped cream and vanilla extract into the mixture.
Spoon the filling into the chilled pie crust. Refrigerate for about 3 hours or until firm before serving.
Easy Vegan, Gluten-Free Pumpkin Pie: Unfortunately, most pumpkin pie filling or mix that comes in a can is made with dairy. But this entire recipe contains just 10 ingredients and is vegan and gluten-free. If you don't have time to make the crust from scratch, purchase an unbaked, gluten-free pie shell from your local health food store.
Ingredients for the crust:
6 tablespoons of cold vegan butter or chilled coconut oil
1 1/4 cup of gluten-free flour
1/4 teaspoon of salt
4 to 6 tablespoons of ice cold water
Directions for the crust:
Add gluten free flour and salt to a large mixing bowl and whisk to combine.
Add the cold vegan butter or coconut oil into the dry mixture one slice or dollop at a time, working gently with a fork to cut it in until it's incorporated.
Add the ice cold water one tablespoon at a time, using a wooden spoon to stir. Only add as much water as you need to help the dough come together.
Once a loose dough is formed, transfer to a piece of plastic wrap and work gently with your hands to form a 1/2 inch thick disk. Wrap it up and refrigerate for a minimum of 30 minutes or up to 2 days.
Once the dough is chilled, preheat your oven to 350 degrees Fahrenheit and prepare the pie filling.
Unwrap the dough and place it between two large sheets of wax paper or plastic wrap. Using a rolling pin, gently roll the dough into the shape of your pie pan.
Gently transfer the dough to the pan and use your hands to form it into the mold.
Ingredients for the filling:
2 3/4 cups of cooked, pureed pumpkin from a can
1/4 cup of maple syrup
1/4 cup of brown sugar
1/3 cup of unsweetened plain almond milk
1 tablespoon of olive oil or melted coconut oil
2 1/2 tablespoon of cornstarch or arrowroot powder
1 3/4 tablespoon of pumpkin pie spice
1/4 teaspoon of sea salt
Directions for the filling:
Add all the ingredients for the filling into a blender and blend until smooth, scraping down the sides with a spatula as needed.
Pour the prepared filling into the pie crust and bake for 58 to 65 minutes. The crust should be light golden brown and the filling will still be a bit jiggly and should have some cracks on the top.
Remove from the oven and let cool completely before loosely covering with plastic wrap or tin foil. Refrigerate for 4 to 6 hours, preferably overnight, before serving.
FOR FREE to continue reading
✔️ Unlock the full content of International Business Times UK for free
offer available for a limited time only
✔️ Easily manage your Newsletters subscriptions and save your favourite articles
✔️ No payment method required
Already have an account? Log in
© Copyright IBTimes 2023. All rights reserved.