How Much Do iPhone AirPods Cost? Comparing Wireless Headphones Prices, Features For Apple's iPhone 7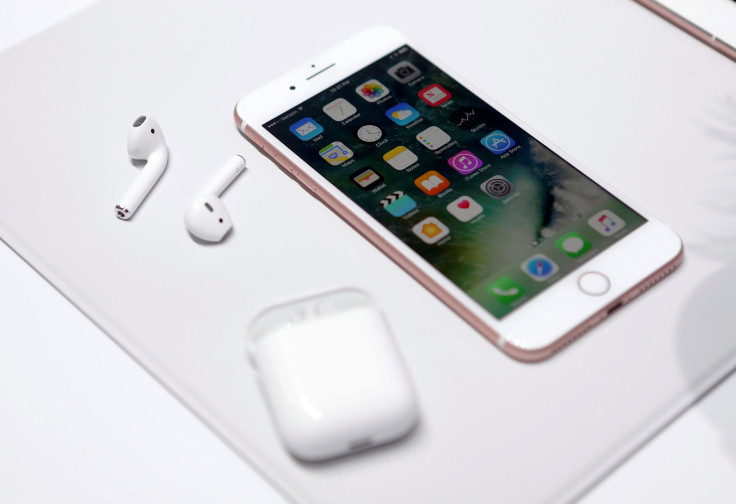 Apple's latest iPhone 7 release and the debut of Apple AirPods, the phone's new wireless headphones, have many wondering what headphones can be used with the next generation of iPhone.
Apple announced Wednesday the ear-plug-like headphones that automatically connect to Apple devices using Lightning ports. The headphones will be available for preorder when other new Apple devices, including the iPhone 7, become available Friday. They will be available for purchase in late October.
The AirPods have been priced at $159. That's a lot of money considering wireless Bluetooth headphones and headphones with the Lightning adapters will also be able to connect to the iPhone 7 devices.
What's more, Apple's new AirPods are not the only compatible headphones that can be worn with the iPhone 7 devices. Lighting-to-headphone-jack adapters will allow users to use any pair of existing headphones.
Wireless Bluetooth headphones will also connect to the iPhone 7 phones. Save for having to be recharged with additional batteries, there are a multitude of Bluetooth devices that will work --- and they're available now. The downside here is the price. Bluetooth headphones tend to hover between $50 to nearly $300 for a set, according to Best Buy.
Here is a break-down of all of the new AirPod features:
AirPods:
-Comes with a lightning connectors, which can produce better sound than headphones plugged into the headphone jack, Vox reported.
-boast high-quality AAC audio.
-automatically pause when you them out of your ears, thanks to optical sensors and motion accelerometers that work with the W1 Chip, according to the Apple site.
-A voice accelerometer recognizes your voice.
-A charging case comes with the pods that holds an additional charge for more than 24 hours of listening time.
-The EarPods connect to the Apple Watch, iPad and Macs in addition to the phones.
-The AirPods can be double-tapped to activate Siri.
-The Airpods' W1 chip manages battery life, making it possible to listen for up to five hours on a single charge.
© Copyright IBTimes 2023. All rights reserved.