How Pippa Middleton, James Matthews Celebrated Friend's Wedding In Ireland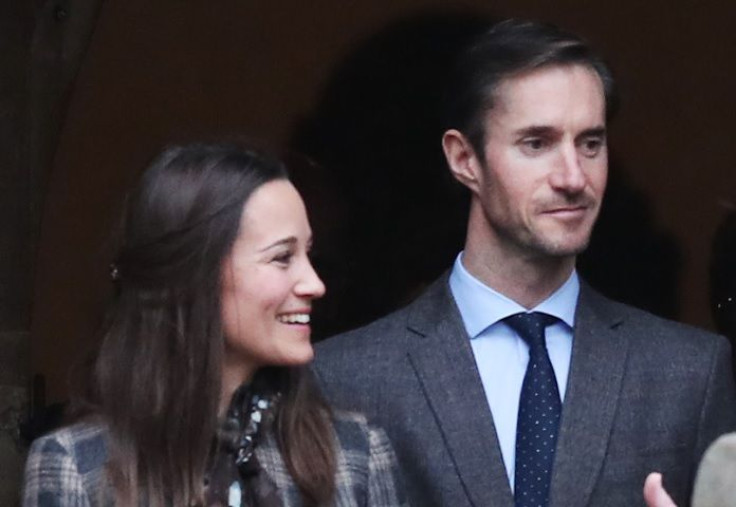 Pippa Middleton, the younger sister of Kate Middleton, the Duchess of Cambridge, headed to Ireland along with husband James Matthews to attend her close friend's wedding over the weekend. The couple was pictured hand in hand throughout the wedding and appeared to be cheerful, according to photos shared by news outlets.
Middleton's friend Camilla Campion-Awwad got married to her longtime partner Oliver Jenkinson on Saturday in Glengarriff, County Cork. The wedding reception was reportedly held at the Derrycreha House, a 19th-century mansion in Glengarriff.
Read: Pippa Middleton, James Matthews Head To Perth During Honeymoon
For the ceremony, the 33-year-old chose to wear a jade knee-length sleeveless dress with a red flower embroidered on it. She accessorized her look with a black floral fascinator and gray high heels matching her gray purse, People magazine reported.
Middleton and Matthews were reported to have planned to stay in the nearby Kenmare town in the south of County Kerry, Ireland. However, they zeroed in on Eccles Hotel on the outskirts of Glengarriff, according to the Independent.ie. The two reportedly socialized with friends and took selfie photographs with the village locals.
Hotel manager Aileen Hanley shared her views about Middleton and Matthews and the couple's stay at the hotel. "We were very blessed to have them down to visit us, it was absolutely fantastic," Hanley said, according to Independent.ie.
"What we did was lay on buses to come back from the wedding venue and they [the guests] started coming back from midnight and they had traditional Tayto sandwiches waiting for them when we got back, with cups of tea. They all loved it. So they had them and went off to bed. It wasn't late at all," Hanley added.
Middleton and Matthews were photographed Saturday while taking a stroll through a village outside the Eccles Hotel. Middleton was dressed in casuals with a white blouse, brown suede jacket with matching shoes and fitted black jeans, according to People magazine. The two walked down the village hand-in-hand and reportedly waved to locals.
This was the second wedding the couple attended since they exchanged their wedding vows May 20. After their month-long honeymoon, the two attended the wedding of Jöns Bartholdson and Anna Ridderstad in Stockholm on June 10.
The couple first began dating in 2012 and parted their ways for a few years after which they got back together. Matthews proposed Middleton for marriage July 2016 in the Lake District of northwest England. Middleton and Matthews got married at St. Mark's Church in Berkshire, England. Her sister, Kate Middleton attended the wedding with her husband Prince William. Their children — Prince George and Princess Charlotte — participated in the wedding as a pageboy and a bridesmaid.
Read: Pippa Middleton Channels Kate Middleton On Honeymoon With James Matthews In Sydney
"This is the wedding Pippa and James dreamed of," a source told the People on May 24. "They said all along they wanted it to be a private family wedding at home in the beautiful countryside with their closest friends and family," the source added.
"It was a wonderful, memorable evening," Gemma Billington, a guest at the wedding told the magazine at the time.
An unnamed invitee added: "It was just a beautiful wedding in the countryside with some very famous guests!"
© Copyright IBTimes 2022. All rights reserved.
FOLLOW MORE IBT NEWS ON THE BELOW CHANNELS