'How A Realist Hero Rebuilt The Kingdom' Episode 24 Live Stream Details And Spoilers
KEY POINTS
Souma wants to help the refugees
"How a Realist Hero Rebuilt the Kingdom" Episode 24 is airing Saturday
The episode will be available on Funimation, Hulu and Amazon Prime
Souma and his allies meet with the refugees and try to help them in "How a Realist Hero Rebuilt the Kingdom" Episode 24. The new episode is titled "It's Been a Long Time Since I Left my Hometown."
The official website has released the synopsis of Episode 24. Souma and his friends, who have been visiting the refugees, decide to help a pregnant woman.
She is having a difficult birth and Souma wants to help her. Meanwhile, not everyone is agreeing with how Souma is envisioning the future. Will they accept his plan for the kingdom?
In the last episode, titled "Gargling and Hand Washing Are the Basis of Disease Prevention," Souma and the others reached a refugee camp, and he explained that these people arrived from the north.
They came empty-handed, but they had a great will to survive. He asked his subordinates to send food packets. He also instructed the adventurers guild to tighten the security around the camp.
Later in the episode, they saw a group of people fighting. Souma was informed that some unidentified miscreants appeared and tried to kidnap the children.
The adventurers decided to fight against these miscreants and Souma also ended up joining this battle.
"Refugees are one of modern society's great challenges, and the Kingdom of Friedonia is no exception. Refugees who had been driven from their lands by invading monsters have gathered outside the walls of the capital and started an encampment," the description of "How a Realist Hero Rebuilt the Kingdom" Episode on Amazon Prime read.
The cast of the anime includes Inori Minase as Liscia Elfrieden, Yuusuke Kobayashi as Kazuya Souma, Yui Ishikawa as Jeanne Euphoria, Yui Horie as Excel Walter, Taiten Kusunoki as Georg Carmine, Tetsu Inada as Gaius Amidonia, Mugihito as Albert Elfrieden, Reina Ueda as Juna Doma, Moeka Kishimoto as Tomoe Inui, Masaaki Mizunaka as Poncho Panacotta, M.A.O as Roroa Amidonia, Kikuko Inoue as Elisha Elfrieden, Kenji Nojima as Julius Amidonia, Kazuyuki Okitsu as Hakuya Kwonmin, Jun Fukuyama as Castor Vargas and Hisako Kanemoto as Maria Euphoria.
Fans can watch "How a Realist Hero Rebuilt the Kingdom" Episode 24 online Saturday on Funimation, Amazon Prime and Hulu. The episode will live stream in Japanese with English subtitles.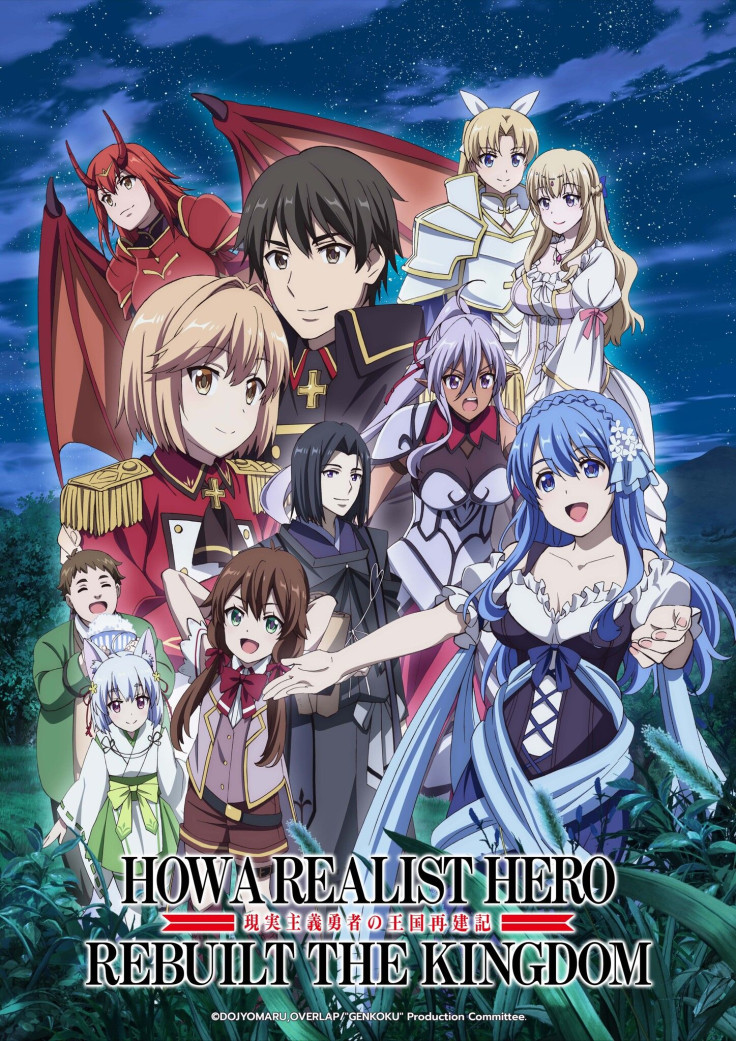 © Copyright IBTimes 2023. All rights reserved.