How Snapchat Bet On A CES 2016 Takeover From Silicon Valley Giants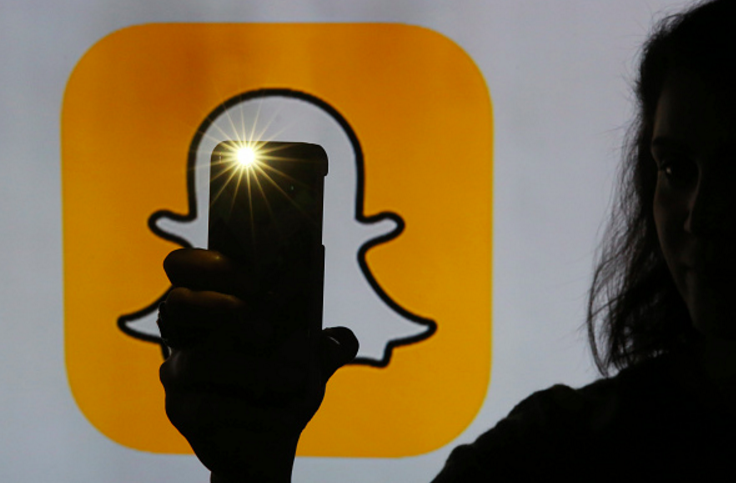 Traditions abound at the Consumer Electronics Show. Every year for nearly 50 years, tech companies have journeyed to Las Vegas to show off new gadgets and preview product updates. Yet, in 2016, perhaps following a favorite Silicon Valley term, one player sought to disrupt for attention.
Snapchat went unconventional at CES. As nearly 170,000 exhibitors and attendees arrived in Vegas, many witnessed a new icon while in the sky or on their first drive to the Strip: Snapchat logo's within a poker chip on the side of the Luxor hotel.
While techies crowded into keynotes and writers planned for embargoed news at CES, Snapchat kept making headlines — without a single public presentation or announcement. First came the Luxor ad. Next, the Wall Street Journal launched on Discover. Then, there were reports of Snapchat creating an ad tech system, which was followed by news of its Lens Store closing. Finally, Snapchat may be developing a service for making financial investments via the app.
Snapchat's presence at CES was not spontaneous or without extensive planning. Its team called the Luxor in October and asked about advertising on the building, whose light can be seen from outer space. Snapchat's executive team organized meetings with clients, just like its competitors, Facebook, Twitter and Google, have done traditionally.
This year, Facebook worked to convince advertisers of its continuous strength and the good of its forward-thinking investments like the photo-sharing app Instagram and virtual reality company Oculus. Twitter's Jack Dorsey revealed the product roadmap to his company's roster of wavering marketers.
All the while, Snapchat had clients eager to find a way to partner and participate in its growth. "When Snapchat came to us, we said absolutely we should do it, and we shouldn't just do it and let it pass," said Beverly Jackson, vice president of social media and content strategy at MGM Resorts International. "This is a monumental moment for our company. This is a turning point for our brand."
Under Vegas Lights
CES 2016 was not Snapchat's first entry in the annual affair. Last year, the company gained attention by creating a Live Story, a public feed of photo and videos, called "Techies in Vegas." The app launched that again this year along with six accompanying geofilters.
But unlike previous years, Snapchat had a more sophisticated advertising system to offer this time. Now, the company has three ad offerings — geofilters, ads in Live Stories and Discover ads — along with case studies to share. "Snapchat is the most exciting one for us," said Justin Rezvani, CEO and founder of marketing company theAmplify, who attended CES. "From our perspective, it's replacing linear television."
"Snapchat is excelling for brands with a visual story and millennial target audience," said Tammy Gordon, founder of Verified Strategy, a social and digital communications agency.
About six months ago, Snapchat announced its commitment to ads, which included appearances at Cannes Lions, an annual international advertising festival, and a cover story in the magazine AdWeek. With a presence at CES — a place where not only new gadgets are announced but year-long deals between marketers and media companies are made — Snapchat re-emphasized its place among traditional ad networks.
Facebook and Twitter also tried to garner excitement. For example, inside the Cosmopolitan hotel, Twitter showcased what was called "Twitter City" and included CEO Dorsey and Chief Operating Officer Adam Bain walking customers through the struggling company's roadmap:
However, despite releasing a new product called "conversational ads" this week, Twitter did not generate that much positive attention from marketers. "Twitter has a fun-looking stunt with Twitter City, but I think they missed the boat not focusing on Periscope there. ... I hope they are better prepared for SXSW," said David Berkowitz, chief marketing officer of MRY, referring to the tech and music-themed festival in Austin, Texas, in March.
Facebook did impress, as was expected. Facebook Vice President of Global Marketing Carolyn Everson presented with Jeff Jones, chief marketing officer of retail giant Target, and shared new ad products and results, such as Target's use of canvas. "Instagram is still our largest revenue source. Facebook is the most powerful ad platform ever created," Rezvani said.
At CES, Snapchat also took some meetings — some more secret than others. For example, CEO Evan Spiegel was one of several executives at a private CES event in the hotel suite of Rupert Murdoch, executive chairman of News Corp. and 21st Century Fox, Quartz reported.
Rezvani said several of his clients had met with company executives to discuss how they could further invest in the app. "What Snapchat is achieving right now from a user perspective is value and attention," he said, noting that a recent campaign on Instagram and Snapchat garnered more conversation from the first but more time spent on the latter.
For those outside of the closed-door meetings, Snapchat still had a grand display. "Their big poker chip was making a point: It was for all to see," said Michael Bruckstein, a group planning director at Neo@Ogilvy Los Angeles.
"It's a safe bet that everyone in Las Vegas for CES became a lot more familiar with the Snapchat logo," said Erik Deutsch, a media strategist of ExcelPR. "Odds are most of those attendees aren't likely to become avid Snapchat users anytime soon, but that's okay given all the buzz the company generated."
Even in the days ahead of the annual conference, Snapchat gained attention. For example, Gary Vaynerchuk, head of digital agency VaynerMedia, has decided to focus on his presence on the network this year:
Next Opportunities
For 2016, some marketers are recasting their strategies in social and digital media, including a more aggressive commitment to Snapchat. MGM International, which oversees several hotels in Las Vegas such as the MGM Grand, the Luxor and the Aria, will be adding more channels and creating more opportunities this year with one of the biggest pushes on Snapchat.
The move began in August of last year when MGM Chairman and CEO Jim Murren said his company should look more to the disappearing photo- and video app, with which has was personally fascinated. "He said, 'I understand that young people use Snapchat in a very different way to chronicle experiences,'" said Jackson, who was hired last year to build MGM's social media program. "He asked, 'How do we bring Snapchat and experiences around entertainment to life?'"
Since then, every brand at MGM has launched its own Snapchat account, and for CES 2016, Jackson helped orchestrate not only the Snapchat logo on the Luxor but also a Snapchat-themed party on Friday. "We were almost being the unofficial closing party of CES," said Kevin Winston, head of Digital LA, a networking group that Jackson tapped to organize the event.
Instead of having the event be a showcase of Snapchat executives, Winston filled the party with creators, some of whom have built careers working with brands on Snapchat-related content. "Snapchat has led to more engagement on the personal level. I wanted to connect these people," Winston said.
Both Winston and Jackson said they have more plans for Snapchat events this year. For example, MGM plans to launch what Jackson called "surprise and delight" campaigns on the app, such as offering guests exclusive upgrades to their hotel rooms or a VIP invite to a show. "There's no hashtag. There's no posts to follow. It's happening when you join in on our story," Jackson said. "It's about the experience."
© Copyright IBTimes 2023. All rights reserved.