How To Watch Beverly Hills Dog Show 2018 On TV Or Online
Bunnies aren't the only animals in the spotlight this Easter Sunday. Dogs will get a chance to shine this year as well in the 2018 Beverly Hills Dog Show Presented by Purina, which can be watched on TV or online.
Puppy lovers can tune in to USA Network on Sunday, April 1 at 6 p.m. EDT if they want to watch the dog show on TV.
Not everyone can sit down in front of the television, though. If you're on the go, there are plenty of options as long as you have an internet connection. The USA Network website will let you livestream the Beverly Hills Dog Show on Sunday at 6 p.m. EDT. The USA app might be better if you're watching on a phone or tablet. Both of these options require login information from your cable provider.
Of course, if sitting down to watch the dog show just isn't possible on Easter Sunday, you can watch one of the encores. USA will air it again on Monday, April 2 at 9 a.m. EDT, and NBC will show it on Sunday, April 8 at 1 p.m. EDT.
It sounds like the Beverly Hills Dog Show, co-hosted by dog show judge David Frei and actor John O'Hurley, will be worth bringing your phone to the table to see. Over 1200 dogs from 175 breeds will compete in the show, which is mixing traditional elements with some fun new segments.
In addition to the judging of breeds and groups, there will also be features showing canine life in Beverly Hills. The program will end with the crowning of Best in Show, but the seven finalists will walk a fashion show runway while the judges decide the winner. Backstage correspondent Mary Carillo will give viewers some behind-the-scenes scoop.
But what's an event without a red carpet? After the judging, the dogs walk the red carpet, where Maria Menounos will be reporting. They'll brush paws with celebs like Flynn, the 2018 best in show winner at Westminster Dog Show, "American Ninja Warrior" co-host Akbar Gbajabiamila, Dr. Evan Antin (People magazine's Pet Vet), Stella Maeve ("The Magicians"), Marcc Rose and Wavyy Jonez ("Unsolved: The Murders Of Tupac And The Notorious B.I.G.") and more.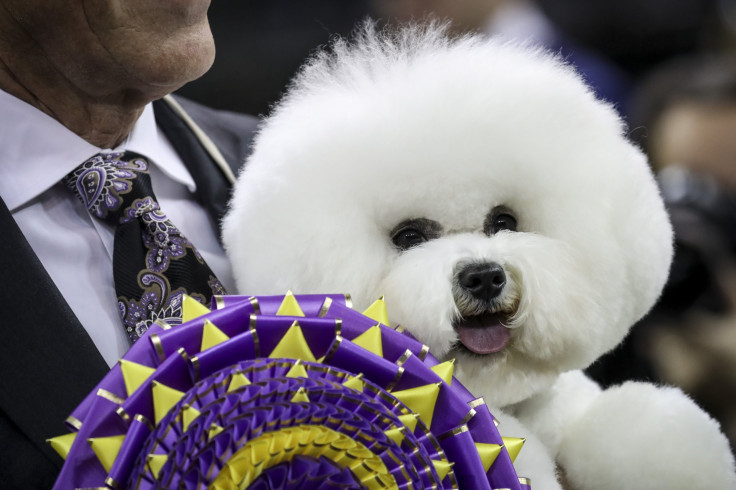 © Copyright IBTimes 2023. All rights reserved.