HTC Tumbles Again; Growth Potential in Doubt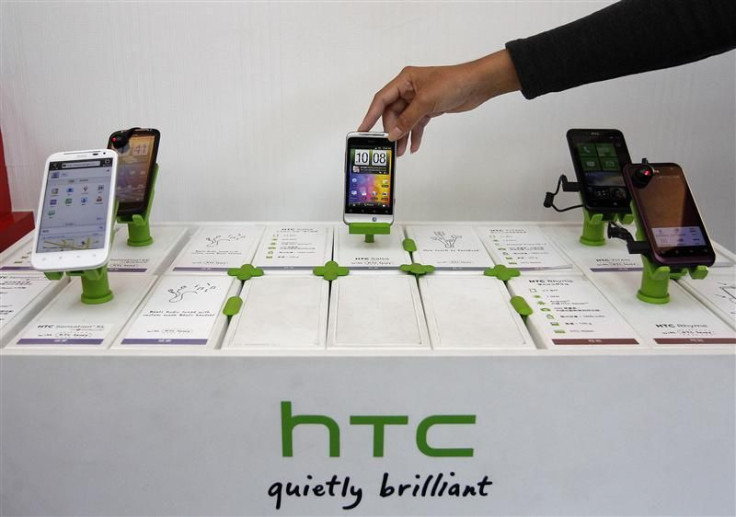 (REUTERS) -- Unnerved by a second profit warning in a month, investors sent HTC Corp shares tumbling for a second straight day on Friday on concern the world's No.4 smartphone maker may be running out of ideas in an increasingly competitive market.
The popularity of Apple iPhones and Samsung Electronics' Galaxy line-up, coupled with recession-weary shoppers and long-running lawsuits, have taken the gloss off what was one of the industry's biggest success stories.
With Nokia's fall from market dominance still fresh in the memory, and BlackBerry maker Research in Motion losing ground, HTC needs to recapture its innovative drive to make sure it maintains its position.
It won't be easy for HTC to get out of the mess it's in right now, said Simon Liu, deputy investment officer at Polaris Group's fund unit.
Still, it's not the end of HTC. It's certainly not another Nokia. Nokia missed out on the smartphone market from the very beginning, and didn't develop applications as well as Apple.
A SMARTPHONE NAMED DESIRE
For a decade, Taiwan's HTC quietly made phones for others to sell, but then decided to push its own brand in late 2006. In the year to April, its shares more than tripled after its innovative designs played well with shoppers.
Sales at HTC -- whose models include Desire, Sensation, Wildfire, Rhyme and ChaCha -- grew four-fold in a year and a half, and in the third quarter of this year it sold more smartphones in the United States than any of its rivals.
But its cracking performance is sputtering as it fails to bring out new products to rival the iPhone and Galaxy in the high-end smartphone market.
And, closer to home, China's ZTE Corp and Huawei Technologies Co Ltd are turning out smartphones that sell for as little as $100 in a fast-growth, low-cost market that HTC so far has largely avoided.
It lacks a star smartphone, said CK Lu, an analyst with research firm Gartner in Taipei. If you put HTC phones all in a line, you won't be able to differentiate the products too clearly, unlike Samsung's Galaxy 2 or the iPhone.
In China, for example, consumers won't be able to differentiate HTC phones from a slew of others, such as the China-made ones, and that's where HTC is facing some problems.
REVENUE SLIDING
HTC, valued at around $14 billion, saw a bigger build-up of unsold inventory than rivals in the third quarter, a portent of weak sales in the crucial year-end holiday season.
Late last month, the company warned that revenue would fall by up to 8 percent in October-December from the third quarter, and on Thursday it flagged a much bigger drop, citing tougher competition and the global downturn.
Aside from rising competition from Apple and Samsung in the high-end market, aggressive price competition from Huawei and ZTE at the lower-end could put further pressure on HTC's margin, said Laura Chen, analyst at BNP Paribas.
We believe HTC is reviewing its product roadmap to regain market share in 2012. However ... most of its new products are to be launched only late in the first quarter.
HTC is also re-evaluating its $300 million acquisition of S3 Graphics after the graphics technology firm lost a U.S. legal battle against Apple, raising the specter that HTC products could be banned from the United States -- where it earns half its revenue. HTC had planned to buy S3 to beef up its defenses in its own separate lawsuit battle with Apple.
Winning the lawsuit has made it possible for Apple to squeeze HTC by the neck in future, said Liu at Polaris.
HEADWINDS
These headwinds have pushed HTC shares down more than 60 percent in six months, making it the worst performer among major handset firms, along with RIM. Shares in LG Electronics Inc are down 36 percent and Nokia 29 percent. Samsung and Apple both rose around 9 percent in that period.
Five analysts now have 'sell' ratings on HTC, up from two just a month ago. The number of 'buy' recommendations has dropped to nine from 13, Thomson Reuters StarMine data showed.
HTC shares fell by the most allowed in one day on Friday, dropping nearly 7 percent for a second consecutive session. The stock has fallen 30 percent in 8 straight trading days.
The company, which had 10.8 percent global market share in the third quarter, sold only 1 million more phones than RIM, and its market share gap with bigger rivals is set to widen as Nokia fights back with its first Windows-based models. [ID:nL5E7MG45M]
HTC hasn't offered enough new models, and hasn't been aggressive in its pricing strategy, Barclays analyst Dale Gai wrote in a client note. We believe Samsung leads HTC in most high-end models, including LTE phones, where HTC has failed to compete on form factor.
Gartner's Lu, however, sees little risk of HTC going the way of Nokia.
Basically, HTC is on the right track, but it will take time for its brand- and retail-building. It's in way better shape than LG, RIM and Motorola. But it's true it's not as competitive as Apple or Samsung.
Annie Lu, a spokeswoman for HTC, said the company remained confident about driving new technologies. HTC has a strong and complete portfolio in both high-end/premium and mass market high quality products, she told Reuters.
With our U.S. operator partners, we have launched premium products such as HTC Rezound (with Verizon Wireless) and HTC Vivid (with AT&T), with high customer satisfaction ratings.
In the mass market sector, HTC Wildfire has been a big hit this year, and we expect strong sales with the HTC Explorer launch, she added.
(Additional reporting by Lee Chyen Yee in Hong Kong; Writing by Miyoung Kim and Jonathan Standing; Editing by Ian Geoghegan)
© Copyright Thomson Reuters 2023. All rights reserved.