Huffington Post Touts New All-Female Team But Still Refuses To Share Diversity Figures On Race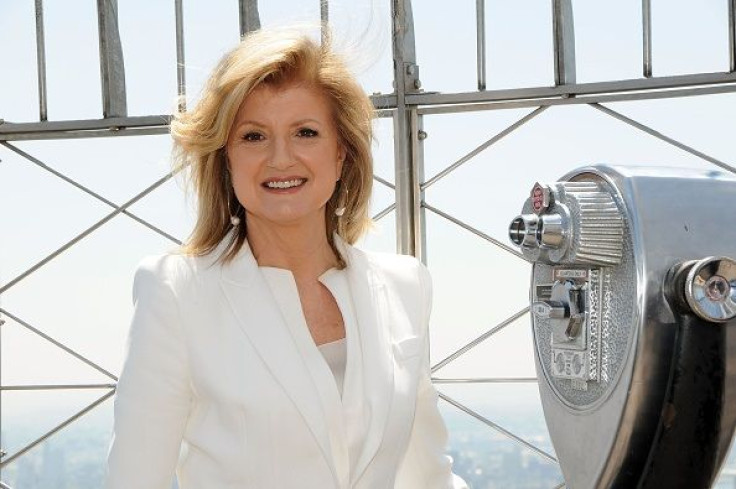 The Huffington Post celebrated a victory for newsroom diversity this week, with a memo from D.C. Bureau Chief Ryan Grim declaring that the staff for its "HuffPost Pollster" section is "now one of very few (if not the only)" polling teams made up entirely of women. The news earned HuffPost write-ups in Politico, AdWeek and Poynter.
But when contacted by International Business Times, the Huffington Post declined to share the broader diversity figures of its newsroom, echoing its refusal back in August. Sujata Mitra, HuffPost's senior director of communications, said it's against company policy to share details about employees.
"Ultimately, we don't comment on employees specifically that way," Mitra said Wednesday.
To the contrary: HuffPost's victory lap over the new all-female polling team did offer names and details of specific employees, including Natalie Jackson, Ariel Edwards-Levy and Janie Valencia.
When asked why HuffPost would not make its numbers available, Grim told IBT Wednesday that, unlike BuzzFeed, which released its second annual diversity report this week, HuffPost has less freedom to share such details because it is part of a publicly traded company. (Verizon Communications reached a deal to buy HuffPost's parent company, AOL Inc., earlier this year.)
"BuzzFeed is privately held still and so has more flexibility around it," he said. "We're part of a large publicly traded company. We can't at all times do whatever we want."
But John Nester, director of public affairs at the Securities and Exchange Commission, told IBT that there is "no barrier" preventing a public company from sharing its diversity numbers. In fact, Facebook, Twitter, Apple and several other publicly traded tech companies have opted to release their numbers, albeit after public pressure in some cases.
HuffPost's new parent, Verizon, doesn't hesitate to publish its own diversity figures: Included in its annual investor relations report is a "Social Responsibility Supplement" detailing the racial and gender breakdown of its U.S. and global operations. The 2014 report can be seen on page 73 of this PDF.
A Verizon representative told IBT that 2015's report would include Huffington Post and AOL employees in the survey.
When asked about the public vs. private justification again on Friday, Huffington Post backed off the claim.
"The publicly traded aspect of the company doesn't have anything to do with the diversity policy," a statement said. "HuffPost is committed to diversity, and is doing everything to make sure we have a diverse newsroom. We attended the 40th anniversary of NABJ and also work often with AAJ, EIJ and ONA. Additionally, HuffPost features several Voices sites, including Black Voices, Gay Voices and Latino Voices."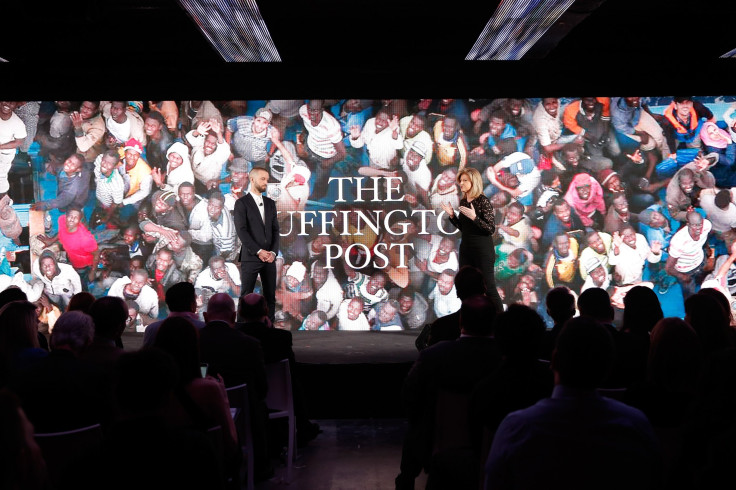 A More Perfect Union
Complicating matters is a recent statement put out by HuffPost employees declaring a union drive, first reported by IBT a week earlier.
"HuffPost has taken a strong editorial stance in favor of diversity, but this diversity is not reflected among the staff," the employees wrote as one of their grievances. "A union could help us formalize our commitment to inclusivity in hiring, and keep HuffPost accountable to that commitment. A union is a formal mechanism to advocate for each other and to address systemic issues at the company on an ongoing basis."
Grim did not address the workers' complaint that HuffPost's proclaimed diversity stance is not reflected in its staff, but said he was glad to see they plan to use a union to increase equality in the company. Usually, he said, unions are an obstacle to achieving diversity.
"I was incredibly proud to see the staff put that into the statement. Historically, unions have been a force against diversity," Grim said. "Let's say there's a plumber's union -- the only way to get into the plumber's union is to know someone who's in the union."
"The history of labor unions on that front is a terrible one," he continued. "To see the staff want to use a potential HuffPost union to reverse that was terrific, and we look forward to hearing whatever ideas they have to institutionalize some kind of formal mechanism or anything else."
Figures Without Figures
Grim said the company's commitment to diversity is clear even without access to the statistics.
"While we can't really talk about broad statistics, I think the commitment is evident in the leadership ranks," he said. "In particular, if you look back six or seven years or so, the leadership was, I think, all white male." (Arianna Huffington excepted, obviously.)
Now, Grim said, the number of female leaders has shot up across the masthead, such as newly arrived executive editor Liz Heron, politics editors Amanda Terkel and Paige Lavender, news director Katie Nelson. On the business side, he pointed to vice president of communications Monica Lee.
He then offered something awfully close to a statistic.
"More than 50 percent in leadership are women and a significant number are women of color," Grim said.
Like the tech industry, digital media has generally struggled to square its hiring practices with its lofty rhetoric in recent years. Many CEOs and editors-in-chief have preached the value of an inclusive newsroom without proving their editorial staffs are any less white and male than legacy newspapers of old.
IBT published a report in August comparing the diversity levels at several digital media companies with national print publications, though most companies contacted refused to provide their figures. Sites such as BuzzFeed and Mic.com did, however, and proved to be more inclusive than the New York Times and USA Today, though not as far along as the Washginton Post. (BuzzFeed has now matched WaPo after a year of growing its staff.)
While stating its commitment to diversity, the Huffington Post declined to share its numbers with IBT in August, along with Vice Media, Gawker Media, Vox Media, Mashable, Vocativ, Business Insider and Politico.
© Copyright IBTimes 2023. All rights reserved.
FOLLOW MORE IBT NEWS ON THE BELOW CHANNELS