Hugo Chavez, Friend of Gadhafi, Calls Killing 'Outrage,' Dead Libyan Leader 'a Martyr'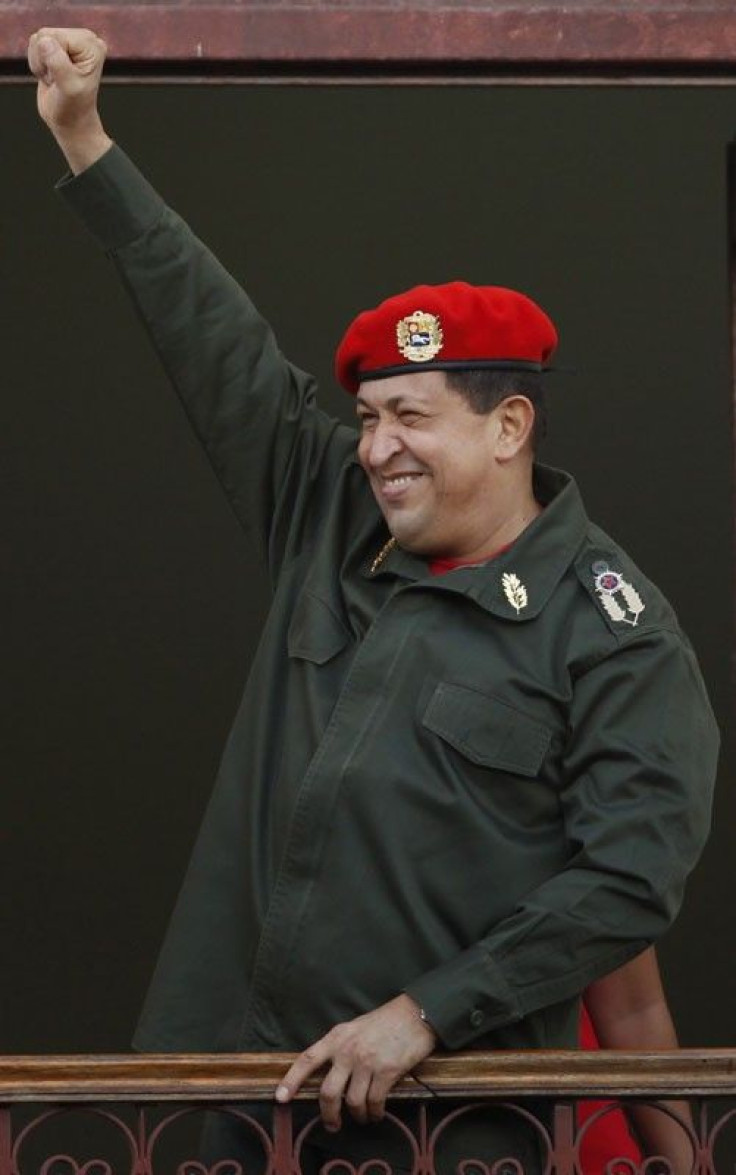 Hugo Chavez is outraged at the news that Moammar Gadhafi is dead, calling the assassination an outrage and saying the shot Libyan dictator would forever be remembered as a martyr.
Venezuelan President Hugo Chavez, who had just returned from chemotherapy treatments in Cuba after being diagnosed with cancer, was a close friend and colleague of Gadhafi, who was killed Oct. 20. He has defended the Libyan leader since the start of the uprisings in February, and has accused NATO of starting a people's revolution to access Libya's oil.
Sadly, the death of Gadhafi has been confirmed, Chavez said. They assassinated him. They murdered him.
It is another outrage, Chavez told reporters in the town of La Grita, referring to the recent uprisings in Libya against Moammar Gadhafi and the rebel who shot the dictator. We shall remember Gadhafi our whole lives, the Venezuelan leader asserted, according to El Universal, as a great fighter, a revolutionary, and a martyr.
Chavez has refused to recognize the regime that replaced Gadhafi after the uprising, calling Libya's UN representative a puppet and dummy and referring to the U.S. as the empire. He had publicly encouraged Gadhafi to resist imperialist aggression from NATO, and has been antagonistic to any involvement in the Libyan uprising by the world's superpowers.
The saddest thing, Chavez said, again using his own name for the US, is that in its quest to dominate the world, the 'empire' and its allies are setting it on fire. He appeared to blame foreign involvement like that of the US for Gadhai being shot, and for the animosity that led to him being killed.
Chavez and now-dead dictator Gadhafi, whose murder Chavez calls another onslaught on life, have a long history. Gadhafi awarded Hugo Chavez the Al-Kadhafi International Prize for Human Rights in 2004, joining Cuba's Fidel Castro and Nicaragua's Daniel Ortega. Chavez had been distracted from Libya in recent weeks, however, with the news that he had cancer in a pelvic tumor.
Chavez, now cancer-free, ended his statement with a reference to the growing revolutionary spirit in Libya that led to Gadhafi's death, and to the Yankee-hat-wearing rebel who shot Moammar Gadhafi.
That story in Libya is just starting now, Chavez said. The Yankee empire (...) will not be able to master this world.
© Copyright IBTimes 2023. All rights reserved.
FOLLOW MORE IBT NEWS ON THE BELOW CHANNELS