Hurricane Arthur Update: Storm Strengthens As It Menaces NC Coast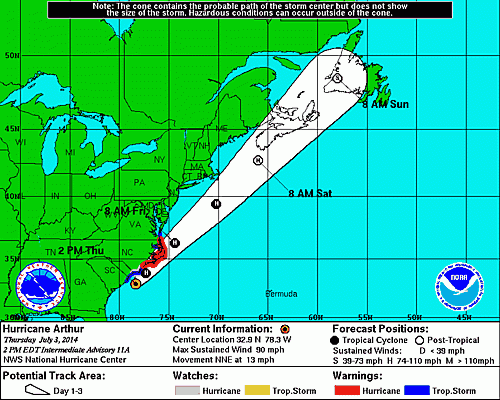 First labeled a tropical storm, Hurricane Arthur threatened to put a quite a damper on Fourth of July celebrations in North Carolina, but now the storm looks like it could do more than just rain on people's parade. According to CNN, the severe weather system has turned potentially dangerous.
"The dangerous part of this storm is going to travel right along the coast," CNN severe weather expert Chad Myers said. The category 1 hurricane, which could become a category 2, has an inner eye wall. "That's concerning, because the smaller the eye gets, the stronger the winds get," he said.
By Thursday, the hurricane has already began to hit Morehead City, a popular vacation site for the Fourth of July. Winds reached up to 90 mph, CNN wrote. It rained heavily throughout most of the day in the southeast part of the state.
The National Weather Service said 1 1/3 inches of rain fell during one hour Thursday afternoon.
People who were in North Carolina's downtown areas weren't apparently heeding advisories to stay out of the water, CNN correspondents at Wrightsville Beach near Wilmington and Atlantic Beach said.
"The guests are hanging tight. They seem to be having a good time," Marc Leford, the facilities manager at the Shell Island Resort in Wrightsville Beach, told CNN. "They're ready to wait it out."
The news site said there was a hurricane watch in 10 counties of North Carolina. North Carolina Gov. Pat McCrory told CNN's "New Day" on Thursday that there was a state of emergency in effect for 23 eastern counties and that Hyde County had a 12-hour curfew beginning at 8 p.m. ET.
Follow me on Twitter @mariamzzarella
© Copyright IBTimes 2023. All rights reserved.