Hurricane Irene Approaches Florida, Libya Taken Over by Rebels: Daily Scoop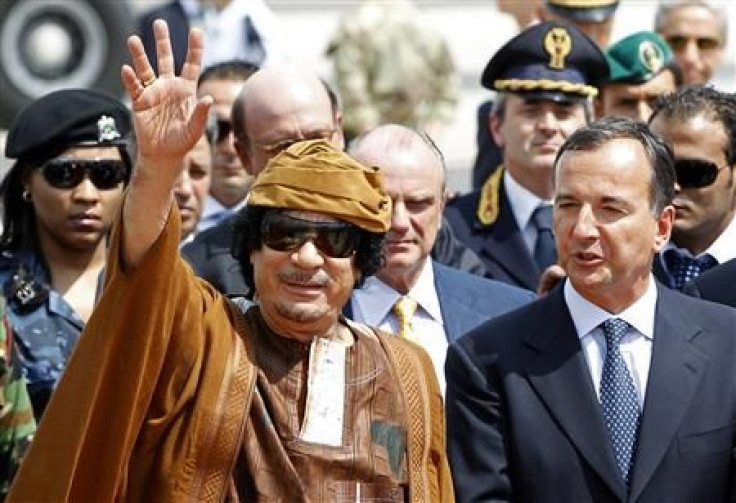 Hurricane Irene hits Puerto Rico and approaches Florida, rebels take over Libya's capital, charges may be dropped against Dominique Strauss-Kahn and more in Monday's daily scoop.
Moammar Gadhafi's 42-year reign as head of Libya appears to be in its final days, as rebel forces control up to 95 percent of the country's capital, Tripoli.
Rebel forces had engaged in a six-month civil war with Gadhafi and his forces before finally breaking through on Monday with help from NATO airstrikes. The rebel forces were able to easily move from town to town before reaching the country's center, where they have already captured two of Gadhafi's sons.
There have been reports that Gadhafi might be aided by South Africa in his escape efforts, though South Africa has steadfastly denied those rumors. On Saturday, Gadhafi said he will be in Tripoli until the end and urged Libyans to fight on his side.
A rebel spokesman told reporters in London that rebel fighters will turn over every stone to find him, to arrest him, and to put him in the court.
Hurricane Irene Approaches Florida
Hurricane Irene left one million Puerto Ricans without power on Sunday night and could hit Florida by Thursday.
The Category 2 hurricane was expected to miss Puerto Rico but after a northward shift, hit the U.S. territory with heavy amounts of rain and winds. The hurricane flooded streets and knocked down several trees throughout the territory, but there were no reported deaths.
Its next stop appears to be the Dominican Republic, with it hitting Florida later on in the week. Depending on how much land mass the storm hits will determine the strength of the hurricane when it lands in Florida on Thursday.
Charges Could be Dropped Against DSK
The legal drama of Dominique Strauss-Kahn could be over soon, according to The Wall Street Journal.
New York prosecutors are expected to drop all criminal charges against the former International Monetary Fund chief, citing the accuser's lack of credibility.
The WSJ reports that prosecutors had issues with the maid's testimony -- notably that it would be difficult to prove to a jury that sexual injuries and ripped pantyhose could be tied to Strauss-Kahn. There were also concerns that she might perjure herself on the witness stand through inconsistencies in her testimony and past statements.
Strauss-Kahn is still facing a civil lawsuit from the woman.
The prosecutors are expected to drop the case on Tuesday.
Expectations High for Jackson Hole Summit
Anticipation is building for Federal Reserve chairman Ben Bernanke's speech in Jackson Hole, Wyoming on Friday. As the U.S., and many foreign markets, continues to struggle Bernanke will be called on to deliver some viable goals to positively shake things up.
Some have suggested Bernanke might announce a third phase of quantitative easing, or QE3, but he has given no indication that will happen. Still, with pressuring continuing to mount on Bernanke, the fed chief will be expected to say something important, otherwise the markets could continue to slump.
Bernanke is giving a major speech and the chairman knows the whole world is watching, so if he chooses not to say very much, the markets and the economy in some broader sense would be disappointed, Neal Soss, a former economist at the Federal Reserve Bank of New York, told BusinessWeek. It's absolutely critical that the Federal Reserve portray itself as having some relevance to the economic problems the society faces.
© Copyright IBTimes 2023. All rights reserved.