Hurricane Irene's Path Spells Trouble: New York, New Jersey, Philadelphia, Boston Shutting Down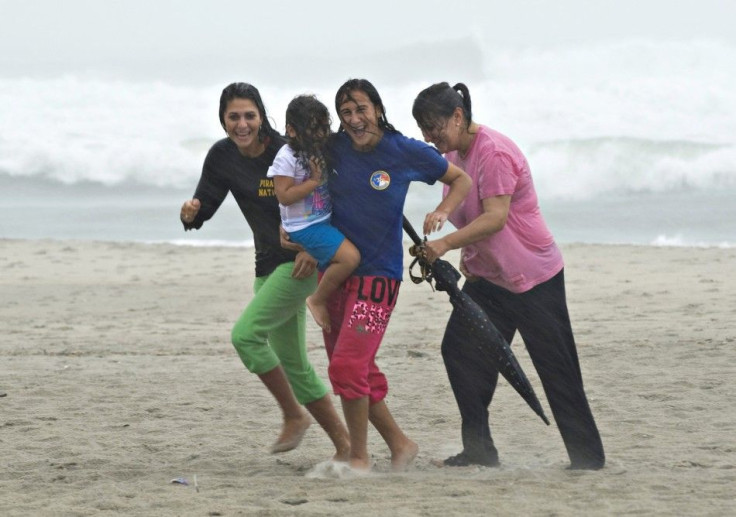 Hurricane Irene is bearing down a path toward assault on the U.S. East Coast Friday. Irene is nearing North Carolina and forcing evacuations and planned closings of public transportation in New York as the I-95 corridor prepares and gets ready to hunker down for the massive storm.
Public transit systems from Philadelphia to New Jersey to New York have already announced shutdowns schedule for Saturday, and thousands are being evacuated with mandatory orders from areas including New York's financial district.
Even the New York Stock Exchange says Irene could cause a shutdown on Monday.
If we can open here but none of our customers can get to their desks, it really doesn't make a lot of sense to open the exchange, Louis Pastina, senior vice president for NYSE Euronext, said in a Bloomberg Television interview. We'll have to gauge that in coordination with the Securities and Exchange Commission, the other stock exchanges and our member firms.
The Category 2 storm is packing maximum sustained winds of 100 miles per hour, moving north at 14 miles per hour. Already, forecasters and officials are suggesting Hurricane Irene could be the storm of a lifetime, with potential to inflict a wide path of damage up the east coast, from Norfolk to New York and beyond.
By Friday afternoon, New York was in a mode of full preparation. The city's MTA will shut down at noon on Saturday, officials said, stopping buses and subways.
Also, initial evacuation orders were put in place, including a mandatory order for the city's financial district for flooding fears. In essence, with Irene still a day or more away from New York, America's largest city was approaching complete shutdown in preparation.
New York officials said public transportation systems will be shut down indefinitely once they stop operation Saturday.
You only have to look at the weather maps to understand how big this storm is and how unique it is, New York Mayor Michael Bloomberg said at a news conference, and it's heading basically for us.
In New Jersey, Gov. Chris Christie said Friday southbound lanes of the Garden State Parkway South of exit 98 will be closed at 8 p.m. Friday night. New Jersey, New York, North Carolina, Virginia and virtually all of the east coast states in Irene's forecast path between now and early Monday are under states of emergency as officials prepare to mitigate damage, focusing on loss of lives.
Also, New Jersy has announced NJ Transit will cease operations on Saturday, while the Southeastern Pennsylvania Transportation Authority (SEPTA) will cancel all of its lines between 12:30 a.m. Sunday morning through noon on Sunday.
The threat level of the Hurricane Irene is extreme from along the East Coast from eastern North Carolina to southern New England, according to The Weather Channel.
On Friday, President Barack Obama urged Americans in the path of powerful Hurricane Irene to listen to warning and evacuation instructions from state and local officials. He said from his vacation rental on Martha's Vineyard Friday that citizens urged to evacuate should not hesitate. Shortly after addressing the media, Obama cut his vacation short, leaving Martha's Vineyard a day early.
Don't wait, don't delay, Obama said. I cannot stress this highly enough, if you are in the projected path of this hurricane you have to take precautions now.
Timing for the storm suggests that Irene will make its closest approach to North Carolina late Friday night through Saturday. Northeast U.S. impacts including metropolitan areas of Boston, Hartford, Norfolk, Washington, New York and Philadelphia will be Saturday night through early Monday.
The latest forecast models shows that Irene could pack winds of nearly 80 miles per hour when it reaches New York, perhaps making a rare direct landfall hit with the city if the current track remains intact.
As of 2 p.m. Eastern Time Friday, the center of Irene was located 300 miles south-southwest of Cape Hatteras, North Carolina. Rain from the storms outer bands is already falling near the North Carolina and South Carolina coasts.
The center of Irene is expected to make landfall as a Category 2 storm early Saturday morning in North Carolina, with hurricane force winds felt as far inland as I-95.
The New York area is expected to experience its worst conditions later Saturday night and Sunday, with hurricane conditions likely including destructive wind, heavy flooding rain, and storm surge with coastal flooding.
The last Hurricane to make landfall in the U.S. was Ike in 2008.
© Copyright IBTimes 2023. All rights reserved.