Hurricane Sandy Anniversary 2014: Two Years After Sandy, Low-Income Jersey Shore Residents Still Suffer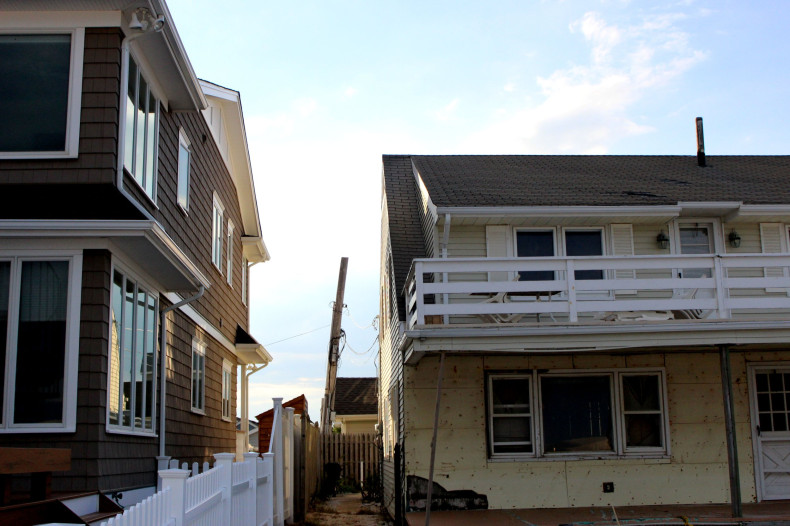 On the night Sandy hit the east coast, Barbara Durchak watched the freezing seawater hit her house from both sides. Standing in the living room of the bungalow on the Jersey Shore that was her childhood home, Durchak and her family watched as water crept slowly closer down the residential street, silently flowing into basements and shifting cars.
Having grown up on the coast, it was an unwelcome but familiar sight. But what came from the other side was something entirely different.
"We looked out the other window and the water was coming so fast, like a river," she said. "I'd never seen anything like it."
Though the family scrambled to move their belongings off the floor, there was nothing they could do to stop this second surge from crashing through the living room wall.
­­­­­
Today, Durchak, 55, and daughter Harlea, 21, still live on the property in Union Beach, New Jersey. But now they live in a mobile home situated on what was once their front lawn. It's just a few feet from the wooden skeleton of a home that had become one of the family's biggest assets.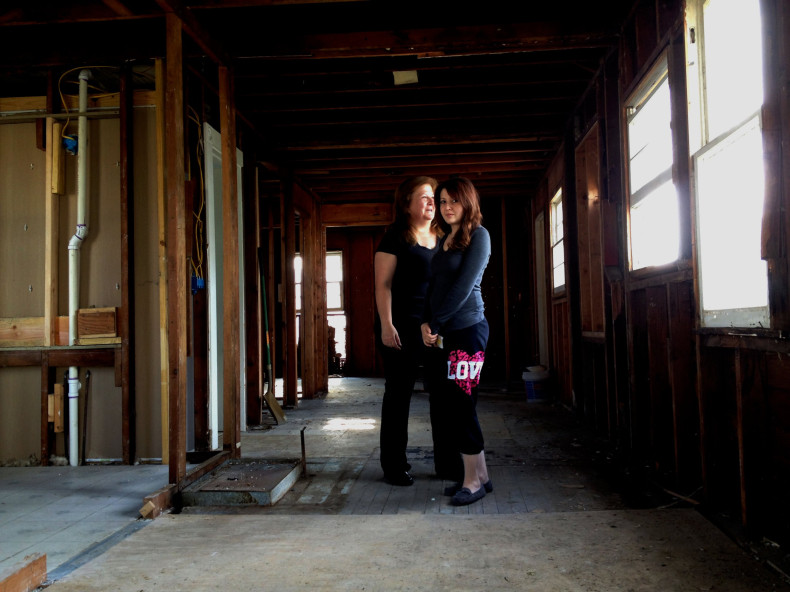 "We don't need a lot, and we were doing OK," Durchak said. "I never wanted to be a millionaire, but when the storm hit everything changed."
Durchak received public assistance for a few years to access the Medicaid she needed to treat her non-Hodgkin's lymphoma. She was 18 years in remission and working at a local jewelry store when the storm hit. The family never had insurance because the extra $500 per year would have been over her budget, she said, and nobody thought they would ever need it since the building had never flooded.
But her savings were barely enough to cover a few initial home repairs. The mold in her home was so widespread Harlea once woke up with her eyes swollen so badly she couldn't see. The family couldn't have paid for contractors to make the repairs that Habitat for Humanity is currently undertaking. On average, a rebahilitation for a house like hers would cost $90,000 to $120,000, not including the cost of volunteer work, according to Raymond Gabler, executive director of Habitat for Humanity in Monmouth County. Durchak, who inherited the house, estimates it would have sold for about $130,000 before the storm but is now worth about $70,000.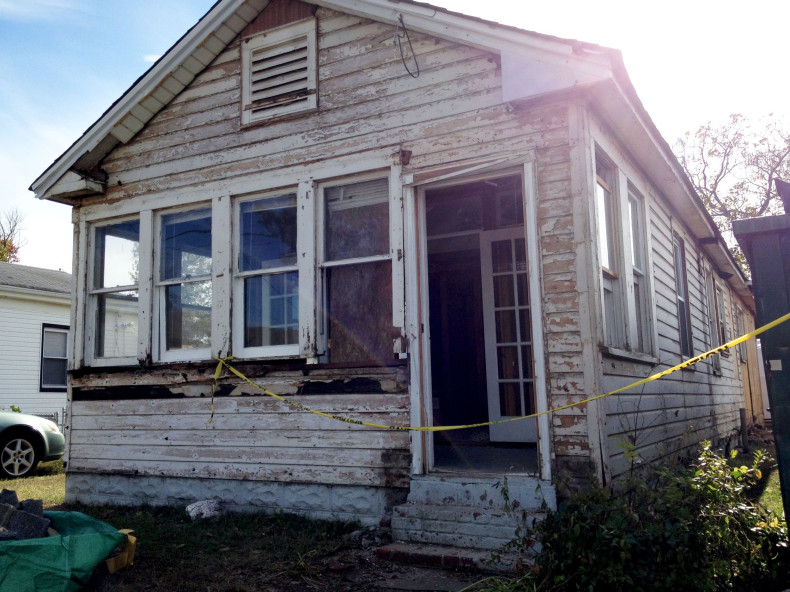 She lives in Union Beach, a blue-collar town of about 5,800 people in Northern Monmouth County, on a residential street filled with other Cape Cod-style homes, many of which have been passed from generation to generation, or at least, sold to other "beachers."
It's been two years since Sandy hit the East Coast and destroyed 37,000 primary residences in New Jersey alone. While the storm proved a golden opportunity for real estate buyers in search of shorefront bargains, the property damage left many middle- and working-class residents in Monmouth County towns like Union Beach struggling to stay afloat. Monmouth was hardest hit by the storm in terms of its impact on residential, commercial and municipal damage, according to the Rutgers University Sandy Hardship Index.
Its neighbor to the south, Ocean County, ranked second, and already had a unique economic profile. For example, more than 21 percent of its residents are more than 65 years old, 7 percent higher than the state average, and the median household income is about $10,000 less than the state average of $60,700, according to U.S. Census data. Its homeownership rate of 80 percent is 13 percent higher than New Jersey's average, but the median value of housing units is much lower, at $284,100 compared to $349,100.
"It was a one-two punch. We were barely getting over the recession and then Sandy came along," said Carlos Rodriguez, executive director of the FoodBank of Monmouth & Ocean Counties Inc., which supplies food donations to more than 300 charity programs in the two counties.
Stacked among the boxes of food and fresh produce at the food bank's headquarters are boxes set aside for families without access to ordinary cooking materials. Workers choose items such as peanut butter and jam, cans that open with tabs and other foods that require little preparation, for families living in hotels or homes without a standard kitchen.
"The recovery is taking its toll on everyone, but particularly the low-income residents who were just hanging in there to begin with," Rodriguez said, adding colleagues in other states are often surprised to learn his food bank is "still dealing with" Sandy's aftermath.
Since the storm, he says there's been an increase in demand, as families slowly burn through their savings or government grants wear thin. Even residents who were comfortable before the storm are stretched thin as the government money runs out. Last week, the Federal Emergency Management Agency announced it had "marked the conclusion of its housing mission in New Jersey," meaning the 115 families who were living in its shelters had "either returned to their homes or found a suitable housing alternative."
At the same time, Rodriguez said, the Food Bank is sending out more food than ever. In the two years since Sandy, he said, the demand for food donations has actually increased. In 2012, the food bank distributed 8.5 million pounds of food. Last year, it passed the 10 million-pound mark. This year, it's likely to be even higher.
"More and more families are finding themselves in lines that at one point they might have supported," Rodriguez said.
The rental vacancy rate in New Jersey was 3.6 percent in 2013, down 0.3 percent from a year earlier. As supply dwindled and demand increased, so did monthly rents.
"Finding a place in the hardest-hit areas was already difficult to begin with," said Staci Berger, of the Housing and Community Development Network of New Jersey.
To pay for a two-bedroom apartment in New Jersey at average market rent, a minimum wage worker has to work 141 hours every week with no vacation, one of the highest rates in the country, according to the National Low Income Housing Coalition.
The average two-bedroom apartment costs $1,345 in both Monmouth and Ocean counties, which were some of the hardest-hit during the storm. Howeve­­r, the average hourly wage of a renter in these regions is just $10.72 for Ocean and $10.58 for Monmouth, which would require 96 to 98 working hours every week to pay for it.
Meanwhile, in Hudson County, one of the highest-income regions in the state, the average two-bedroom apartment costs just $1,291 and the average renter wage is $26.70, which requires just 37 hours a week to maintain.
­­­­The statistics are a sign of a bigger problem. New Jersey already had a large gap between the rich and the poor, which was exacerbated by the recession before residents knew the storm was coming. The resulting devastation only deepened the divide.
Falling through the cracks
The Metropolitan Mobile Home Park in Moonachie, Bergen County, sits just over the boundary of Teterboro Airport, famous for its high private jet traffic, and a 10-minute drive from MetLife Stadium, which hosted the most expensive Super Bowl in history earlier this year. During Sandy, almost every unit in the park was flooded.
Craig Carter, 58, has lived with his wife in their mobile home at the park for 14 years. Even though they both work, he's only been able to finance a few repairs, fixing a few leaks in the roof and covering gaps in the windows. But it wasn't enough. The situation inside has gotten worse. Much of the floor is soft beneath the tiles as the wood underneath continues to wear away, and leaks continue to spring from worn-out pipes .
"A lot of work still needs to be done," he said. He currently works with a branch of Voluntary Organizations Active in Disaster (VOAD) and the Sandy Long Term Recovery Committee (LTRC) to organize funds to help make the repairs.
Tess Tomasi, the groups' project manager, said for many residents, the long-term effects of storm damage are just starting to show, especially in many mobile homes that are 40 or 50 years old. Last winter, many residents' roofs collapsed under the weight of the snow, at a much higher rate than usual. Contractors said the increase was likely due to water damage from Sandy.
Most of Carter's documents were washed away during the storm, which is likely why his application for FEMA aid was rejected.
Tomasi said it's a common situation for many of the park's residents, who also struggle to comply with regulations that are meant for more traditional housing, not mobile homes.
"We work with the people who fall through the cracks," Tomasi says.
After the storm, a variety of government and state-funded options emerged for residents to fund their recovery. FEMA provided direct housing assistance to survivors for up to 18 months, which was extended four months more, but that expired in August. There is also the National Flood Insurance Program (NFIP), a federal taxpayer-subsidized program to insure people living in high-risk areas not covered by ordinary operators. New Jersey allocated $1.1 billion in funding for its Reconstruction, Rehabilitation, Elevation and Mitigation (RREM) program, which distributed grants of as much as $150,000 for repairs. The state also spent $57 million on the Sandy Homeowner and Renter Assistance Program (SHRAP) meant to help residents with rent and living expenses during the recovery process and capped at $15,000 per person, though the state stopped accepting applications in late summer.
Despite the vast amount of funding available, experts say the money isn't always getting to the people who need it most.
"Very little federal money has gotten out and a lot of those people still at risk are low-income," said Adam Gordon, staff attorney at Fair Share Housing Center, an organization focused on housing issues facing New Jersey's poorest residents.
He explained that even if people do manage to get access to funds, they have trouble finding places to rent for an uncertain amount of time. "Everyone has their own story about grants," he said.
Homeowner Dreams Deferred
Even in more traditional communities, people are waiting much longer than they had planned, as government officials determine how to spend their money. Most of the programs created in the storm's wake were meant to end in 2014, based on the assumption two years was enough time to get residents back into their homes or another housing situation. That hasn't been the case.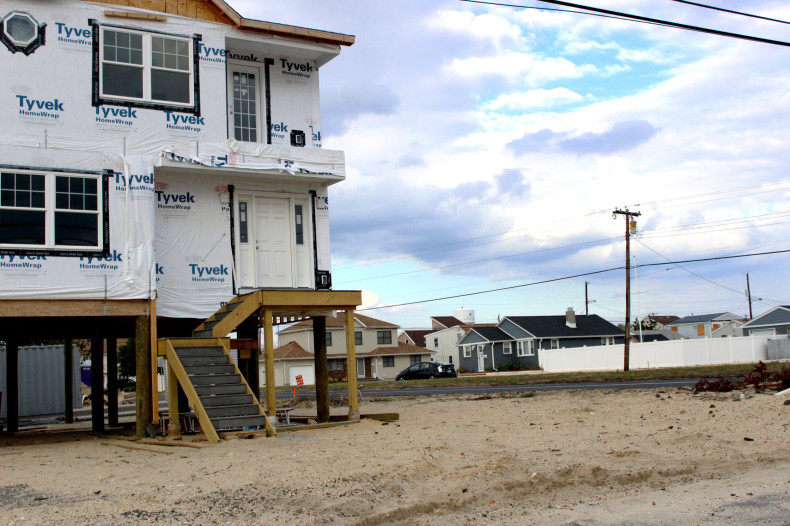 "Never in a million years did I think two summers would go by before I moved in," said Julie Kellner, 29, who purchased her first home in Sea Bright, Monmouth County, just months before the storm. Sandy sent water rushing into the first floor of her home, destroying brand new appliances and furniture, and rendering the house uninhabitable.
She bought the property when she was 27, and hopes to move in by her 30th birthday at the end of this month though she's not making any assumptions.
In the past two years, Kellner has moved around. She stayed with her parents in South Jersey right after the storm, then moved into a FEMA shelter in Fort Monmouth, a bed and breakfast in Long Branch and finally an apartment in Sea Bright, just a short walk from the construction site that is her home. Everything she managed to save from her house is now locked in a large storage pod parked in the driveway. She keeps all her important documents in her car.
"I'm lucky my schedule is flexible," said Kellner who works in marketing for a local health services company and spends a lot of time driving to different locations. "I don't know how I would do it if I had a 9-to-5 situation," she said, explaining she and other residents staying elsewhere generally can't make plans more than a few weeks in advance, as the decision would depend on approval from the government to release the necessary funds. She's getting help from a local nonprofit building group, which formed as a combination of the national disaster relief group called the St. Bernard Project, and a local recovery organization, Sea Bright Rising, to rebuild her home.
After losing a couple thousand dollars in a contractor scam, and not knowing anything about construction, she said she wouldn't have been able to build her house back without their volunteer workers and coordination.
For Others, Opportunity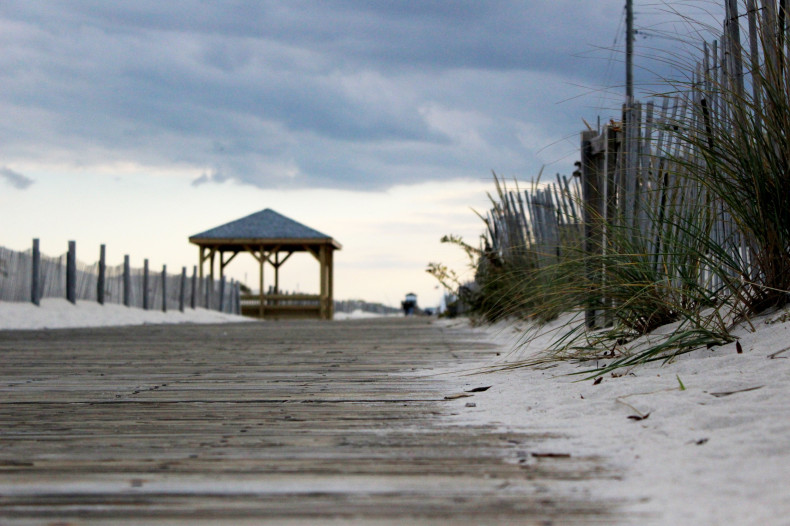 But there are other residents of the shore who don't share Kellner's problems.
Travis Lepley, owner of Tradewinds Builders, recently purchased a Sandy-damaged house on Long Beach Island in Ocean County. The existing structure will be knocked down, and he'll replace it with a brand new home on the same lot.
"When looking for a house, this one presented itself at the right price," he said, but couldn't disclose the exact figures before he closes later this month.
Lepley isn't the only one making this kind of purchase.
Nathan Colmer, a real estate agent for the Van Dyk Group on Long Beach Island, said the land itself is often worth more than the structure. Modern buyers are interested in new homes with a view of the ocean, which the old beach houses in the area don't offer. With the storm damage, many of these properties' prices fell, making them attractive to buyers with money and easy access to credit.
"It gave people the opportunity they might not have had in the past few years, or ever, really," Colmer said. He estimated a house that may have sold at $550,000 a few years ago may be selling for $350,000 today.
The result, he said, has changed the community very quickly. Wandering down any street on Long Beach Island, it's clear many of the houses are either new or freshly updated.
"All these big beautiful new homes that are storm-ready, they increase the value of the market," Colmer said.
Riding out the storm
But not everyone is eager to profit from selling storm-damaged homes.
A few months after Sandy sent a beachside pavilion barreling into the side of his house John Deckert, a clammer who's lived at his home in Sea Bright for most of his life, was repairing the front porch when a car pulled up next to the driveway.
"It was couple from New York," he said. "They wanted to buy a home whether it was here or it wasn't."
Did he sell? Absolutely not.
His home is one of the oldest buildings on the street. An upstairs closet features a secret compartment that once was used for stashing bootlegged liquor during prohibition, a feature that most neighbors knew about when Deckert's father first moved his family into the house in 1937, when Deckert was 3 years old.
Now 80, Deckert said the neighborhood has always been working class, with mainly fisherman and dock workers. His place is the closest to the beach, just steps away from the sand.
"Most people thought my home was gone," he said. It's still standing, but maybe not quite the same way it had for generations.
In some places, it's clear where the walls had shifted. The front doorframe is slightly askew, creating a small gap. Another windowpane doesn't quite connect to the wall.
Even though he's made a great deal of the repairs, he's been told the house needs to be knocked down. Now, Deckert is plotting his next move. That may involve a permanent situation on his boat, which he regularly sails down the coast.
"Sometimes you just have to go with the flow," he said.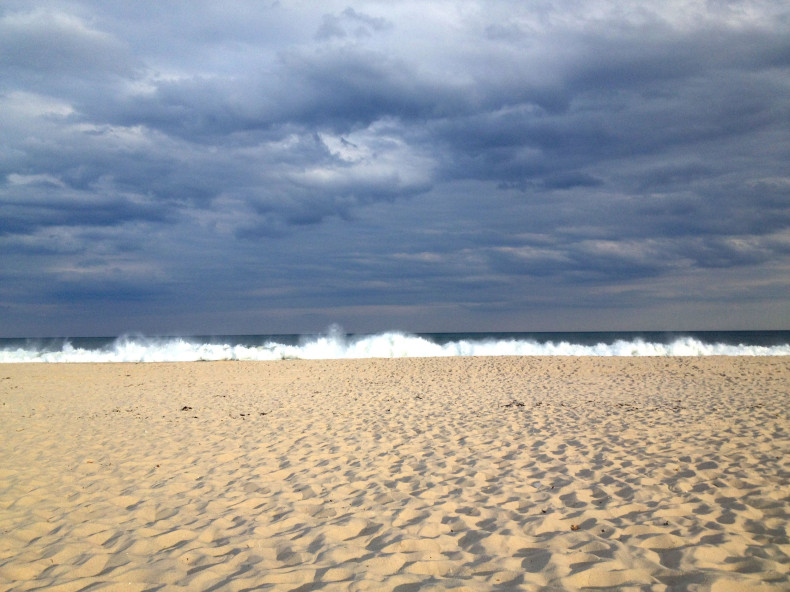 © Copyright IBTimes 2022. All rights reserved.