IBM Corporation (IBM) Q3 Revenue Of $19.3B Misses Street, Shares Fall In After-Hours Trading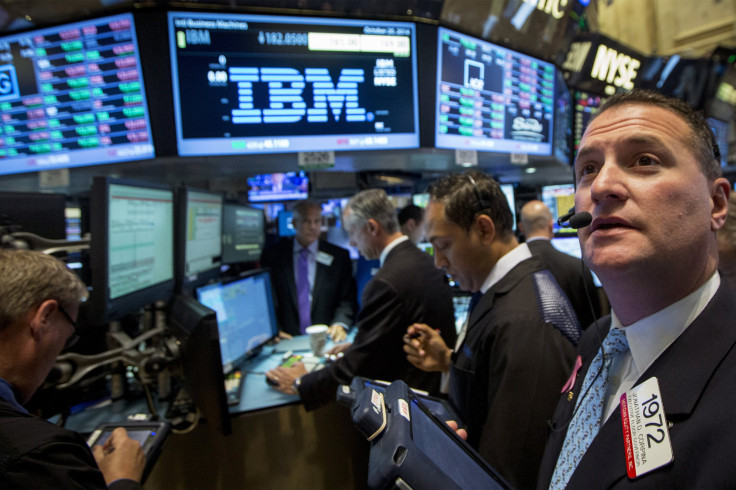 Tech bellwether IBM, which is struggling to transform itself from a manufacturer of old-line hardware for corporate data centers to a provider of cloud and analytics services, on Monday reported lower-than-expected sales for the third quarter, but earnings beat analysts' forecasts. The company was hard hit by the economic slowdown in Asia and plummeting demand for its server products.
Revenue for the period came in at $19.28 billion, down 1 percent year over year and below analysts' expectations of $19.62 billion. Net income fell 11 percent to $3.3 billion, while earnings per share were off 9 percent, to $3.34 billion. Analysts surveyed by Thomson Financial were expecting EPS of $3.30.
"IBM faces a painful, multiyear turnaround, which leads to a prolonged period of underperformance," said Credit Suisse analyst Kulbinder Garcha in a note to clients.
IBM in recent years has been selling off low-margin hardware businesses, including PCs and Intel-based servers, to emphasize products and services that support new-wave IT architectures like the cloud, social networks, analytics and Watson-based cognitive computing. The company's hope is that clients in industries ranging from healthcare to banking are willing to spend more on products and services that help them make sense of vast troves of customer data.
The good news for Big Blue is that those efforts are starting to pay off. Revenue from what the company calls its "strategic imperatives" grew 27 percent.
"In the third quarter we again made progress in the transformation of our business to higher value, with strong growth in our strategic imperatives and expanded operating margins," said CEO Ginni Rometty, in a statement.
Those parts of the business, however, are not growing fast enough to offset declines in IBM's traditional product lines. Sales of server hardware fell 39 percent year over year, to $1.5 billion. Software sales were down 10 percent, to $5.1 billion, while services revenues were off 10 percent, to $4.2 billion.
IBM also is facing geographic headwinds. Sales from the Asia-Pacific region fell 19 percent in the quarter. Revenue from the so-called BRIC countries (Brazil, Russia, India and China) were down 30 percent.
IBM said it expects earnings per share for the full, 2015 calendar year to come in at between $14.75 and $15.75. IBM shares (NYSE:IBM) were down 3.5 percent in after-hours trading.
© Copyright IBTimes 2023. All rights reserved.