If Nelson Mandela Is A Hero, What About Yasser Arafat?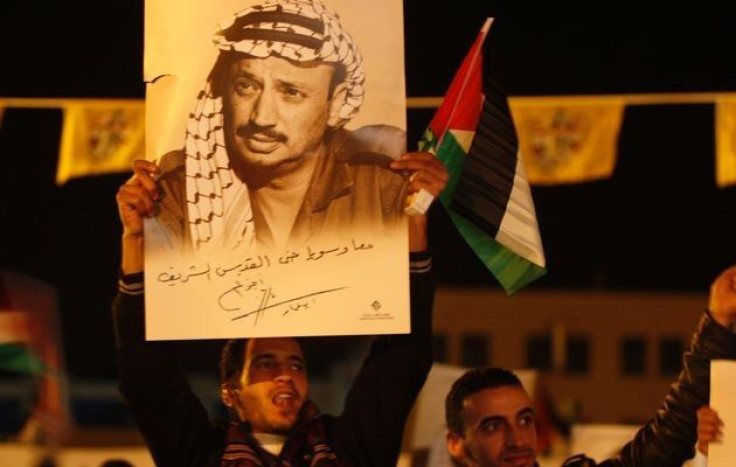 "History is written by the victors."-- Winston Churchill
Hundreds of millions of peoples around the world are preparing for the inevitable death of beloved 94-year-old South African anti-apartheid leader Nelson Mandela with much sadness and trepidation. U.S. President Barack Obama has visited with Mandela's family this week, while Queen Elizabeth of Britain reportedly seeks to hold a memorial service for him at Westminster Abbey after his demise.
Widely admired across Africa for his campaign to defeat the white-minority government in South Africa, Mandela is also extremely popular in many parts of Asia, Europe and North America.
However, it was not all that long ago that this popular, avuncular global icon was once regarded as a "terrorist" by many parties, both in and outside of South Africa. It appears that in the two decades since the fall of apartheid, Mandela's image has been dramatically rehabilitated from "terrorist" to "freedom-fighter" and "peace advocate."
Thus, Mandela's imminent death and the gathering media circus surrounding it reminds me of another prominent 20th-century historical figure who died about nine years ago -- Yasser Arafat, the chief of the Palestinian Liberation Organization.
Arafat and Mandela had many similarities -- both sought to achieve freedom for their people against whom they considered an oppressive occupying government (in Arafat's case, Israel, in Mandela's case, apartheid rulers of South Africa). Both were highly educated and remain revered by their people. And both resorted to terrorist activities and received assistance and support from extremely unsavory sources.
The difference is that while Mandela has been elevated to a plane reserved for the likes of Mahatma Gandhi and Mother Teresa, Arafat largely remains a pariah outside of the Arab and Muslim world.
After Arafat expired in November 2004, Israeli Justice Minister Tommy Lapid declared: "[It is] good that the world is rid of him. ... The sun is shining in the Middle East." Similarly, Australia's then-Prime Minister John Howard, spewed: "I think history will judge [Arafat] very harshly."
Aside from a few die-hard old Afrikaner reactionaries, it is hard to imagine Mandela's death generating such venom.
Yet, Mandela – who, like Arafat, courted such rogue figures as murderous Libyan dictator Moammar Gadhafi as a close supporter – had a history of terroristic activity under his belt.
In fact, former British Prime Minister Margaret Thatcher once derided Mandela's African National Congress (ANC) party as a "typical terrorist organization." Moreover, the United States did not remove Mandela and the ANC's from its "terror watch-list" until 2008, 14 years after his election as the first black president of South Africa and 15 years after he received the Nobel Peace Prize.
Mandela's history of fomenting violence will likely not be discussed as his days on the earth dwindle.
In 1961, largely inspired by Cuba's Fidel Castro, Mandela, a trained lawyer, helped form a militant organization called 'Umkhonto we Sizwe' ['Spear of the nation'] in association with the South Africa Communist Party (SACP). As the armed wing of the ANC, this group commenced a guerilla warfare campaign and bombing operations against apartheid targets, including military installations, telephone and transport lines, power plants, even crop burning.
The following year, Mandela was arrested and convicted of a raft of crimes, including sabotage and conspiracy to overthrow the government, leading to a life sentence in prison.
Even after Mandela's imprisonment, Umkhonto would perpetrate bombings and other violence attacks for almost 30 years, killing and wounding untold hundreds of people.
Perhaps not surprisingly, Umkhonto was eventually interrogated into the country's established military, the South African National Defence Force in 1994, after the collapse of the apartheid regime.
How does this differ from the activities of Arafat, whose PLO targeted Israel through decades of bombings, kidnappings, assassinations and airplane hijackings?
Incidentally, Mandela and Arafat were great admirers of each other. Upon Arafat's passing, Mandela praised the Palestinian as "an icon in the proper sense of the word"
"Yasser Arafat was one of the outstanding freedom fighters of this generation, one who gave his entire life to the cause of the Palestinian people," he said.
Mandela further gushed: "We honor his memory today. We express our sincerest condolences to his wife, family and the Palestinian people. It is with great sadness that one notes that his and his people's dream of a Palestinian state had not yet been realized."
But long before that, in 1990, Mandela defended the ANC's ties to Arafat and Gadhafi, telling ABC News that those two men and Castro all supported the ANC "to the hilt" during its 30-year campaign against the apartheid state.
"We have our own struggle which we are conducting," Mandela said. "We are an independent organization and our attitude toward any country is dependent on their attitude toward our struggle."
In a key reference to Arafat, Mandela said: "We identify with the PLO because, just like us, they are fighting for the right of self-determination."
Referring to Castro and Gadhafi, Mandela insisted: "There is no reason whatsoever that we should have reservations about their attitude toward human rights in their own country. We have no time to look into the internal affairs of other countries."
It is instructive to note that only one senior U.S. official, Assistant Secretary of State Williams Burns, attended Arafat's memorial service in Cairo, Egypt. One can be sure that the Americans will send a boatload of mourners to South Africa when Mandela dies.
Of course, Mandela won his battle against the apartheid state of South Africa while Arafat essentially lost his fight against Israel.
Had Arafat overthrown Israel and lived to lead a free and independent Palestinian state, perhaps he, too, would now enjoy the honor of a being called a global "hero" and "peace icon."
FOR FREE to continue reading
✔️ Unlock the full content of International Business Times UK for free
offer available for a limited time only
✔️ Easily manage your Newsletters subscriptions and save your favourite articles
✔️ No payment method required
Already have an account? Log in
© Copyright IBTimes 2023. All rights reserved.