iMessage on iOS 5 Could Mean Extra Money in Your Pocket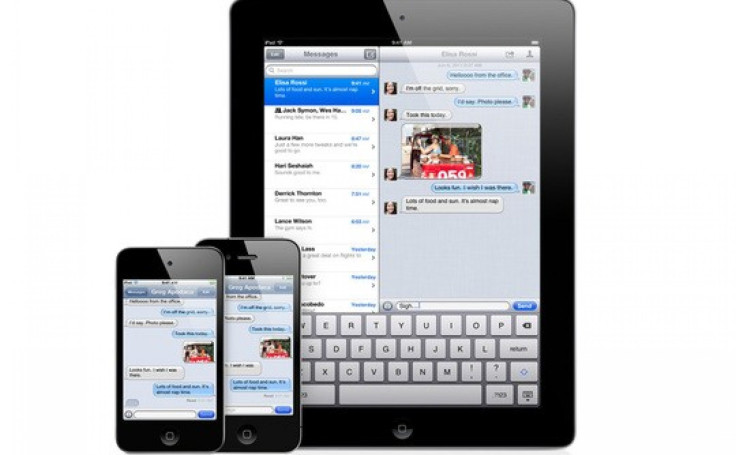 iMessage is just one of 200 new features available with the Apple iOS 5 software.
Yesterday, Oct. 12, Apple's customers around the world finally got to experience what life is like with iOS 5.
Although there was a snag when it came to downloading due to a heavy volume of traffic, many users are very happy with the upgrade.
And who wouldn't be happy if iOS 5 meant a lower phone bill?
That's right. With the new iMessage, your next text message bill could very well be $0.
iMessage is similar to Blackberry Messenger (or BBM). iMessage uses Apple servers to bypass the typical cellular carrier path that a normal text message is sent on. Apple does not charge a fee for use of this communication, similar to BBM. Thus, it is free.
The iOS 5 software in one phone can detect it in another. So if a text message is sent from one individual with the update to another individual with the update, Apple will recognize that feature and the text will be sent as an iMessage.
Users will know based on the color of their conversations. The typical text message color coordination is green for sent messages and white for received messages.
Now, with iMessage, the sent messages are blue instead of green. Received messages are still white.
iMessage can also show you if is a message has been delivered as well as when the other person is typing.
iMessage gives the option of a free text message plan, as opposed to the monthly unlimited or pay-per-text plans that are currently offered by Verizon and AT&T.
Some plans are as expensive as 20 cents per text.
Texting is currently one of the biggest profit-makers for wireless carriers. Apple's new iMessage may elbow out the competition by eliminating the need for texting plans.
Some see this as a move by Apple to bare its teeth.
It lays bare a large imbalance in data pricing - and, just a week after Steve Jobs' death, once again demonstrates Apple's capacity for developing disruptive technologies, writes Jeff Gelles of Philly.com.
Though this concept has been in place before with the BBM system, Apple has a huge market share when it comes to wireless customers.
The highlight of this feature is how seamlessly integrated it is into the usual texting interface. In other words, the user doesn't have to change the way they send text messages to use iMessage and save on SMS costs, writes Darren Quick of Gizmodo.
Did Apple throw down a gauntlet with its iMessage? That is left to be determined.
If all of your friends are Apple iOS 5 users, you are in luck. And your bank account will surely thank you.
MUST READ: iPhone 4S Release: Could a Bad Apple (Review) Spoil the Bunch?

© Copyright IBTimes 2023. All rights reserved.