Infiniti: More Eau Rouge Models Are On The Way [VIDEO]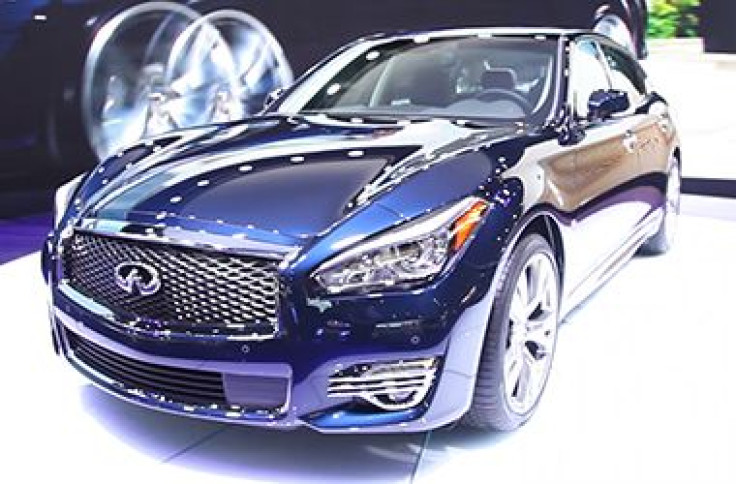 Infiniti had been Nissan's luxury sub-brand for the past 25 years, but today the company is an independent premium brand. Its cars still share some parts with parent company Nissan, but increasingly, Infiniti is making its own design and business decisions.
Considering that Infiniti has lagged behind its competitors in the luxury world, the move isn't a shock. To rebrand itself, Infiniti is trying to shed its former image and release some true competitors in the luxury segment. According to Autoworld, over the next five years, Infiniti plans to increase the number of its models by 60 percent "and more than double its powertrain portfolio."
"We were launched about the same time as Lexus," said Michael Bartsch, vice president of Infiniti North America, from the floor of the New York International Auto Show. "And if you have to be honest ... there should have been a clear separation [from Nissan] right from the word go."
Infiniti has always taken a back seat to Nissan, and the start of the brand was essentially a failure to launch, as the company's offerings were often poorly marketed, slightly upscale versions of Nissan's competitors' cars. As a result, Infiniti sells fewer than 125,000 cars a year, compared with the 1.5 million cars that BMW sells annually.
Infiniti plans to sell 500,000 vehicles a year by 2020, about the same as Lexus. To do that, Bartsch said its range of models will expand from eight to "eleven or twelve," from cars like the small Q30 to "vehicles that anchor the brand, like the [Mercedes] SLS."
Still, Infiniti needs a game plan if it's going to be a serious threat to Lexus, let alone the Germans. Selling cars in China is a good place to start. Since Infiniti's new headquarters is located in Hong Kong, it's safe to say the company will want to sell a large number of cars in China.
"If you want to be a global brand, you have to be successful in China," Bartsch said. "The reality of it is, the Chinese market is now the biggest automotive market in the world."
But the Chinese market is like any other, at least in one sense: The brand has to be respected to be desired. For example, the G series models, while sporty, never garnered the attention or produced the hype that Infiniti's competitors did. There's never been a true "performance-oriented" Infiniti line, akin to Mercedes' AMG or BMW's M division.
This is probably the perfect time for Infiniti to attempt to do this. After 25 years, it still doesn't have much of a brand identity. Which is a bit bonkers, because as Mercedes' SLS AMG competitor, it could really give people something to talk about. Add to that CEO Johan De Nysschen's proclamation about manual transmissions ("There are just some things you need to have"), and Infiniti could really become the Japanese BMW.
The Q50 Eau Rouge is a sign of things to come, Bartsch said. Expect more "Eau Rouge" models to follow, but Infiniti expects the Q50 to be the brand's flagship car.
"You need to have a performance brand within your brand," Bartsch said. "It's certainly part of Infiniti's plans."
A sales goal of 500,000 cars is ambitious, but if Infiniti's plan includes a line of enthusiast-satisfying Eau Rouge cars, it just might have a chance.
© Copyright IBTimes 2023. All rights reserved.