'Ink Master' Season 5 Spoilers: Episode 12 'Rivals' Preview; Will You Watch Now That Josh Hibbard Is Gone? [POLL]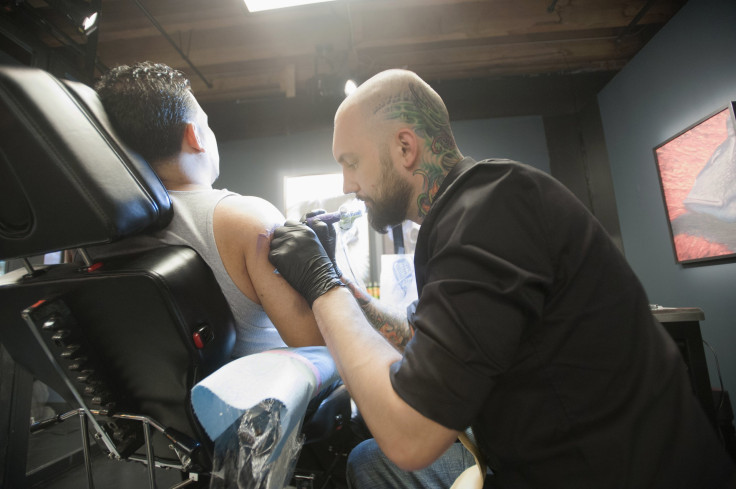 Season 5 of "Ink Master" will continue on Tuesday night … but will fans be watching? That's the big question for Spike after the jaw dropping elimination in episode 11 of "Rivals."
For those that missed last week's episode, front runner Josh Hibbard was sent packing after judge Dave Navarro revealed that he did "not have what it takes to be Ink Master." But Josh wasn't sent home for a bad tattoo – he was eliminated from the competition because he was caught smoking weed.
Josh was confronted by his fellow contestants for using weed to deal with anxiety during the reality show. The tattoo artist of 10 years owned up to his actions, telling the other competitors that he didn't think it would be a big deal and had no intentions of using it to get an advantage. Unfortunately for Josh, others didn't see it that way. While no one has ever heard of "performance-enhancing weed," the "Ink Master" cast members were upset that Josh breached the rules of the competition.
"Nobody likes a liar or a cheat," Cleen Rock One told Josh during episode 11.
Josh apologized to the cast and judges Navarro, Oliver Peck and Chris Nunez. However in the end the judges agreed that despite having one of the best tattoos of the elimination round, he would have to be sent home for violating "multiple rules."
The elimination was welcome among Josh's fellow competitors, but fans rebelled on social media. Due to the uproar, Josh posted a response to his elimination on his website. He told "Ink Master" fans that while he did not cheat or give himself an "unfair advantage," he understands that he "violated the rules of the competition" and hopes he "inspired others to stand up for who you are in a difficult situation."
"I feel very grateful to the production team and Spike TV for making me a part of this amazing competition," he wrote.
But while Josh might not have any hard feelings for "Ink Master" … do viewers?
The "Rivals" season of "Ink Master" will continue on Tuesday night with episode 12. Aaron, Jason, Cris, Mark, Cleen Rock One, Don and Erik are still in the running for the title of "Ink Master" and $100,000 prize – however another artist will be on the chopping block. The synopsis for the episode teases that the contestants will have to work on head tattoos, but a "medical emergency" will leave one canvas "with unfinished ink." Fans can look forward to seeing NFL running back DeAngelo Williams guest star as he "honors his mother, who died of breast cancer."
Will you continue watching "Ink Master"? Take our poll and tweet your thoughts to @AmandaTVScoop.
© Copyright IBTimes 2023. All rights reserved.