Inside Carrie Fisher's Memorial: Daughter Billie Lourd Had For A Special Request For Guests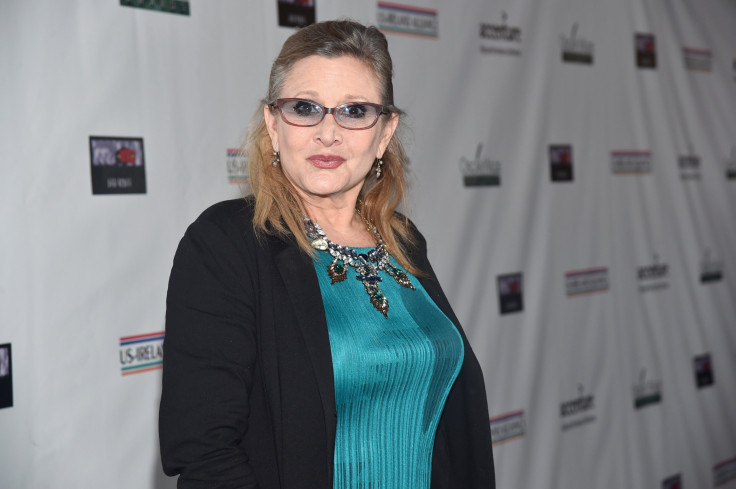 Friends and family of the late Carrie Fisher gathered in the "Star Wars" actress' living room for one final celebration on Thursday. The festivities were organized by Fisher's daughter Billie Lourd to allow those close to her mother to say their goodbyes.
Fisher was known for hosting parties at her home, previously lived in by Bette Davis and Edith Head, according to Entertainment Weekly. Her mother's love of casual entertaining inspired Lourd to memorialize her mother in such a way, in lieu of a traditional funeral. The "Scream Queens" actress invited the Fisher family, her father Bryan Lourd, and 125 other guest including — but certainly not limited to — Meg Ryan, Richard Dreyfuss, and Gwyneth Paltrow.
"Billie wanted the people her mother loved to gather in that living room one last time," a friend of Fisher's family told EW.
Guests honored Fisher by sharing a meal of fried chicken, collard greens and cornbread — something she regularly served at parties — and singing. One source revealed those who attended sang "Happy Days Are Here Again," one of Fisher's favorite songs.
"The only things missing were Carrie and Debbie [Reynolds]," an anonymous family source said to EW. "Debbie would sit in the corner, and everyone there would come up and pay homage. Even the biggest stars were starstruck by her. Carrie would walk around barefoot with a can of Coca-Cola, making sure everyone was having a good time, saying the funniest things you've ever heard."
Several eulogies were said to have been delivered during the gathering. Billie reportedly gave one, followed by speeches from Meryl Streep, Tracey Ullman, Bruce Wagner, Stephen Fry and more. Each eulogy was different, but all were said to share one sentiment — Fisher's love for Billie knew no bounds.
Fisher was cremated on Wednesday after further testing was completed in an effort to learn her exact cause of death. The results of said tests will remain a mystery, at least for the time being. According to a statement from the Los Angeles Assistant Chief Coroner to People magazine, a security hold has been placed on the results of Fisher's autopsy and toxicology. Ed Winter told the publication that neither he nor anyone else at the coroner's office would be able to share any details surrounding her cause of death.
He explained that this request for privacy was "not abnormal," adding that the hold likely would not last forever. He was not clear on when the results may be made public. Nothing more has been said about the results or the hold placed on them at this time.
A portion of Fisher's ashes will be buried with her mother, who past one day after her death last month. Reynolds' funeral is slated to take place on Friday at Forest Lawn Memorial Park in Los Angeles.
© Copyright IBTimes 2023. All rights reserved.