Inside NBA Draft Social Media Takeover From The Room Where It Happened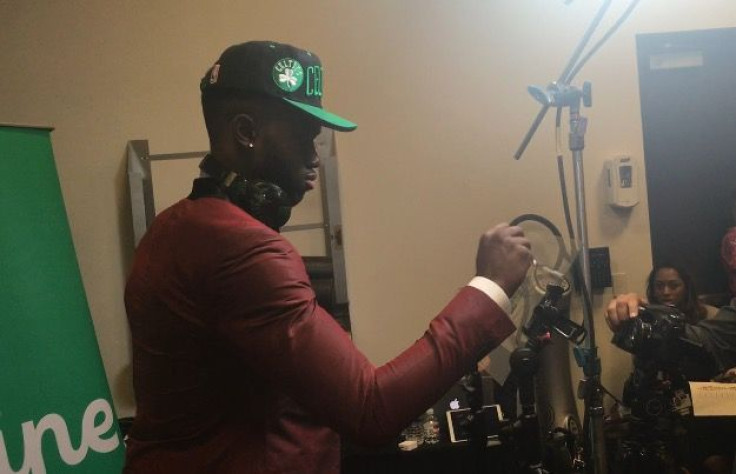 Moments after they were drafted, the National Basketball Association's newest recruits picked up pens. It wasn't to sign contracts or fans' basketballs. The players were tasked with creating a Vine.
A camera was directed through a glass sheet where, one by one, each player signed his name and posed. Donning their new team hats and matching headphones, courtesy of NBA sponsor JBL Audio, they created the first of what would surely be a career of highlights, broadcast on social media.
Six years ago, there was no big social media component to the NBA Draft. A couple years later, two marketing associates got a spot by the main stage to publish tweets. This year, players were ushered through four stations in a room dedicated to social media before they moved to the traditional TV spots.
"It was an amazing night all around. When they come into our social media area, we really wanted it to be something that differs from all of the other interviews and activations that they do, and I think we accomplished that tonight," said Samuel Farber, director of digital media at the NBA.
First, the players took a Vine, which was sponsored by JBL through Twitter's Amplify program. Next, they sent a selfie with Snapchat and received a Snapchat swag bag. Then, they danced for an Instagram, in partnership with GQ. Lastly, they recorded a video, tracing their names in Mandarin, for the Chinese social media site, Weibo.
The whole process lasted about 7 minutes per player and would be one of their shortest endeavors of the evening. After the social media room, first draftee Ben Simmons spent more than an hour answering questions for journalists from all over the world for TV and radio spots.
Throughout the night, the NBA Twitter account (@NBA) announced each pick as soon as it was called. But that's not where the league dominated the conversation online. Sports journalists, like Adrian Wojnarowski, would break the news minutes before each official call, granting him thousands of retweets:
ESPN would similarly try to scoop the picks:
With Twitter as a powerful megaphone for analysts, the teams and the players, there was little hope for the NBA and the broadcasting network ESPN to control the message online Thursday evening. What they could show off is intimate access to the draftees soon after their big moments.
"We allowed them to show off their wardrobe. We allowed them to talk to their fans. It was really the first way their new fans and teams that they were drafted by were able to see them and hear from them and on the platforms that they engage with," Farber said.
Most players were familiar with the social networks and have large online presences themselves. For instance, after his TV appearances, Simmons sent off his own tweet about his new team:
The NBA, which has the largest social presence of any American sports league, partnered with the social networks — Facebook, Twitter, Snapchat and Weibo — for this years draft. Snapchat and Weibo were new additions this year.
Vine has been one of league's most notable relationships. The NBA became the first sports league to cross a billion loops on the network last year, and it ranked number one among Vine accounts during the NBA Finals with 76.5 million loops.
"Vine allows fans to see the entertaining side of their favorite athletes, and no fan base has embraced the creativity of Vine more than that of the NBA," said TJ Adeshola, senior sports partnerships manager at Twitter.
Georgios Papagiannis making his first official signature for the @vine #NBADraft pic.twitter.com/WmN7q7PiXl

— Kerry Flynn (@kerrymflynn) June 24, 2016
The loops and the comments rapidly emerged online after each activation went up. When first pick Simmons, who joins the Philadelphia 76ers, was shown the Instagram video between TV spots, he stared intently at the assistant's iPhone screen and displayed a wide grin. The NBA then asked if he would take another Snapchat.
Simmons grabbed the phone, pressed record and said: "How's it going, everybody? I'm a Sixer officially. Happy to be a part of the family, and ready to get to work."
.@BenSimmons25 taking a Snapchat for @NBA official story pic.twitter.com/TOxxqIHaVY

— Kerry Flynn (@kerrymflynn) June 24, 2016
© Copyright IBTimes 2022. All rights reserved.
FOLLOW MORE IBT NEWS ON THE BELOW CHANNELS