Instagram Grows Up By Offering 30-Second Ads From Anyone
Ever since Facebook Inc paid $1 billion for Instagram in 2012 the question on everyone's lips has been: "How will the social network monetize the photo-sharing app's 300 million monthly active users?"
While Facebook has dipped its toe into the advertising waters on Instagram, it is now ready to go big, announcing that from Sept. 30, users will begin to see 30-second long ads on the platform from a much wider variety of businesses -- both big and small -- in 30 countries around the world. Currently only a select group of advertisers are allowed to show 15-second ads on the platform.
Instagram introduced ads in November 2013, including photo, video and carousel ads but the company has since limited its ad-buying network to a select group of marketers and, according to AdWeek, there have been just 475 campaigns run to date with big brands like Walt Disney Co, Michael Kors Holdings Ltd and Taco Bell.
Announcing the expansion, Instagram's statement pushed the visual appeal of its platform for advertisers: "People come to Instagram for visual inspiration, and advertising on Instagram has the power to touch, inspire and move people. Instagram ads have proven to drive strong branding results—97% of measured campaigns on Instagram have generated significant lifts in ad recall."
$2.8 billion by 2017
So how much could ads on Instagram bring in for Facebook? According to analysts at eMarketer, Instagram's worldwide ad revenue will be $600 million this year and it expects that to grow rapidly in coming years, reaching $1.48 billion in 2016 and $2.81 billion in 2017. This would be a significant addition to Facebook's annual revenue, which currently stands at $12.4 billion with eMarketer suggesting that, by 2017, Instagram will make up 14 percent of Facebook's mobile revenue -- with that percentage doubled in the U.S. where it has a much higher penetration.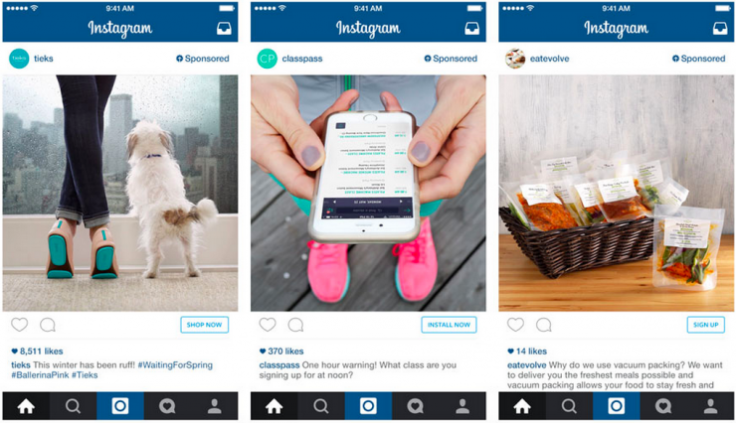 In June, Instagram announced new ad formats (see above) that allow advertisers to engage directly with users on the platform to purchase an item, sign up for a service or buy a mobile app without having to leave the photo-sharing site.
Facebook CEO Mark Zuckerberg said earlier this year that he was willing to be patient with the company's acquisitions and avoid trying to monetize them too fast and end up alienating users. With Instagram now set to join the world's biggest social network as a big player in terms of advertising, the focus is now likely to move to WhatsApp, the world's most popular messaging service, which Facebook bought for $19 billion last year.
To date WhatsApp generates no revenue for Facebook from its soon-to-be 1 billion users, but it is only a matter of time before Facebook's investors begin to put pressure on Zuckerberg to convert all those people into advertising dollars.
© Copyright IBTimes 2023. All rights reserved.