Instagram May Allow Users To Put Links In Captions For A Fee, Patent Suggests
KEY POINTS
Instagram previously didn't allow users to add links in photo captions
A new patent shows that might change in the future
The company, however, is considering charging users for posting links
Instagram users know that the social media app doesn't allow users to include links to websites in captions of normal photo posts, though some have found workarounds like writing "link in bio." But this could soon change.
A new patent granted to Instagram owner Facebook, and recently published by the U.S. Patent and Trademark Office, indicates that the social media company is already considering letting users place links in photo captions for their posting pleasure. This new feature, if added to the app, will help many users, particularly influencers and those promoting certain things.
The new feature will have one big catch: it won't be free. According to the patent, first spotted by Protocol, an online system will look for and detect the presence of text that includes a "string of link text identifying an address." If the text includes such a link, the system will then prompt the user to "pay a fee in exchange for generating a link based on the link text."
The patent adds that the system will only generate the link within the caption when the posting user pays the fee. The generated link will then look like and work the same way as it does on other platforms, such as Facebook. The link will be "selectable" within the caption, and if and when other users tap or click on it, they will then be able to access the "digital location specified by the address."
This move can simply be seen as another way Instagram, and Facebook, for that matter, can generate revenue from its multitude of users, The Verge noted.
Users who don't want to pay the fee, which would probably be $2 per link according to patent images (see below), can simply use the "link in bio" route. Influencers with tens of thousands of followers can also post links in their Stories.
That said, there's a possibility that this feature might not even see a release. Granted patents provide companies with legal protection for their inventions. They do not, however, guarantee that the inventions will become a reality.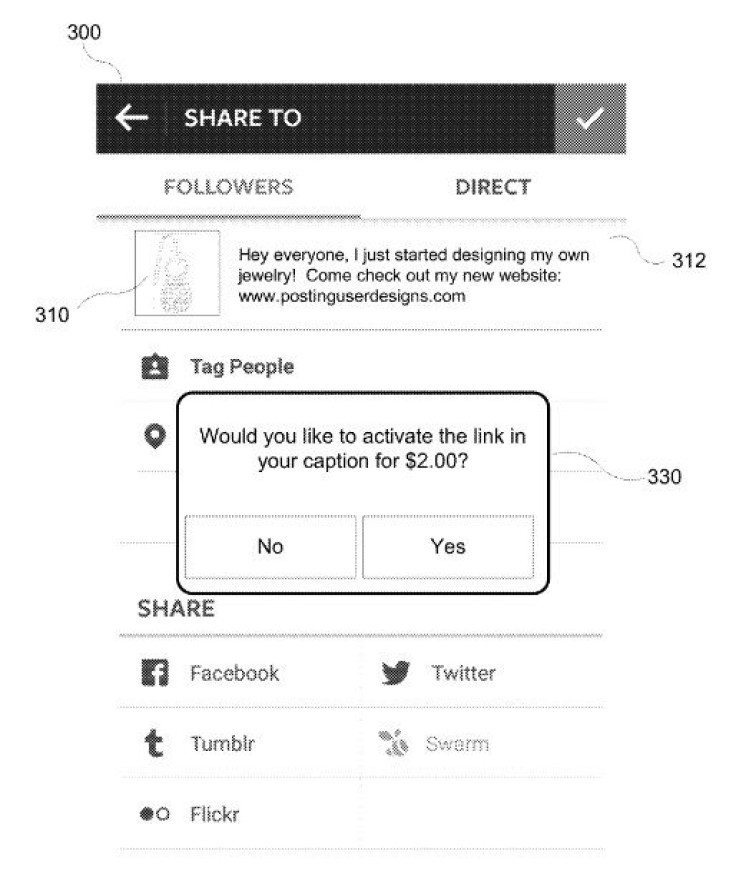 © Copyright IBTimes 2023. All rights reserved.