iOS vs. Android: Apple iPhone 7, 7 Plus More Popular Than Samsung Galaxy 7 and S7 edge
iOS sales outperformed Android's in the U.S. market, as shares rose by 6.4 percent year-on-year in the three months ending in November 2016, recent numbers from data company Kantar shows.
iOS sales grew across most regions Kantar looked at except Germany and urban China, where its market share dropped by 3.2 percent and 19.9 percent. Apple mostly gained in the U.K., where it went up by 9.1 percentage points.
The iPhone 7, iPhone 7 Plus, and iPhone 6s were the three most popular smartphones in the U.S. at the beginning of the holiday season, together making up 31.3 percent share. Meanwhile, the Galaxy S7 and S7 edge came in at fourth and fifth place among best-selling phones in the country, with Samsung taking 28.9 percent of smartphone sales.
Early holiday sales helped out Apple against Samsung in the U.S., especially with Verizon promos, say Kantar.
"Verizon booked nearly a quarter of all US smartphone sales during the Black Friday period, playing a vital role for all brands, including Apple and Samsung," said Kantar's Consumer Insight Director Lauren Guenveur.
"The holiday period is always strong for Apple, but it remains to be seen if demand for the latest devices will level out in the first quarter of 2017," said Kantar's Business Unit Director Dominic Sunnebo.
Android sales decreased in the U.S, U.K. and France, while iOS gained. The latest numbers show the sixth consecutive period of decline for Androids in the US, at 55.3 percent of all smartphone sales, down from 60.4 percent in the same period a year before.
Here is a breakdown of smartphone sales share: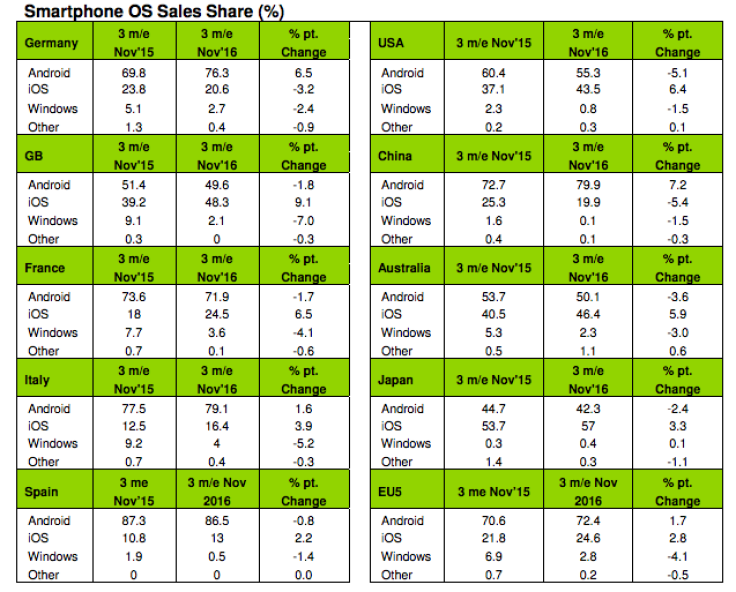 © Copyright IBTimes 2023. All rights reserved.