iPad 3: Amazing Concept Video Makes Us Want New Apple Tablet Now (Video)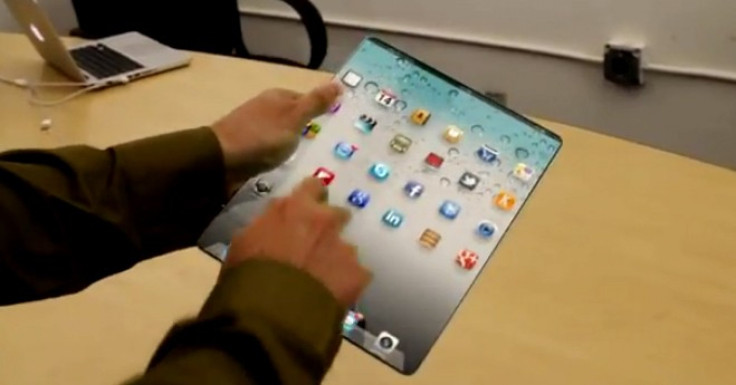 Apple is set to launch its latest tablet iPad 3 on Wednesday, March 7. Until then, the Apple fans can watch the concept video of the iPad 3 right now. The Aatma Studio Animation have developed an amazing concept video of the iPad 3. Before three days of iPad 3's debut, the iPad 3 concept video was published on YouTube. One would love watching the video repeatedly as it has been developed using incredible graphics.
The iPad 3 concept video shows a man handling a iPad 3 which boasts of edge-to-edge Retina Display. It shows the user physically connecting the two iPad 3 screens, making use of the internal magnets.
The NFC (Near Field Communication) technology is used to connect both the iPads digitally. Hence, one can watch both the iPad 3 screens, which give the effect of a large screen. This would make multiplayer gameplay exciting.
Another enticing feature viewed in the video was hologram controls. It is projected on the plain surface next to the iPad 3. By using the hologram controls the players can tap the virtual buttons that are visible on the surface. The video depicts a football game between two players using the hologram controls. Undeniably the video is an amazing to watch and is the result of an extra-ordinary effort by the animators.
On March 7 Apple is set to launch its third-generation tablet in a special media event. The expected features of iPad 3 are Retina Display, NFC, quad core processor, and better camera, among others. The concept video shows the most anticipated Retina Display feature. The iPad 3 is expected to have a resolution of 2048x1536 pixels, which is the double that of the iPad 2.
The NFC technology featured in the concept video shows how both iPads can connect to each other. NFC can be used to make the mobile payments by bringing the devices close to each other.
The iPad 3 is expected to be powered by quad core processor to deliver the faster performance. It is also expected to boast of a better rear-facing camera (with probably 5- or 8-megapixel sensor and LED flash) that will support full HD 1080p video recording. The front-facing camera is expected to support HD FaceTime. After watching the iPad 3 concept video, one cannot help but drool and wish that iPad 3 debuts right now.
Check out the concept iPad 3 video below:
© Copyright IBTimes 2023. All rights reserved.