iPhone 4S Debuts Oct. 14
Available for Pre-Order Oct. 7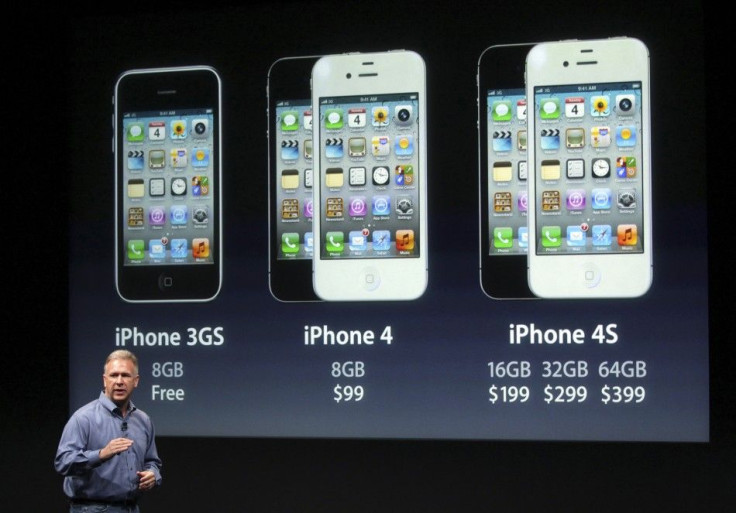 Apple will debut the iPhone 4S instead of an all new iPhone 5, and although iPhone 4S looks the same as iPhone 4 on the outside, inside it has plenty of upgrades.
The newest iPhone is the first to come with 64GB of storage ($399), and that's not even including the 5GB of free storage that comes with iCloud (also included in iPhone 4S). iPhone 4S will also come in in a 16GB and 32GB size for $199 and $299 respectively.
It has more storage, a new operating system, a faster processor, better camera (8-megapixel versus 5-megapixel in iPhone 4) and battery life and voice recognition. Meanwhile, iPhone 4 will now be available in an 8GB version for only $99. It also comes in white.
iPhone 4S does not have 4G speeds or a larger screen as many had hoped. However, when Apple does announce an all-new iPhone 5, those types of features are more likely to be included. With the increased storage on iPhone 4S, users would be able to hold around 40 full length movies in their smartphone. Memory to spare in other words.
Apple is betting that you'll like iPhone 4S so much, you'll keep if for a long time, and because of that, you'll need more storage. The Let's Talk iPhone event lasted a bit less than an hour and a half, and Apple saved the voice integration for last. It's called Siri the intelligent assistant and it can place phone calls, send messages, schedule meetings and even find basic information that you ask it. Ask where is a deli shop, and Siri finds a few of them close by and gives you the choice of which one you want.
It's a unique addition, although not the breakthrough redesign from top to bottom people may have wanted after waiting 16 months for the iPhone 4 follow up. It's not a hardware upgrade, rather the type of lifestyle/ease of use functionality Apple is known for. Whether or not it translates into huge sales is not known yet, but going by this event, Apple seems to be in good hands with Tim Cook at the helm.
© Copyright IBTimes 2023. All rights reserved.