iPhone 5 Feature? Apple Patents Advanced Haptics For Flexible OLED Screen [PICTURES]
For its sixth-generation iPhone, presumably called iPhone 5, Apple is reportedly building a device with a thinner and lighter frame, but a bigger 4-inch screen, according to Korean-based ETNews. Yet with a slew of rumored features, from an NFC mobile payments system to 3D photography, a recently released patent for an incredibly intelligent multi-tiered haptics system could be the one feature to rule them all.
Imagine feeling the texture of a picture, or buttons and arrows that magically elevate from the rest of your screen. This is what Apple has in mind for the future of its iDevices, and the first version of this exciting technology could possibly be introduced alongside its flagship device, the iPhone.
Talk of advanced haptics has been circulating in the rumor mill since last year, when reports surfaced shortly before the release of the iPhone 4S that the next iPhone would feature a haptics system that gave users a new level of feedback for their touchscreens. More recently, before the new iPad was unveiled in March, there was talk of the same haptics system coming to the iPad. Now, it appears that system is becoming a reality.
A control system of a tiered haptic system may determine the amount of pressure, force, displacement or other physical response associated with the user stimuli, Apple said in its patent filing. For example, a tiered haptic system may distinguish between relatively light contact and a relatively heavy contact on the screen surface. In some embodiments, a tiered haptic system may perform particular tasks depending on the physical response of the stimuli. (This could certainly apply to painting or illustrating apps.)
In its patent filing, Apple describes how current haptic feedback systems allow a user to interact with a subsystem by touching it, which is accomplished with sensors, actuators or both. Most forms of haptic feedback are found in video games (e.g. controllers that rumble) and robotics, but Apple's concept system would blow previous methods out of the water.
The new haptics system developed by Apple is all about flexibility. In addition to vibration, Apple's haptic system can use actuation to create shape changes or patterns. For example, future iPhone or iPad users could feel the contours of a geographical map, or could feel raised buttons on a touch display, which would make touchscreen typing substantially easier.
Apple's advanced haptics are also multi-functional, so they can both sense and perform actions at the same time. Some versions of the technology couple the haptics system with a secondary display screen, audio system or another device entirely, so an action performed on a TV screen could possibly be felt directly on your device. This would be extremely useful if Apple ever builds its iTV, so any iDevice could create buttons specific to the program you're trying to control (e.g. Blu-ray DVD controls vs. cable TV controls vs. video game controls, etc.).
So how does this all work? How can a user feel a 3D object on a 2D screen? Apple says its new invention includes several elastic screens (made of any suitable material, from elastomers like rubber to polyeurethane or polyester) that are stacked on top of each other, so various arrangements of the signals could create elements of different sizes and shapes. With these layers of elastic sheets, Apple's haptic system can create different types of actuation, including vibration, net displacement, bending, deforming, other modes, or any combination of these elements.
While the system would create a striking way to interact with your iPhone, Apple also adds that this haptic system can be applied to flexible organic light emitting diode screens, or OLED screens. The OLED screen can be flexible or inflexible, and inflexible embodiments of the display could potentially include a protective cover made of a clear plastic like Lexan. It was interesting that Apple cited Lexan, since the plastic is typically used for space and sports helmets, but it can also be used for heads-up displays or video glasses, such as Google's Project Glass. Who knows, Apple could be building a Project Glass competitor as we speak.
Even if Apple isn't building its own eyeglasses, the company says this advanced haptics system would work with almost every portable Apple device, including iPhones, iPod Touch devices, iPads, MacBooks, and even TVs and video projectors. It can also work with monochrome displays like e-Ink displays, which could mean Apple is building a hybrid Retina-to-grayscale display.
So what's the likelihood that Apple could actually implement this display in time for September or October, when everyone expects the iPhone 5 to be released? It is completely possible since this technology has been long in the making, but there's no mistaking the fact that Apple has filed several haptic-related patents since March 2011. Apple wants this technology to happen, and it would make sense if Apple introduced 3D haptics alongside its 3D camera system, which is also apparently in the works. Both pieces of technology may be finished by October, which would certainly make it the No. 1 smartphone on everyone's holiday wish lists.
iPhone 5: Other Rumored Features
OLED Display. Speaking of OLED ... Apple has reportedly been testing iPhone 5 prototypes with an A5X chip, which is the same quad-core graphics processor that powers the Retina Display in the new iPad. But why would Apple want such a powerful chip for an iPhone? Given that the A5X chip is a graphics powerhouse, if Apple doesn't drastically change the physical size of the screen to 4.6 inches, it could change the display's overall quality.
On April 4, the Korea Times reported that Apple was interested in switching from LCD to OLED displays for its next round of iPhones and iPads. The reason behind the potential move would be Samsung, which recently launched its spinoff company called Samsung Display that aims to pivot away from LCD to focus more on OLED technology. Apple is by far Samsung's biggest customer: The Cupertino, Calif.-based company bought $7.8 billion worth of components from Samsung in 2011, ranging from memory chips to LCD panels, but the company will reportedly buy $11 billion worth of parts this year, which could mean Apple is buying more expensive display material.
Apple has plenty of money to afford OLED screens in an iPhone-sized display, and it would make sense for Apple to ask Samsung to help build its iPhone 5 displays. Samsung knows how to build big, beautiful screens for any size device: Just imagine what Samsung could do with Apple's Retina technology implemented into an OLED. Apple would effectively put distance between the iPhone and all other smartphone competitors for another five years, at the very least.
Lag-free multi-touchscreen. A touchscreen that created the sensation of textures would be an incredible piece of technology, but we're hoping Apple completes the puzzle with one important piece of technology from Microsoft. In mid-March, Microsoft engineers unveiled a lag-free touch screen that responds to the finger's touch in less than one millisecond. Current Apple devices only have a minor lag with their touchscreens, but this minor adjustment would make users feel like they're really touching their work, drawing a picture, or handwriting a note. Apple has proven to us time and again that simplicity is the key to an enjoyable experience, but speeding up the touchscreen would make the already-popular iPhone into the best touchscreen experience ever.
Crack-proof glass. Apple's patent for crack-resistant glass, granted on Nov. 15, uses the same alumino silicate glass solution used in the iPhone 4 and 4S, but chemically treats it with potassium and sodium ions to achieve greater compression thresholds on the surface and edges of the glass, making it less susceptible to cracks.
Apple also included a handy feature that will appeal to everyone who's ever dropped their iPhone: The patent calls for a shock mount to be placed between the glass and the body of the device, which will instantly inflate if the device senses it's falling. If the iPhone's internal accelerometer senses it's falling, an actuator within the device sucks in the cover glass as it accelerates to the ground, protecting it from damage.
3D Photography. Some may say 3D technology is nothing new, or possibly even overdone; Apple would argue that's because nobody has done it right. Yet.
Apple says that while existing 3D cameras and video records can get three-dimensional information from objects, they're generally incapable of getting detailed enough information in relation to the shapes, surfaces and depth of the objects. Apple's solution involves a series of systems, tools and methods to capture a 3D image by using multiple sensors and cameras. One sensor would capture a polarizing image, while two other sensors would capture two different non-polarizing images, and Apple's system would combine the images into a composite.
Apple has another solution involving different specialized sensors for capturing the image's surface information, color imaging and luminance, and combining the data into another composite that has information about the depth and plurality of surfaces. Together, these systems and methods of capturing light and image information would create an incredible 3D image that can be seen without glasses.
LTE Connectivity. It's already a foregone conclusion that Apple will implement radio bands for 4G LTE in the iPhone 5, given that Apple introduced the high-speed network on its new iPad, released on March 16, which was likely done as a practice run.
LTE features significantly higher download and upload speeds compared to 3G technologies, but previous implementations of LTE in smartphones tended to ravage battery life, which was a major complaint from users. If Apple wanted LTE in the iPhone 4S at the time, it would have been forced to increase the phone's thickness to accommodate a larger circuit board and a bigger battery. Apple CEO Tim Cook, in a company earnings conference call in April 2011, said first-generation LTE chipsets force a lot of design compromises.
The iPhone 4 PCB [printed circuit board] is already incredibly small, not leaving any room for an extra chip to enable LTE without shrinking the size of the battery, said Anand Shimpi, a chip expert and CEO of Anandtech.
Fortunately, Qualcomm recently unveiled the fifth iteration of its new chip, which supports TD-SCDMA, TD-LTE, HSPA+, EV-DO, embedded GPS, and LTE on TDD and FDD networks worldwide. The chip works with Android and Windows 8 devices, but there's a great chance this will be the chip inside the iPhone 5.
NFC. Near-Field Communication is nothing new: in fact, many current smartphones have the chip built-in so owners can use mobile payments solutions like Google Pay. Apple has held off on implementing NFC technology into its iPhone, but a slew of recently granted patents seem to suggest that will change with the sixth-generation iPhone. Two of the major features said to use NFC rather heavily are the iWallet, and iTunes Gifting.
The iWallet. Apple won a major patent on March 6 for a piece of technology called the iWallet, which is a digital system that gives users complete control over their subsidiary financial accounts on their iPhones, and also leverages Near-Field Communication technology to complete credit card transactions directly on the phone as well. The iWallet has many different features, including giving users the ability to see their entire credit card profiles, view statements and messages from their banks, and even set parental controls for their children, should they also want to use their iPhones as digital wallets. Outside of the iPhone, users can keep track of their payments and statements within the iTunes billing system, which keeps credit card information and records safe and secure. There's a possibility that iWallet could also work with other Apple utilities, which could allow users to buy things like movie tickets directly within the apps, but only time will tell with that one.
iTunes Gifting. While downloading and storing digital media with online service providers has become commonplace -- more so than purchasing DVDs and CDs at physical retail stores -- it's not very easy to transfer digital files from one individual to another, usually because of copyright laws. Apple believes it has a solution to this issue: A gift-giving platform where users have a standardized way for buying, sending and receiving media files from a media provider (iTunes) between multiple electronic devices (iPhones, iPads and iPod Touch devices). The process is simply called, Gifting.
One method for gifting requires the sender to authorize a gift charge to their iTunes account, which is then transmitted from the sender's device to the receiver's device -- via tapping, or as long as they're nearby -- thanks to the NFC chip. If the recipient of the gift isn't nearby -- or you want it to be a surprise -- the gift-giver may submit an official request with iTunes, which then processes the request and charges the initiator's account for the given file. The patent also allows for multiple gifts to be sent in a single transaction, as well as certain customization options for the gifts -- including voice greetings and custom gift images, likely to conceal the gift's identity before the receipient opens it.
* * *
What features would you like to see in the iPhone 5? Do you hope to type onto a 3D keyboard someday? Let us know your thoughts and impressions in the comments section below.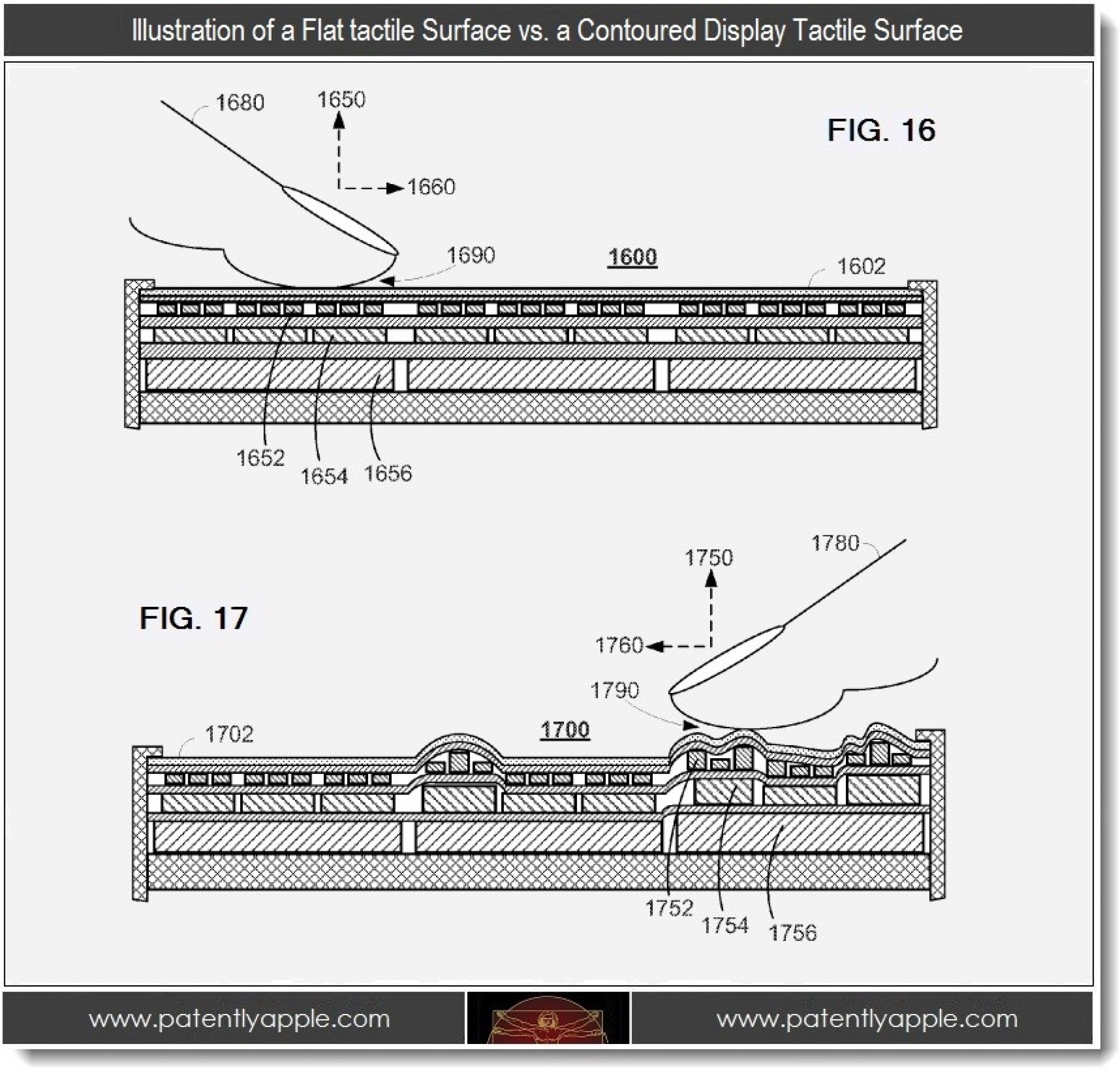 © Copyright IBTimes 2023. All rights reserved.