Apple Unveils The New iPad; Features Include Retina Display, iSight Camera, 4G LTE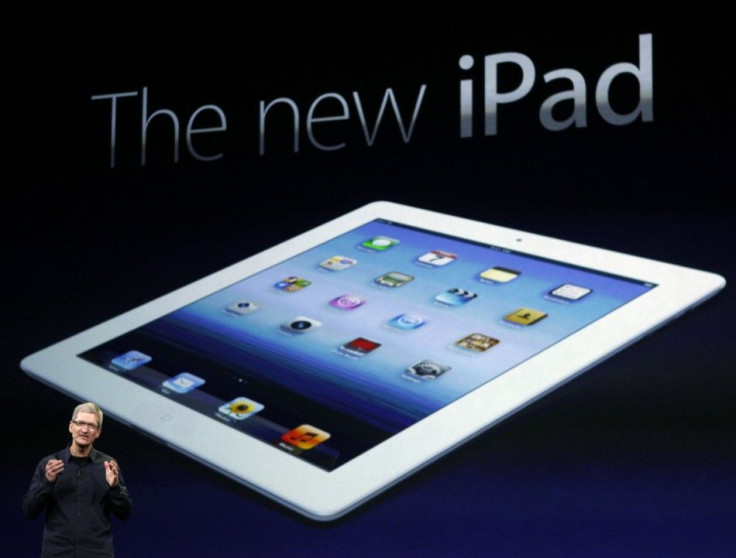 For months, Apple fans have been speculating whether the company's next-gen tablet would be called the iPad 3 or the iPad HD. On Wednesday in San Francisco, inside the Yerba Buena Center for the Arts, Apple CEO Tim Cook took the stage and introduced the new iPad.
The new iPad features an improved camera, a bigger battery, and a dual-LED backlit system that powers an 2048 x 1536 true HD Retina Display that displays 3.1 million total pixels. The display features 44 percent greater saturation of colors than its predecessor. Apple's dual-LED solution makes the iPad's screen noticeably brighter, but it also apparently solved several puzzling issues with heat dissipation and battery consumption.
Better yet, third-party developers won't need to alter their apps to accommodate the iPad's Retina Display. Apple will scale up existing apps to high-resolution, thankfully.
The new iPad runs on a quad-core A5X chip, which powers the high-definition graphics evident in the brilliant Retina Display, but the chip is not the rumored A6 chip many were hoping for. Apple also managed to maintain 10 hours of battery life in the new iPad, including 9 hours on 4G.
The new iPad is also the first Apple iOS device to feature the high-speed 4G LTE network. AT&T and Verizon Wireless are getting ready to sell an LTE-capable iPad, which could achieve faster download and upload speeds compared to 3G technologies.
Furthermore, the new iPad can act as a personal hotspot, which can host up to five devices. The iPad is also 3G world ready, meaning the user can roam around the world and pick up 3G with no problems.
Apple originally hoped to include LTE in the iPhone 4S, but the current implementations of LTE in phones caused very short battery life, which was a major complaint by users. Apple CEO Tim Cook, in a company earnings conference call in April 2011, said first-generation LTE chipsets force a lot of design compromises.
The iPhone 4 PCB [printed circuit board] is already incredibly small, not leaving any room for an extra chip to enable LTE without shrinking the size of the battery, said Anand Shimpi, a chip expert and CEO of Anandtech.
Fortunately, Qualcomm recently unveiled the fifth iteration of its new chip, which supports TD-SCDMA, TD-LTE, HSPA+, EV-DO, embedded GPS, and LTE on TDD and FDD networks worldwide. The chip works with Android and Windows 8 devices, but by targeting so many different carriers, there's a high degree of likelihood that this will be the same chip inside the iPhone 5.
Apple also upgraded its front and rear cameras for better photos and Facetime. This is no surprise -- the camera system on the iPad 2 was considered low-end, given that it only recorded up to 720p HD and required tapping to focus. However, Apple's new iSight camera only features 5-megapixels on the backside, and includes face detection, white balanace, and an infrared filter with advanced optics. And, of course, Apple outfitted the iPad HD with auto-focus, video stabilization and full 1080p HD video recording.
© Copyright IBTimes 2023. All rights reserved.
FOLLOW MORE IBT NEWS ON THE BELOW CHANNELS