Apple & LTE: Why The Most Polarizing iPad '3' Feature Serves The iPhone 5
ANALYSIS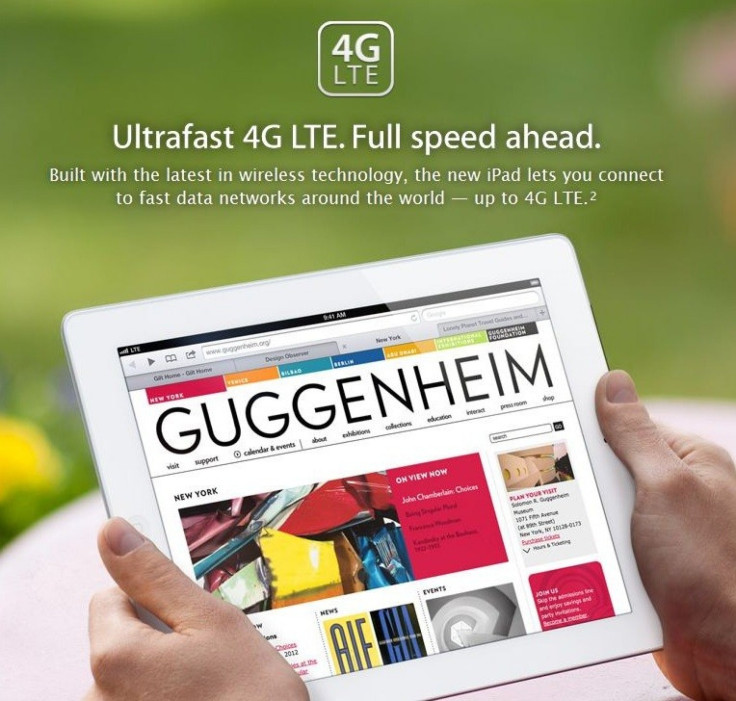 While most people adore the new iPad, the inclusion of LTE is by far the tablet's most polarizing feature. The high-speed Long-Term Evolution network can push the ceiling of the new iPad to new heights, letting webpages, images and videos load at an incredible clip, but there are several downsides to the powerful network as well. Love it or hate it though, LTE in the new iPad is Apple's way of practicing for the iPhone 5.
Apple's History With LTE
The new iPad is the first iDevice to use the 4G LTE network, but analysts believe Apple wanted to include the high-speed network in the iPhone 4S, and failed. LTE features significantly higher download and upload speeds compared to 3G technologies, but previous implementations of LTE in smartphones tended to ravage battery life, which was a major complaint from users. If Apple wanted LTE in the iPhone 4S at the time, it would have been forced to increase the phone's thickness to accommodate a larger circuit board and a bigger battery. Apple CEO Tim Cook, in a company earnings conference call in April 2011, said first-generation LTE chipsets force a lot of design compromises.
The iPhone 4 PCB [printed circuit board] is already incredibly small, not leaving any room for an extra chip to enable LTE without shrinking the size of the battery, said Anand Shimpi, a chip expert and CEO of Anandtech.
Fortunately, Qualcomm recently unveiled the fifth iteration of its new chip, which supports TD-SCDMA, TD-LTE, HSPA+, EV-DO, embedded GPS, and LTE on TDD and FDD networks worldwide. The chip works with Android and Windows 8 devices, and while the new iPad doesn't use this chip, there's a high degree of likelihood that this will be the same chip inside the iPhone 5.
The Drain of 4G LTE
Apple users get their first taste of LTE in the new iPad, but choosing this option is costly. Compared to the Wi-Fi-only iPad models that cost $499, $599 and $699, the 4G LTE versions cost $629 for 16 GB, $729 for 32 GB and $829 for 64 GB. Unfortunately, 4G LTE isn't a one-time payment; you will continue to pay for access to this network for as long as you own the iPad.
While 4G LTE connections produce a seamless browser and tablet experiences, new owners are learning that streaming data over the network is very costly. It may be fast at streaming video, but the reality is that data plans aren't designed to handle so much bandwidth.
AT&T offers 250 MB of data for $14.99 a month, 3 GB for $30 a month, and 5 GB for $50 a month. Similarly, Verizon Wireless offers 1 GB of data for $20 a month, 2 GB for $30 a month, 5 GB for $50 a month, and 10 GB for $80 a month. If this wasn't expensive enough, owners get charged an additional amount -- between $10 and $20 -- for each gigabyte that exceeds the user's monthly cap.
In a profile by The Wall Street Journal, many AT&T and Verizon customers came forward with their stories of how the new iPad shot through their data plans.
Brandon Wells got the new iPad last Friday, started wirelessly streaming March Madness games the next day and by Saturday night was out of gas, The Wall Street Journal reported. Two hours of college basketball-which he viewed mounted to his car dashboard and live at tournament games-had burned through his monthly wireless data allotment of two gigabytes.
The reason LTE is so expensive? For the exact same content, LTE uses twice the amount of data as 3G networks.
Verizon estimates that streaming [regular video] over an LTE connection runs through 650 megabytes an hour, The Journal said. That's double the amount of data used streaming the same video over a 3G link, because the fatter pipe lets more data through. On top of that, the new iPad's sharper screen will encourage some users to view videos in high-definition, which uses 2 gigabytes an hour on a 4G connection, according to Verizon.
On The Bright Side
Apple wouldn't include the 4G LTE network if it couldn't deliver some great features. Besides being able to load pages and stream videos instantly, the 4G LTE iPad can also act as a personal hotspot, which can host up to five devices.
Shimpi discovered that the iPad actually excells as a MiFi hotspot:
Now for the killer. If you have an iPad on Verizon's LTE network and use it as a personal hotspot (not currently possible on the AT&T version), it will last you roughly 25.3 hours on a single charge, he said. Obviously that's with the display turned off, but with a 42.5Wh battery driving Qualcomm's MDM9600 you get tons of life out of the new iPad as a personal hotspot.
Given that battery life is an enormous concern issue -- the battery continues to drip even when it's plugged into a power source -- the fact that it will work as a Wi-Fi hotspot for 25+ hours is extremely encouraging. This means that other iDevices can leverage the high-speeds of the new iPad, which makes LTE slightly more worth it.
Why Apple Introduced LTE On The New iPad, and NOT The iPhone 5
So why didn't Apple wait until it released the iPhone 5 to introduce LTE? After all, compared to smartphones, tablets don't really need 4G LTE. But that's why the new iPad was the perfect device for Apple's LTE debut.
Imagine that Apple introduced LTE in the iPhone 5, and it failed for any number of reasons. It killed the battery life, it cost users too much on their data plans, the connections were too spotty ... any excuse will do. The company puts too much stock in the iPhone to let such a big smartphone feature like LTE fall on its face. Apple needed a practice run.
The new iPad was the perfect opportunity. While beautiful and improved over its predecessors, the tablet wasn't anything flashy or new. In fact, many new iPad owners will find that they are not impressed with the device, but that's only because the new iPad is so good at becoming invisible. Adding LTE would get users excited for a new feature, and would give Apple some experience with the new network before it was introduced on the company's breadwinner, the iPhone.
What Else To Expect In The iPhone 5
LTE is a foregone conclusion for the iPhone 5, but many other features in Apple's next-gen smartphone are a mystery, from the form factor to the guts to the software.
There are duelling reports about the iPhone 5's form, with one South Korean source saying the phone's screen will measure 4.6 inches, but another stating the iPhone will retain the same 3.5-inch screen as its predecessors. While it's confusing to think Apple would adopt the same big-screen mentality as its rivals like Samsung and Google, a source from within China's Foxconn plant told 9 to 5 Mac that various sample iPhone 5 prototypes were floating around the factory floor when Apple was gearing up to begin production on the iPhone 5 in January. The source added that there were a number of common features among the prototype phones, including a display that measured at least 4 inches, and a longer and wider form factor that did not match that of the iPhone 4 or 4S. The Foxconn sources believed the iPhone 5 would retain the rectangular shape of its predecessors, but Ciccarese is holding out hope for the thinner teardrop design.
Previous reports said the iPhone 5 will also feature an improved version of Siri, the voice-activated AI system that was only released as a beta in the iPhone 4S, as well as a bigger screen. In November, Hitachi and Sony reportedly began shipping 4-inch LCD panels for final production of new iOS devices believed to be the next-generation iPhone. Upgrading the iPhone's 3.5-inch screen to a 4-inch display would require a rebuilt Retina Display, but a bigger screen would help Apple compete against phone makers that make bigger screens, such as Samsung, while also providing a more immersive iPhone experience.
Before Apple unveiled the iPhone 4S on Oct. 4, the Internet was flooded with photos of a thin, large-screen iPhone 4. The photos were widely believed to be doctored until one Chinese site discovered mold engineerings of an iPhone 4 with a noticeably larger screen. The renderings depicted an edge-to-edge design for the iPhone's screen, which looked to measure about 3.7 inches. Component industry trackers believed that the images represented Apple's wish to compete with rival devices with bigger screens.
Apple's next iPhone may also include a number of the company's recently granted patents. Apple won a major patent on March 6 for a piece of technology called the iWallet, which is a digital system that gives users complete control over their subsidiary financial accounts on their iPhones, and also leverages Near-Field Communication (NFC) technology to complete credit card transactions directly on the phone as well. The iWallet has many different features, including giving users the ability to see their entire credit card profiles, view statements and messages from their banks, and even set parental controls for their children, should they also want to use their iPhones as digital wallets. Outside of the iPhone, users can keep track of their payments and statements within the iTunes billing system, which keeps credit card information and records safe and secure. There's a possibility that iWallet could also work with other Apple utilities, which could allow users to buy things like movie tickets directly within the apps, but only time will tell with that one.
The iPhone 5 might also be the first phone to feature a new piece of software for multi-player gaming. On March 15, the U.S. Patent and Trademark Office published a patent application from Apple that describes asystem for multi-player gaming, which allows groups of people to play the same game together and even see it from different perspectives according to the device's physical relation to one another. The system actually mimics that of the Find My Friends app, in which a user's device detects other nearby devices that it recognizes as friends, and invites them to all join a common application. The unique technology also determines the relative position of those devices, so some games -- like turn-based role-playing games or card games -- can be played in a specific order.
The best patent of them all, however, may be Apple's patent for crack-resistant glass, granted on Nov. 15. Basically, the crack-resistant glass solution utilizes the same alumino silicate glass used in the iPhone 4 and 4S, but by chemically treating it with potassium and sodium ions, the glass can then achieve greater compression thresholds on the surface and edges of the glass, making it less susceptible to cracks. The patent also involves a shock mount between the glass and the body of the device that will instantly inflate if the device senses it's falling, which is determined by the device's internal accelerometer. An actuator within the device sucks in the cover glass as it accelerates to the ground, protecting it from damage.
If Apple waits until the fall to release the iPhone 5, it may unveil its next-gen smartphone alongside a smaller, 8-inch iPad, which is also expected to debut in October. The original report from Apple's Taiwanese supply chain was later confirmed by The Wall Street Journal, which said Apple is working on an 8-inch iPad.
On Jan. 24, Cook released Apple's record-breaking Q1 2012 earnings, announcing $46.33 billion in overall earnings, $13.1 billion in profit and $17.5 billion in cash for the quarter that ended Dec. 31, 2011. In the last 14 weeks of the year, Apple sold 37 million iPhones, 15.4 million iPads and 5.2 million Macs.
We're thrilled with our outstanding results and record-breaking sales of iPhones, iPads and Macs, Cook said. Apple's momentum is incredibly strong, and we have some amazing new products in the pipeline.
© Copyright IBTimes 2023. All rights reserved.