iPhone 5: iOS 5.1 Code Strings Assure 4G LTE, What Other Features Can We Expect?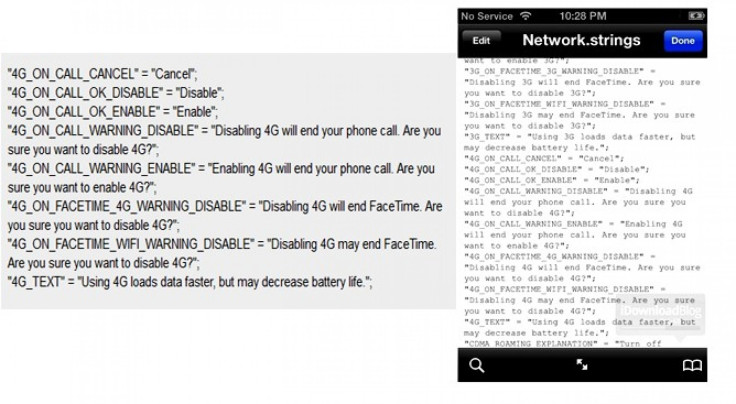 When Apple release its third generation iPad with 4G LTE connectivity, it was assumed that the next iPhone will also be 4G LTE-enabled. Now it is almost confirmed that the assumption are true as iOS v5.1 code unveils the notion of 4G iPhone.
Krishna Sagar, a Cyadia developer showed off his spying skills on iOS v5.1 by uncovering the code for 4G iPhone, in the new mobile OS from Apple. If the post on iDownloadBlog is to be believed, then iPhone 5 with 4G LTE connectivity is virtually confirmed.
The code reads as follow:
[#1 4G_ON_CALL_CANCEL = Cancel; #2 4G_ON_CALL_OK_DISABLE = Disable; #3 4G_ON_CALL_OK_ENABLE = Enable; #4 4G_ON_CALL_WARNING_DISABLE = Disabling 4G will end your phone call. Are you sure you want to disable 4G?; #5 4G_ON_CALL_WARNING_ENABLE = Enabling 4G will end your phone call. Are you sure you want to enable 4G?; #6 4G_ON_FACETIME_4G_WARNING_DISABLE = Disabling 4G will end FaceTime. Are you sure you want to disable 4G?; #7 4G_ON_FACETIME_WIFI_WARNING_DISABLE = Disabling 4G may end FaceTime. Are you sure you want to disable 4G?; #8 4G_TEXT = Using 4G loads data faster, but may decrease battery life.;]
Other than confirming 4G LTE iPhone, these strings also reveal something more astonishing. Probably you might have noticed that in string #6 - FaceTime in iPhone 5 will also be available over 4G network. However, running FaceTime over 4G will require VoLTE (Voice over LTE) service, which is not supported by any network provider yet. But Verizon Wireless is expected to release VoLTE later this year.
Currently, in the new iPad, FaceTime - the video chatting app - is functional over Wi-Fi network only. Also, the new iPad misses the much-hyped Siri app.
Apple always save the best for its iPhone and it appears that iPhone 5 is going to be the best ever smartphone from the Cupertino-based firm. Along with LTE connectivity, iPhone 5 is expected to feature quad-core A6 processor and 1GB of RAM. NFC (Near Field Communication) is also virtually confirmed as Apple has got patent for its iWallet app. It is also rumored that the iPhone 5 will have ultrasonic bonding, which will make the device more sturdy and strong, and rumors about a bigger screen (4-inch or even 4.6-inch) are at an all time high.
The next generation iPhone is expected to debut in September/October 2012.
Check out the iDownloadBlog's video below:
(reported by Johnny Wills, edited by Surojit Chatterjee)
MUST READ - iPhone 5 Release Date Rumors: Foxconn 20,000 Hiring Spree Hints at June Launch?
MUST READ - Samsung Galaxy S3 Release Date is March 30, Hints New Leaked Photo: What About Specs?
MUST READ - Tim Cook: 3 Important Decisions That Makes Cook a Better Apple CEO Than Steve Jobs (PHOTOS)
MUST READ - Nokia Lumia 900 Release Date AT&T: Will April 8 $99 Debut Pose Threat to iPhone 4S?
© Copyright IBTimes 2023. All rights reserved.