iPhone 7: Apple Inc. Looking To Produce Almost 80 Million New Smartphones Despite Declining Sales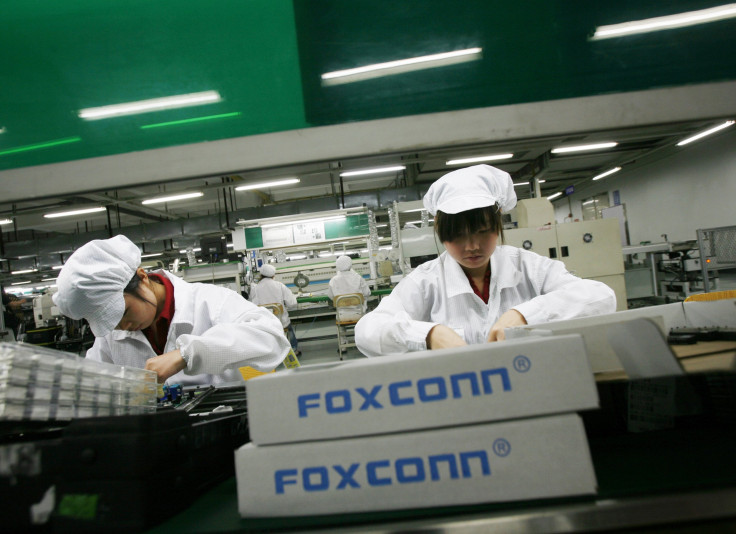 Despite expectations of a comparatively minor upgrade at a time of faltering smartphone sales, Apple appears willing to bet on the appeal of its next-generation iPhone by asking its supply chain to make more devices than it has produced in the previous two years.
Apple is requesting its suppliers produce as many as 78 million new iPhones this year, according to a report by Taiwan's Economic Daily News. The company typically refreshes its flagship smartphones once a year, with the 2016 models expected in September and likely to be called the iPhone 7 and iPhone 7 Plus.
Based on conversations with sources at Apple's main suppliers, the report indicated the company will keep Taiwanese contract manufacturer Hon Hai Precision Industry, also known as Foxconn, as its main supplier, while it also boosts its demand at Foxconn's compatriot firm, Pegatron.
The report came a week after it was revealed that both Foxconn and Pegatron began hiring extra workers a month earlier than it has in previous years.
As a result of the two reports, the share prices of both companies spiked Monday, with Pegatron up 10 percent and Hon Hai Precision Industry up 5 percent. Each is traded on the Taiwan Stock Exchange (TSE), which was up 2.6 percent the same day. Other Taiwanese firms known to be Apple suppliers also benefited from these reports Monday, with Catcher Technology, which makes metal cases for the iPad and iPhone, up almost 10 percent on the TSE, and Taiwan Semiconductor Manufacturing, which supplies the chipsets for those mobile devices, up more than 3 percent in the early going on the New York Stock Exchange.
Apple's shares, hit recently as a result of the company's first quarterly revenue decline in 13 years, opened up nearly 2 percent Monday, outpacing the Nasdaq composite, which was up just 0.4 percent.
If the reported level of iPhone production proves to be accurate, it would be the highest in two years and come on the heels of Apple recording its first-ever double-digit percentage decline in quarterly sales of its smartphones. Wall Street analysts had predicted Apple would produce somewhere in the area of 65 million iPhones this year.
"The biggest challenge for Apple with the iPhone right now is the sheer unpredictability of demand, as we've recently entered an unprecedented period of year-on-year declines in sales," Jan Dawson, chief analyst at Jackdaw Research outside Provo, Utah, told International Business Times. "There are so many uncertainties right now in forecasting iPhone demand, driven by the global smartphone slowdown, the lengthening upgrade cycles and other factors.
Dawson said that even Apple will struggle to forecast with any certainty how many phones it is likely to sell in the coming year, but overestimating demand is much better than doing the converse — and could explain the increased orders. "The worst thing that could happen is falling significantly short in meeting demand, so I'd expect Apple to err on the side of oversupply rather than undersupply," he said.
One of the biggest impacts on iPhone demand in the second half of this year could be the the huge spike Apple saw two years ago with its launches of the iPhone 6 and iPhone 6 Plus, when it sold a record number of smartphones. While upgrade cycles globally are lengthening, two years remains the most common upgrade period, meaning there may be tens of millions of iPhone users who will be looking for new phones come September.
Apple has not commented on the production report, but CEO Tim Cook recently told CNBC the company is focused on customer satisfaction rather than volume. "The most important thing is that customers love our products," Cook said. "That is the most important thing for the long term of Apple."
While Apple has revealed no details about its iPhone refresh this year, leaks along its supply chain as well as insight provided by company analysts have suggested the firm is set to eschew its typical tick-tock update cycle and unveil a relatively minor upgrade of the iPhone 6s, which was launched last September.
KGI Securities analyst Ming-Chi Kuo, who has deep supply chain sources and a good track record of predicting Apple's future plans, said the company is preparing a slight refresh of its handsets this year before a significant upgrade next year, including an all-glass design and wireless charging.
This assertion was backed last week by Catcher Technology CEO Allen Horng, who told reporters that Apple would use more glass in its iPhones in 2017, according to the Nikkei Asian Review.
© Copyright IBTimes 2023. All rights reserved.