iPhone X Fold Features: Flexible Battery, Magnetic Latch And Samsung Display Panel
Samsung and Huawei might be ahead when it comes to the unveiling of their groundbreaking foldable phones this year, but there's no doubt that Apple's iPhone X Fold still invite some equally strong interest.
This might be because some analysts believe that the variant from the Cupertino giant could actually be better than other models like the Galaxy Fold. Some reports are basing it on artists' perspectives of what the next Apple smartphone could look like and it is definitely beautiful.
Based on the iPhone concept created by graphic designer Antonio De Rosa, the iPhone X Fold coule feature an external full-screen cover and a flexible display that transforms the phone into an 8.3-inch tablet. His concept design, which was introduced via a video that made use of Apple's design language, also imagines the iPhone X Fold as capable of folding out to become two side-by-side iPhones which can be completely shut. The packaging is also worth mentioning because of the concept phone's unique triangular box.
However, based on the initial and current patents of the foldable iPhone released by the United States Patent and Trademark Office, the real deal could be even better. First, Apple's newest device will be packed with features that will immediately address some anticipated problems of other foldable models. One of them will address the heating requirements where the screen folds to avoid damage at the crease in cold temperatures.
A patent awarded in March last year also shows that a foldable battery could be integrated with the display and that a graphite padding will be used to dissipate heat when the panels are combined. And then there's the patent that shows how a magnetic latch could keep the phone closed and secure even without a physical mechanism.
The latest patent which was awarded last month shows that the next iPhone X could fold in half like a flip phone. The image is similar to the much-anticipated foldable Motorola Razr that's also slated to make an appearance this year.
And since Samsung Display already sent Apple and Google some samples of its display panel found in the Galaxy Fold, we expect the iPhone model to boast of a similar display technology.
The release of the Apple iPhone X Fold is expected to be late compared to its rivals. Both Samsung and Huawei are launching their foldable devices commercially this year while Apple is expected to introduce its new device sometime in 2020.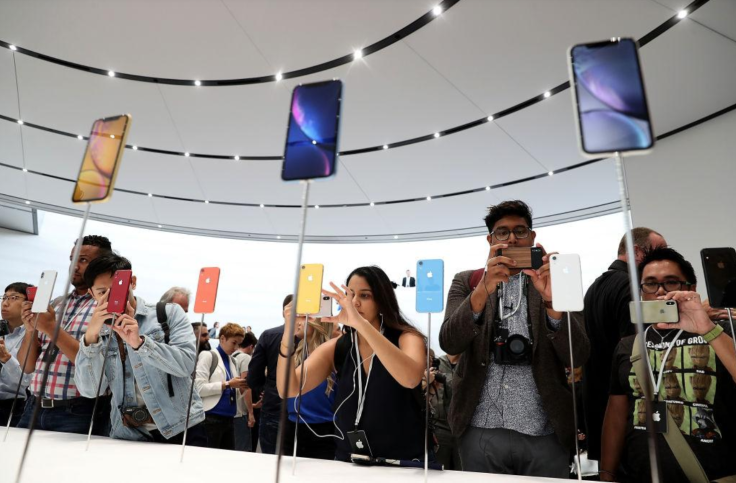 © Copyright IBTimes 2023. All rights reserved.