ISIS Conflict In Iraq: Islamic State Kidnaps Children To Use As Human Shields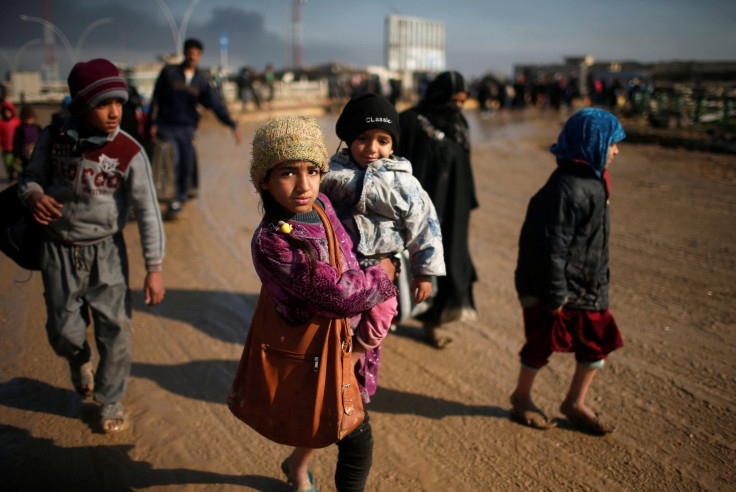 The Islamic State group has reportedly kidnapped nearly 200 children to use as human shields in Iraq during a battle between Iraqi forces and the extremists in west Mosul. The Iraqi Observatory for Human Rights reported that 197 children were held hostage by ISIS near the al-Nouri Grand Mosque in western Mosul.
More than 270,000 civilians were relocated due to the battle in Mosul. Of those displaced, 110,000 fled before the fighting began, according to the International Organization for Migration. The escapees, doctors and troops confirmed that women and children were the ones being targeted on the battlefield, adding that ISIS militants would open fire as they attempted to flee or used them as shields if they were around, according to Stars & Stripes. Coalition officials said "in some incidents causalities are unavoidable," because civilians aren't warned before a strike.
Read: British Commander 'Will Kill' ISIS Fighters He Finds
The Iraqi Observatory for Human Rights said in a statement Saturday since the beginning of the operation where children were used as human shields, about 2,700 to 4,000 civilians have died in coalition strikes during the battle between the Iraqi forces and IS extremists. Since the number of civilian deaths in Mosul was extremely high, Iraqi forces have halted the operation in the interim as they come up with a strategic way to retake the city without causing any more collateral damage, according to local reports.
"Our goal has always been for zero civilian casualties, but the coalition will not abandon our commitment to our partners because of ISIS's brutal tactics terrorizing civilians, using human shields, and fighting from protected sites such as schools, hospitals and religious sites," U.S. Army Col. Joe Scrocca, a Baghdad-based spokesman for the coalition told the Los Angeles Times.
© Copyright IBTimes 2023. All rights reserved.