ISIS Foreign Fighter Recruitment, Social Media Undeterred By New Security Crackdowns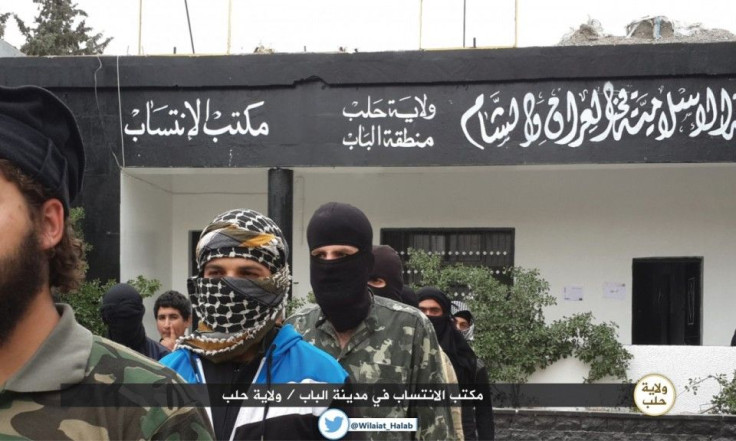 Since the Islamic State group declared its self-styled caliphate in June, countries around the world have been on high alert for foreign fighters trying to get to Iraq and Syria. New security measures have forced the extremists to adopt more-creative recruitment methods, but they have not hindered the militant group's ability to reach a wide range of prospective recruits.
Intelligence and law-enforcement agencies have cracked down on the Islamic State group's recruitment cells outside Iraq and Syria as well as on its sophisticated use of social media to attract and inculcate recruits while spreading its message. Despite the new measures, the group formerly known as either ISIL or ISIS has managed to draw in 20,000 foreign fighters from more than 40 countries. It's difficult to be sure how many fighters have left to join the militant group, but, as its recruitment tactics adapt to the security measures, the number is rising.
"The quest to travel to Syria in support [of] ISIS has not changed, and attempts at getting to Syria are continuing," said Jasmine Opperman, a South Africa-based analyst at the Terrorism Research and Analysis Consortium, or TRAC, a unit of the Beacham Group LLC, headquartered in Nokomis, Florida.
"Recruitment is as successful as ever," added Veryan Khan, the editorial director and founder of TRAC.
An estimated 3,400 Westerners have left to fight for the Islamic State group or similar organizations in Iraq and Syria, retired U.S. Air Force Lt. Gen. James R. Clapper, the director of national intelligence, said Thursday. In November, that number was only 2,700.
"It's becoming more complicated. The one change I've seen is that there is a lot less back and forth," said Jytte Klausen, a professor of international cooperation at Brandeis University and the founder of the Western Jihadism Project, a research group. "Once people are there, they generally stay now. A year ago, it was very common for people to go home for rest and recreation and then go back. That's not happening anymore."
For a period this fall, the Islamic State group tightened security checks on Westerners, fearing spies could be disguised as fighters to infiltrate the group. New recruits in the West had to have at least one recommendation from a prominent sheik already known to the militant group. It has since loosened those restrictions, and foreign fighters continue to flock to its strongholds.
"There are people who are doing this alone without any guidance, or they're in contact with people through the Internet about giving them various hints on which way to go," said Thomas H. Henriksen, a senior fellow at the Hoover Institution, which is based at Stanford University in California. "There is some guidance; some of these people are very young."
The Islamic State group has long used social media, such as Ask.fm and Twitter, to answer questions about joining and to disseminate advice on the best way to get to the so-called caliphate without being detected. There are scattered sympathizers who act as online recruiters for the militant group. They will first help weed out potential spies, then determine the seriousness of potential recruits and finally connect them with the correct people to bring them across the Turkish border into Syria.
Twitter and YouTube have been increasing efforts to remove propaganda from their platforms. They shut down accounts that belong to Islamic State group sympathizers and online recruits, but other accounts are frequently re-created just as fast. After a sympathizer has been blocked, he will almost immediately establish a new Twitter profile with a similar handle. He will then post dozens of tweets to his "brothers" urging them to spread his new profile using ISIS hashtags, while condemning Twitter for shutting down the account.
"Hashtags are huge for the Islamic State recruitment process," TRAC's Khan said. "[ISIS is] the first I have ever seen to produce and change hashtags almost hourly. They always trend within the jihadi fan boy club."
Twitter was one of the first public forums the Islamic State group employed for recruitment, but the group has now expanded its social-media use to several other platforms, including Facebook, Instagram, JustPasteIt, Pinterest and WordPress. One group sympathizer even wrote an ebook about joining the organization and posted it to Scribd.
Al Qaeda in the Arabian Peninsula, aka AQAP, released a similar publication titled "Muaskar Al-Battar" ("Camp of the Sword") years ago and made it available online last year. The 64-page publication focused on the proper diet, knowledge of weapons and exercises that a jihadi should have before joining the group.
The Islamic State group version makes no such demands on recruits, but rather is a step-by-step guide on how to get from your home to the so-called caliphate without getting stopped by law-enforcement agencies. The 50-page document included advice on packing, "getting through airport security," a list of Twitter accounts associated with group sympathizers and several examples of hijrah success stories.
"This Islamic State is the great 'redeemer.' Many are looking to wash themselves clean of a previous life of haram," Khan said. "Since each person's choice is individual, they never know what is going to be the most influential tipping point, so they cover the gamut of subjects to appeal to any- and everyone."
© Copyright IBTimes 2022. All rights reserved.
FOLLOW MORE IBT NEWS ON THE BELOW CHANNELS