Islamic State: Turkey's Erdogan Likens Syrian Kurdish Fighters To PKK Terrorists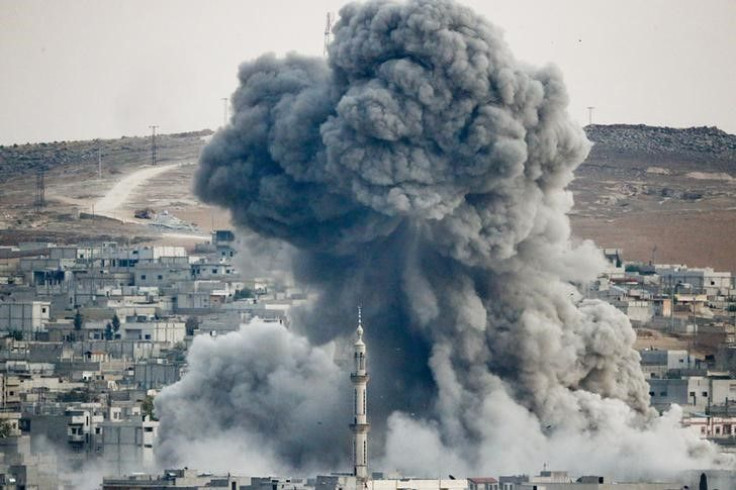 Turkey's president is equating Kurdish fighters battling Islamic State rebels in Syria to the outlawed Kurdistan Workers Party, or PKK, and opposing plans to transfer weapons to the struggling fighters attempting to keep the Syrian border town of Kobani out of ISIS hands. President Recep Tayyip Erdogan said the Syrian-Kurdish Democratic Union Party is as much a "terrorist organization" as the PKK, the Hurriyet Daily News reported.
"It would be very wrong for America -- with whom we are ... allies and who we are together with in NATO -- to expect us to say 'yes' after openly announcing such support for a terrorist organization. It cannot expect such a thing from us and we cannot say 'yes' to such a thing either," Erdogan told reporters on a flight to Istanbul from Kabul, Afghanistan, the official Andolu Agency reported Sunday. However, he said, U.S. use of Incirlik Air Base in southern Turkey is a separate issue and has not yet been ruled out.
"If there is something we deem appropriate, we would discuss it with our security forces and we would say 'yes.' But if it is not appropriate, then saying 'yes' is not possible for us, either," Erdogan said. The U.S. announced last week it had reached a deal with Turkey to use Incirlik as a staging ground for attacks on Islamic State targets, but the next day, Turkey denied that was the case.
The Kobani siege has sent some 400,000 Syrian refugees fleeing the area to Turkey, Voice of America reported.
Some of the fiercest fighting at Kobani in days was reported Sunday. Attacks included car bombs and mortar fire, Reuters reported. Some shells fell inside Turkey, the Syrian Observatory for Human Rights in London reported.
The Kurdish Globe reported in its Monday edition the ISIS advance on Kobani had stalled as a result of the U.S.-led coalition's bombing campaign. The coalition conducted six airstrikes Sunday, Radio Free Europe/Radio Liberty said. The Syrian Observatory reported 70 Islamic State militants had been killed in the past two days, Radio Free Europe/Radio Liberty said.
In Germany, members of the Median Empire Motorcycle Club, a Cologne group with Kurdish ties, said on Facebook they were joining the Kurdish militia to fight ISIS, the Independent reported. Meanwhile, three Dutch bikers, members of the No Surrender Banditos club, joined the fight against ISIS in Mosul, Iraq, the British newspaper said.
© Copyright IBTimes 2022. All rights reserved.
FOLLOW MORE IBT NEWS ON THE BELOW CHANNELS