Israel Drone Program Update: Air Force To Double Heron Unmanned Aerial Vehicles By End Of Year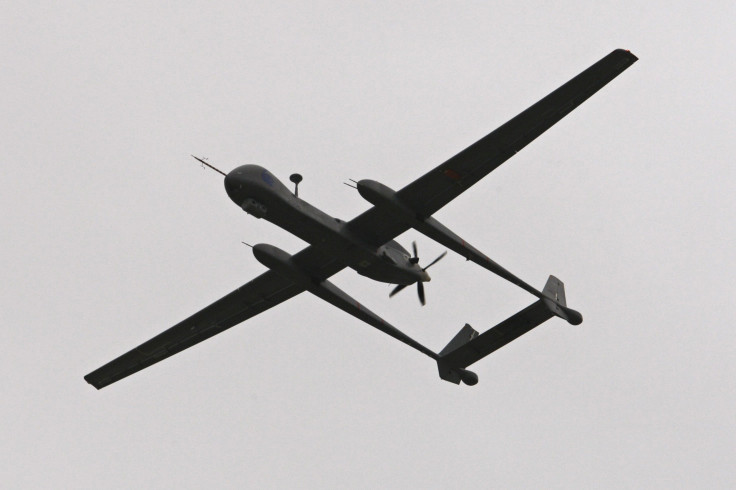 Israel's air force plans to double its contingent of Heron TP unmanned aerial vehicles by the end of the year, Defense News reported Thursday, citing the military branch's Hebrew-language magazine. The news comes as Israel, amid growing regional threats, has sought to expand and strengthen its military capabilities, recently requesting billions of dollars in boosted aid from the U.S.
Missions using the unmanned, long-endurance technology are set to grow at "an unprecedented rate," the magazine said. The 4.5-ton, medium-altitude aircraft is produced by Israel Aerospace Industries and has the capacity to operate in all weather conditions. Technology advancements are expected to continue.
"In the last year, we started to absorb new capabilities and additional intelligence missions, and in the coming year we will further expand," Lt. Col. Ofir, White Eagle squadron commander, told the magazine, offering just his first name due to military restrictions. "We're only at the beginning of a revolution."
By 2020, the squadron is expected to at least triple in size, the official said. The Israeli air force, which has been involved in numerous wars since the country's founding, is among the world's most well-trained and well-equipped.
Israel Overview | FindTheData
Israel routinely upgrades its technology in an effort to maintain military superiority in its region. With boosted spending among Arab states on defense, and a looming possibility that Iran could start procuring new weapons, Israel has stressed its need to keep ahead.
Last year, Israel requested $5 billion in a new annual aid package from the U.S. but has since lowered that number to $4 billion to $4.5 billion. U.S. officials have offered a lower figure, around $3.7, possibly intensifying tensions between the two allies. Israel has taken issue with the recent nuclear agreement with Iran, which saw sanctions lifted against Israel's archrival in exchange for intense restrictions on the Islamic Republic's nuclear program.
Israel has argued it faces a slew of challenges in the region, including threats from Iranian leaders, a strengthening anti-Israel Shiite militia Hezbollah in Lebanon and continued control of the Gaza Strip by Hamas, an Islamist militant group.
© Copyright IBTimes 2023. All rights reserved.