Israel To Investigate Possible Military Misconduct In Gaza, In Move Seen As Pre-empting International Probe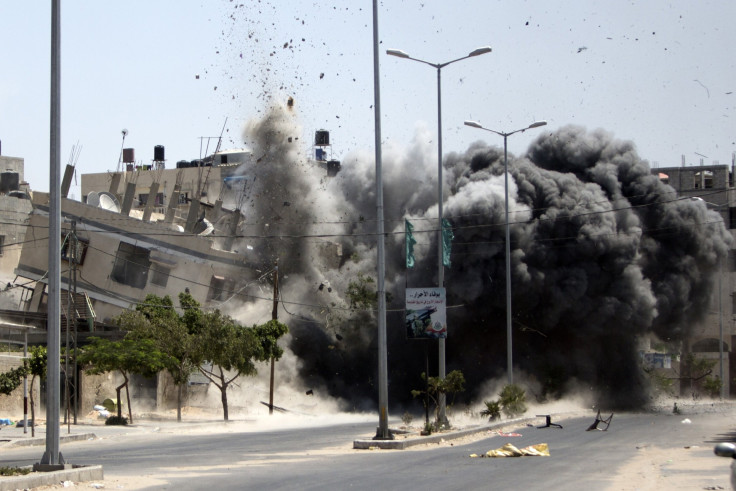 Israel has announced an investigation into five possible criminal breaches of international law during its recently concluded conflict in Gaza, a military prosecutor announced Wednesday. Some see the move as an attempt to preempt international investigations of incidents that drew widespread condemnation.
The incidents under investigation include Israeli Defense Forces, or IDF, activity in Rafah on Aug. 1, following the abduction of the body of IDF officer Hadar Goldin and the implementation of the so-called "Hannibal Directive," an Israeli military protocol designed to prevent its personnel from falling into enemy hands, by firing upon and risking the lives of Israelis if necessary in order to prevent their capture.
Chief Military Prosecutor Major General Dani Efroni also ordered a military police probe into the killing of four children, ages 9, 10 and 11, by Israel air force fire on a Gaza beach on July 18. The July 24 strike on an UNRWA school in Beit Hanun, which killed 15 Palestinians, will also be investigated, according to a report in Israel's Haaretz newspaper.
"The IDF is committed to examining all credible allegations of misconduct in a prompt, effective manner and to be as transparent as possible at doing so," said a senior Israeli military official at the military's central base in Tel Aviv on Wednesday, according to the Financial Times.
The timing of the inquiries has prompted speculation that they represent an attempt by the Israeli government to pre-empt the international investigations into allegations of possible Israeli war crimes committed in Gaza. Sources alluded to by the New York Times pointed out that the cases, opened by Israel's Military Advocate General Corps, included obvious episodes that had already drawn international condemnation.
Noura Erakat, assistant professor at George Mason University and a human rights expert, told Al Jazeera that by deciding to investigate itself, "Israel is seeking to diminish international scrutiny" of its most recent assault on the Gaza Strip. "In particular, it may be trying to avert a potential International Criminal Court investigation. However, there is nothing to suggest that this probe will meet international standards and should therefore not be accepted at face value."
More than 2,100 Palestinians, three-quarters of whom were civilians, were killed in the conflict, according to Palestinian and U.N. estimates. On the Israeli side, 66 soldiers and six civilians died. Israel said it went to great lengths to avoid civilian casualties, but the high death toll has sparked international criticism, according to a report from the Associated Press.
Israel is facing pressure on multiple fronts over the recent war. Palestinian President Mahmoud Abbas is threatening to refer Israel to the International Criminal Court, and Israel is facing two UN inquiries, one by the human rights council and one ordered by secretary general Ban Ki-moon into the targeting of UN schools, according to The Guardian.
© Copyright IBTimes 2023. All rights reserved.
FOLLOW MORE IBT NEWS ON THE BELOW CHANNELS