It Costs Just $160 To Make Google Nexus: How High-End Devices Help Tablet Manufacturers Make Neat Margins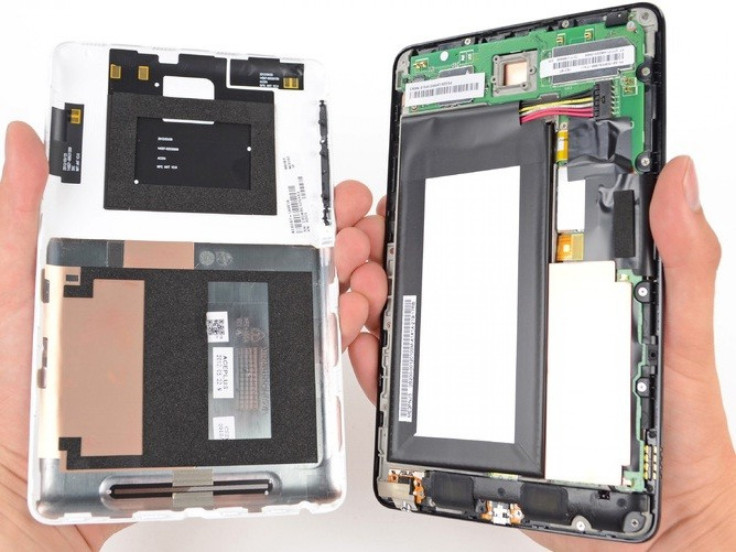 As action heats up in the tablet market with news of Apple gearing up to launch iPad mini in response to competition, it appears that Google's Nexus may well take home some neat profits as there is a good difference between cost of manufacture and sale.
A report published in the PCWorld cites how the tablet costs just $160 to make against the retail price of $199. Reports published in the Wired indicate how Nexus 7 scores over Kindle Fire with its screen, CPU, front-facing camera and Near Field Communications (NFC) chip though Kindle also sells with the same price tag.
As per reports published by research firm iHS suppli, a product teardown of the 8GB versions of Google Nexus 7 and Kindle Fire that is sold for $200 show that while Nexus costs $ 159.25 to make, Kindle Fire's bill of material is $133.80.
Also, iHS elaborates how the initial bill of material for Kindle Fire was $191.65 and how it got slashed to $133.80 following deep cuts in component pricing. These price cuts appear to be a blessing for Amazon, which is seen to recover the huge subsidy it paid for initially entering the market.
The price cuts in components followed tablet disappointments from RIM and Motorola that did not take off like iPad. This apart, suppliers who had invested heavily in tablets, dubbed to be the next big thing after PCs, had agreed to compromise with Amazon. All this made the going advantageous for Amazon as it was able to negotiate prices.
The Wired report also cites how Amazon's Kindle Fire did not start out by making huge money but the HP TouchPad's sensational sales trajectory and a few unsuccessful tablet launches from Asus, Acer, Samsung, Toshiba, and Motorola turned the table in favor of the online retail giant.
Reports citing Andy Rubin, Google's senior vice president (Mobile Division), state that the 8GB model of Nexus 7 will not make any margin when it sells through the Google Play Store. However, the 16GB model seems to be a champion as it is priced at $50 more than the entry model though additional storage costs just $8. At present, the Google Play Store appears to be the sole retailer of the 8GB model while retailers such as Gamestop and Staples sell the 16GB version.
This reiterates the stance taken by iHS that Nexus 7 is designed to channel users to newly revamped Google Play Store where users can shop for items such as books, movies, magazines, music, apps and TV shows.
Simply put, the high-end gadgets are where the manufacturers get to make some neat margins while the lower end gadgets offer users value for money. Even if the components were to become more affordable down the line, the gadgets may continue to sell at the same price points, which is very evident from how Google and Asus charge an extra $50 for an $8 storage increase.
For the discerning consumer, the message lies in the fact that cheap alternatives to high-end gadgets are nothing but a stripped down version of the originals, which do offer value for money.
Check out the price comparison teardown for Nexus 7 and Kindle Fire.
© Copyright IBTimes 2023. All rights reserved.