Italy's Used Gold Brokerage Business - The Second-Largest In The World - Is Going Bust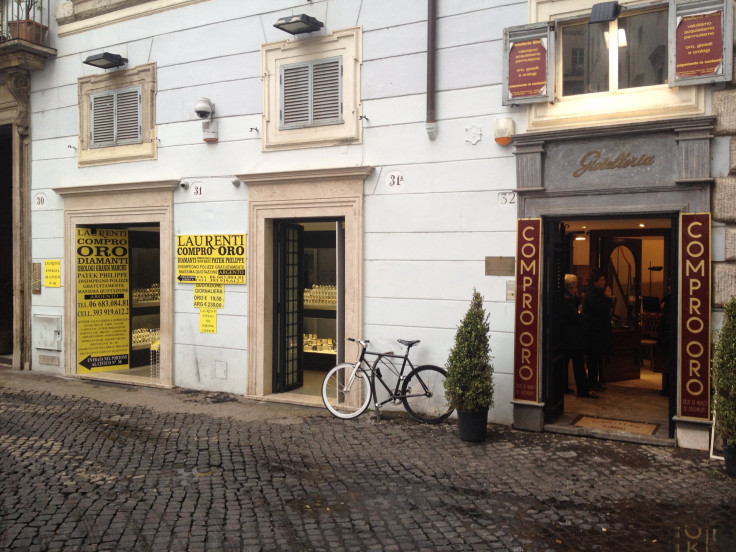 ROME -- The placards are still there, punctuating suburban thoroughfares, proclaiming in bold black text against a bright yellow background: "We Buy Gold."
But the signs, like the gold they advertise to buy, are increasingly relics themselves, because the shops where Italians once traded the precious metal for cash are largely empty, and many have closed.
Heavy losses caused by a proliferation of gold brokers, continuous gold depreciation and a sharp decline in the number of Italians willing to sell off their jewels has sent almost four in 10 gold-buying firms into bankruptcy, collapsing a business that once comprised 38,000 retailers and made Italy the second-largest supplier of scrap gold in the world, after the United States.
Surviving businesses, such as the one owned by a 23-year-old Chinese man named Zhu, who asked that his full name not be published, face a life-or-death struggle whose outcome will be dictated by the direction of gold futures.
And for every "compro oro" (literally: "buy gold") retail brokerage that's still in business, almost as many have gone bankrupt in the past few months. In one southern Roman suburb alone, Ostiense, two gold traders recently closed.
Zhu, who works as a salesperson in a shop he set up with his cousin in the suburb of Laurentino, started out as a brave entrepreneur who entered the market during a downturn. But now, his effort looks increasingly like an ill-advised folly. With help from his cousin and other family members, Zhu opened for business in May 2013, when gold futures were in sharp decline following an all-time high valuation of more than $1,900 (in USD) posted in September 2011. The fall continued to less than $1,200 a few weeks after Zhu finished refurbishing his bare, 40-square-meter store, with its fake marble floor and cashier's booth behind bulletproof glass, which previously served as a real estate office.
"Today not a single client entered the shop. We bought nothing," Zhu says in the loud voice necessitated by the thick glass sheltering his small space from customers who are allowed inside only after pressing a buzzer. His shop, with large pictures of gold bullion and gold dust in the windows, hasn't bought any scrap since last week, when Zhu purchased a nine-gram brooch valued at around 170 euros, or $230 USD.
"We made the investment because we expect the market to improve," Zhu says in fluent Italian. Behind him sits a desktop computer and to one side a vault, a scale and an acid-test kit. A slot in the bulletproof window enables money and jewels to pass through, and, with a little squeezing, a handshake.
The initial investment to set up such a business can be as cheap as 10,000 euros ($13,600). The shops are very small, many don't showcase any items for sale and most are located in suburban areas where the rent is cheaper.
David Campomaggiore, 31, is another Rome-based gold entrepreneur who vows to ride out the long downturn. A former employee of Alitalia who enjoyed a comfortable position with the state-backed (if ailing) airline, he left his job in 2010 after catching Italian gold fever from a friend. He says he made up his mind after spending one year studying gold brokerage, and unlike Zhu's, his timing "was excellent," Campomaggiore says.
Starting with a sizable investment of 40,000 euros, Campomaggiore opened his first gold scrap shop, which he named Golden Island, in Centocelle, a popular, low-income suburb in eastern Rome. Things went so well that within a couple of years he was able to open three more outlets under the same name elsewhere on the outskirts of Rome.
At the peak of the euro zone crisis, debt-laden Italy became the epicenter of turmoil in global markets in 2011. Its government securities' yields skyrocketed to more than 7 percent as the country entered its worst-ever postwar recession. With unemployment mounting, wages cut by austerity moves and a credit crunch raging, gloom seized the minds of many Italians. While it was carnage for small and midsize firms, used gold brokers flourished.
Many people rushed to sell gold bracelets they had been given during Catholic sacraments known as eucharist or confirmation, as well as old engagement rings, little-worn necklaces or watches, even dental fillings, out of necessity. Others, less needy, saw a rewarding opportunity in getting rid of jewels they didn't care for anyway. Gold, historically considered a safe-haven asset, was about to reach its all-time record-high valuation, a product of widespread uncertainty, fears of inflation, and the unprecedented liquidity being pumped into the markets by the Federal Reserve and central banks in Europe and Japan.
Saverio, an Italian man in his early 60s who, like Zhu, didn't want to reveal his surname, said he made 1,800 euros on golden tie clips, cuff links and other old, unused items that he sold to a Roman scrap buyer back in 2012. "I found it useful. It was some old stuff covered with dust I could have thrown away."
It was a blessing for those in the business. There were few scrap gold shops in Italy in the 1990s, with the exception of a few jewellers and traditional pawn shops. But when the government liberalized retail gold trading in 2000, many sniffed out the bargain that was about to present itself. Italy's tax police estimate the number of shops buying gold for cash rose fivefold in the two years following the liberalization. At the peak early last year, the number of retailers had gone from 20,000 in 2011 to 38,000, including numerous jewelers who, after opposing the newcomers, embraced the new business opportunity after being hit hard by the crisis of their core activity, jewelry sales.
The gold fever was a bonanza for many. Margins for brokers, who act as intermediaries for gold scrap between people and foundries, went above four euros per gram of gold, on a retail price that reached 44 euros per gram of pure gold early last year. Today "many are millionaries," says Nunzio Ragno, an accountant who chairs Antico, Italy's scrap buyers' lobby. Yearly turnover for a typical firm could reach as much as 400,000 to 500,000 euros in the boom years. Overall turnover peaked at an estimated 10 billion to 12 billion euros early last year.
"Sometimes deals could reach even 60 kilograms of gold per month," Ragno says. On a good business day, some people would bring jewels worth as much as several thousand euros to a compro oro. The books of firms well established in the business boast single transactions worth 6,000, and 2,500-euro sales were normal on a daily basis until early 2013. Campomaggiore recalls an elderly woman entering his shop with so much wealth that he, eager to close the deal and keep the customer loyal, rushed to borrow money from relatives and friends just to buy. Many older people sold family jewels to avoid inheritance disputes among their heirs. Others, wary of burglars, wanted to empty their vaults before going on vacation.
After years of hearing that the safest investment was in gold, many entrepreneurs saw the recession as an opportunity to try their luck in an industry that seemed to know no decline. Crisis-bitten butchers and cobblers turned their stores into gold scrap shops. Laid-off employees invested their severance pay to open similar concerns. Criminal enterprises also entered the market; according to the scrap business lobby, illicit business accounted for 15 percent of the firms. Legal loopholes helped. In Italy, starting a gold scrap business requires only a police license and keeping a register of all deals, with a generic description of the items bought and the obligation to keep them in the store for at least 10 days to prevent the receipt of stolen goods. No value-added tax is charged, because Italian law considers scrap discarded waste material suitable for reprocessing. Issuing a receipt for each transaction is discretionary.
In hindsight, it couldn't last. Hubris, excitement, greed and the crisis that pummeled traditional segments of the Italian economy quickly lead to a disorderly proliferation in this scarcely regulated market. Many would overleverage their investment, borrowing money at expensive rates to set up a business that was expected to deliver huge profits. The industry experienced such a boom that it soon became overcrowded. Competition became fierce, eating into margins. Many newcomers, lured by the prospect of easy money, rushed in with no experience of the gold business and scant understanding of market behavior. Some dealers were so inexperienced they did not regularly check gold futures and update their prices accordingly. Coupled with the outlook for the global financial markets at the time, it was the perfect recipe for trouble.
After the 2011 record high, a downward trend crept into the gold market, and by the end of last year, when the Federal Reserve signaled plans to slow bond purchases, the price fell by as much as 36 percent. Prices in the Italian retail market fell 34 percent to 29 euros per gram of pure gold, or 18 euros per gram for 18-carat metal, a blend that contains three-quarters pure gold and is the most common in Italy.
The sharp correction in gold prices in the second half of last year caught many by surprise, coming when the Italian brokerage business was still running full-steam, which resulted in steep, overnight losses. People like Campomaggiore retain a frightful memory of April 2013, when the spot price of gold plunged almost 15 percent in two days. Futures dropped by 11 percent over the mid-month weekend, posting the worst plunge since 1980. Gold brokers weren't able to resell to foundries quickly enough to avoid further losses. Some firms lost as much as 60,000 euro between the Friday closing in the New York Stock Exchange and the opening in Tokyo the following Monday.
As Zhu, relatively new to the gold business, learned at his own expense, low prices meant people's appetite for selling their jewels dried up. The market changed. In fact, recycling of gold peaked in 2010 when sales reached 1,719 tons, according to Barclays, and once the numbers are in, the expectation is that gold supply from scrap materials dropped by 25 percent last year. According to a report from the World Gold Council, a producer-funded group, gold recycling shrank on a year-to-year basis for the sixth consecutive quarter in the third quarter last year, with the contribution from industrialized markets falling almost 13 percent. "Supplies of old gold became increasingly scarce, and lower average prices failed to attract sellers," the organization says.
Until 2012, when the boom began moving toward a bust, relatively wealthy Italians accounted for a large percentage of the transactions in terms of volume. Today, prices are a deterrent to selling even jewelry that one isn't fond of. As a result, most of today's customers are people in urgent need of cash. According to Eurispes, an Italian think tank, nearly one in three Italians are unable to make ends meet and stretch their salary until the end of the month.
Single transactions are often worth as little as a few dozen euros, with some peole entering the shop with only a small pendant to sell. "Some need money to help pay the house rent or the mortgage," Ragno says. But, he adds, others have more futile motives: "It is common to see youngsters who need cash to repay the loan they got to buy an iPhone, or ladies who want a trendy, designer purse." Even more extreme are those who need to finance compulsive gambling on poker machines.
Turnover for a typical firm has been cut in half, Ragno says. Italy's overall gold brokerage business is now worth 7 to 8 billion euros -- a third less than a year ago. Margins retained by the typical gold scrap firm have been cut fourfold to one euro per gram of gold, which has put many out of business. With a monthly fixed expenditure of no less than 3,500 euros to cover shop rental and personnel, a small firm needs to sell at least 3.5 kilograms per month to break even -- a target many can't reach.
Of the gold buyers who remain in business, many are looking for new ways of gaining market share. One option is merging with one of the chain stores now operating throughout Europe. Orocash, Italy's biggest buyer of used gold jewelry, has more than 400 shops in Italy alone, plus about 200 more in Spain, Portugal, Ireland and Austria. Some scrap buyers pitch other forms of financial intermediation, such as offering to release collateral people pawned at banks as a guarantee for loans, brokering the pawn valuation and becoming de facto creditors.
Marketing is also becoming more aggressive. The streets in Rome's periphery are still swarming with scrap buyers' flashy ads. Zhu added a large blue flag outside his shop that screams "We pay cash." Others are getting more sophisticated. Campomaggiore's promos display fashion jewelry and watches offered for sale at a 50 percent discount, trying to harness people's appetite for cheap, second-hand jewels. He promotes his businesses on the Internet, and offered hot-air balloon trips to lure customers and gain visibility. His Golden Island small chain store also throws in a free lottery ticket for every 20 grams of gold sold.
"Nobody is selling us gold -- it's survival of the fittest," Campomaggiore says. He's confident the market will recover, although with lower margins and in a more challenging environment. "People still possess gold; they aren't selling just now because the price dropped. You need to be good at the business," he says. After all, gold demand is expected to increase as the world's two most populous nations, China and India, get wealthier. Albert Cheng, Far East managing director at the World Gold Council, says demand for gold in China may rise by at least the pace of economic growth. Still, many people are bearish. BNP Paribas lowered its 2014 average gold-price forecast to $1,095 an ounce, a further reduction from its June estimate.
While Campomaggiore says the good old times gave him a better lifestyle, he reinvested part of his profits in two other industries: a tire shop and an automated sex shop where people can buy items in total discretion. "I needed to diversify, and the sex shop looked like a good bet," he says.
© Copyright IBTimes 2023. All rights reserved.