J Crew Website Down On Cyber Monday, Check Out Not Working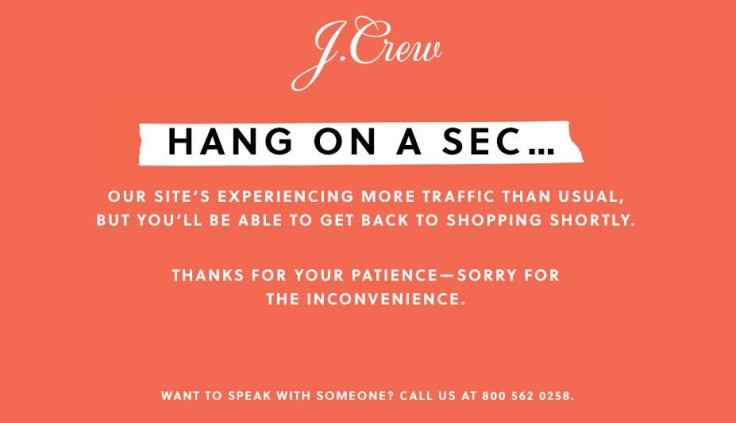 Shoppers ready to score major deals from the clothing retailer J. Crew were surprised Monday when the company's website wouldn't allow them to log in or place their orders. The site had been featuring an offer of 40 percent off items with an additional 10 percent off for shoppers who made their purchases before noon EST Monday.
The site outage caused quite a response from customers who had been hoping to get everything from coats and purses to new jeans up to 50 percent off their usual price. The angry tweets were pouring in Monday morning to J. Crew's main Twitter account as well as the J. Crew Help account.
Some customers wanted an extension of the sale so they could get the advertised discounts that were unavailable due to the outage.
Some people said they had even been trying to place their orders for an hour or more.
Some users couldn't tell whether or not their orders had been successfully placed. Some shoppers didn't get a confirmation email after they placed their orders even if their payment seemed confirmed.
There was an error message users were getting when they tried to access their virtual shopping bag on the site or when they tried to check out. That message was appearing on several browsers and said, "An error occurred while processing your request."
The customer service line for the company was busy, customers were tweeting. Upon trying to access the site at 12:45 p.m. EST Monday, there was simply this error message that said, "Our site's experiencing more traffic than usual, but you'll be able to get back to shopping shortly. Thanks for your patience - sorry for the inconvenience."
J. Crew started responding to some customer tweets just after 1 p.m. EST Monday on the @jcrew_help account. The account tweeted that the company was working on a fix for the website and that the sale would be extended until 3 a.m. EST Tuesday for shoppers who wish to use the code "SHOPFAST" for 50 percent off their purchase. The website was also back up and running for some customers by 1:30 p.m. EST Monday.
© Copyright IBTimes 2023. All rights reserved.