Before James Comey Hearing, Other Congressional Testimonies That Caught Attention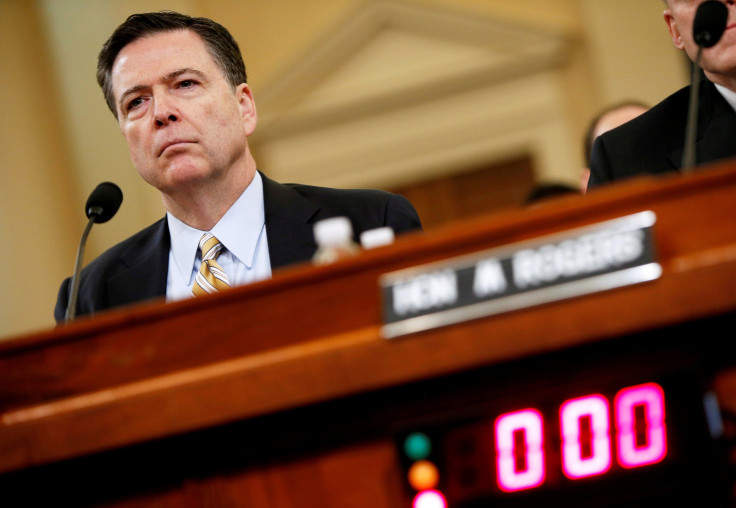 Many across the world are expected to be glued to their television sets Thursday morning when former FBI Director James Comey would give his sworn testimony before the U.S. Senate. Comey will appear before the Senate Intelligence Committee at 10 a.m. EDT, which will be followed by another session closed for public. Comey will testify his side of the story about the FBI's investigation into Russia's alleged interference in the 2016 presidential election.
But such high-profile legislative testimonies and hearings are not new in the U.S. history. There have been other such hearings that have captivated public imagination.
Read: What To Expect From James Comey's Appearance Before Senate Intelligence Committee
In one of the most recent testimonies, Sen. Elizabeth Warren, a Democratic from Massachusetts, grilled Wells Fargo CEO, John Stumpf over an alleged misappropriation of customer's information to create fake bank accounts for transfer of money.
Warren began her questioning by citing "Wells Fargo's Vision and Values Statement", particularly its suggestion, "if you want to find out how strong a company's ethics are, don't listen to what its people say, watch what they do."
"So, let's do that," Warren said, accusing Stumpf of failing to hold himself or any other senior executives accountable for the company's actions. "It's gutless leadership," she said, noting that Stumpf is not resigning, returning any of his earnings or firing any senior executives.
Warren told him during the hearing: "You should resign ... and you should be criminally investigated."
Around a month later, he resigned from his position amid scandals.
On Jan. 23, 2013, the then U.S. Secretary of State, Hillary Clinton, was questioned over an attack that took place on the U.S. consulate in Libya, Benghazi, in Sept. 2012. The attack had left U.S. ambassador Christopher Stevens and three other Americans dead. Clinton defended her handling of the attack, saying: "As I have said many times, I take responsibility, and nobody is more committed to getting this right...I am determined to leave the State Department and our country safer, stronger and more secure."
One of the sharpest exchanges of that hearing, as reported by the New York Times, was between Clinton and Sen. Ron Johnson, a Wisconsin Republican, who asked her about the Obama administration's initial response to the attack. Johnson kept pressing on Clinton to answer why the people who were evacuated from the scene of attacks safely, weren't interviewed immediately.
In response, Clinton said that there was too much focus on how the Benghazi attack had been characterized in its early hours rather than how to prevent a repeat of such an attack.
"Was it because of a protest, or was it because of guys out for a walk one night who decided they'd go kill some Americans? What difference, at this point, does it make?" Clinton said, her voice rising. "It is our job to figure out what happened and do everything we can to prevent it from ever happening again, Senator."
Another hearing which caught people's attention was hearing of Lloyd Blankfein, the chairman and chief executive officer of Goldman Sachs, in 2010. It was regarding the 2008 financial crisis, which was the worst economic disaster since the Great Depression of 1929. A two-year long congressional investigation was held, which examined the reason behind the U.S.' housing mortgage industry crisis.
When Blankfein was asked whether the investment bank was conflicted when it sold securities to clients and then shorted them, he said: "Our clients' trust is not only important to us, it's essential to us, it is why we are as successful a firm as we are and have been for 140 years. We are one of the largest client franchises in market making in the kinds of activities we're talking about now, and our client base is a pretty critical client base for us, and they know our activities, and they understand what market making is."
The result of the Senate's investigation into the financial crisis was a 650-page report entitled, "Wall Street and the Financial Crisis: Anatomy of a Financial Collapse," which had details of the deceptive practices of the nation's largest mortgage lenders.
In May 1973, the special Senate committee began its proceedings into one of U.S. history's largest scandals, the Watergate scandal. From former White House counsel John Dean's allegation that President Richard Nixon knew about the cover-up to of the burglary to former presidential aide Alexander Butterfield's revelation that there were tapes that could prove it, the hearings saw it all. It eventually led to the resignation of Nixon, making him the first president in the U.S. history to resign.
When Nixon was asked about his knowledge on the burglaries, he replied: "I repeatedly asked those conducting the investigation whether there was any reason to believe that members of my administration were in any way involved. I received repeated assurances that there were not."
© Copyright IBTimes 2022. All rights reserved.
FOLLOW MORE IBT NEWS ON THE BELOW CHANNELS