Japan Stocks Jump, Leading Asia Higher, On Draghi Stimulus Hint And Oil Rebound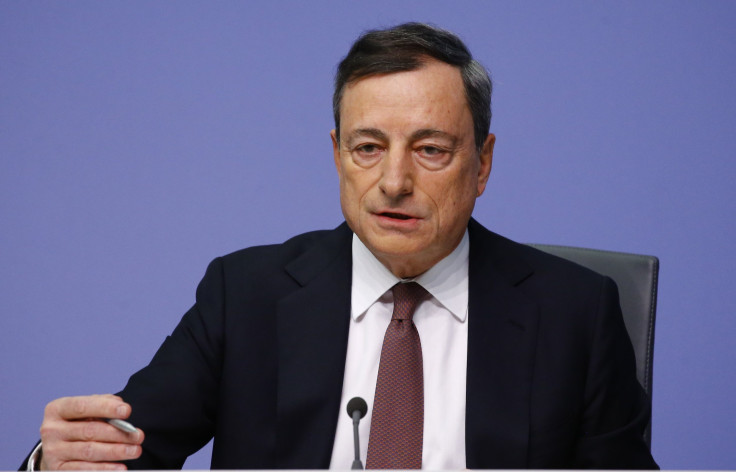 Japan led most Asian stock markets higher early Friday after oil had its biggest gain this year and the European Central Bank indicated it may boost stimulus. Japan's Nikkei climbed 3.4 percent, South Korea's KOSPI 1.8 percent and Australia's ASX 200 1.2 percent. Singapore's STI slid more than 1 percent.
In the U.S. on Thursday, the Dow Jones Industrial Average rose 0.7 percent and the Standard & Poor's 500 index 0.5 percent. The Nasdaq Composite was little changed.
The U.S. and global crude oil benchmarks rose 4.2 percent and 4.9 percent respectively, both more than $1, to over $29 per barrel, Reuters said. The U.S. benchmark crossed $30 a barrel at one point of the day.
Oil and stocks gained, and pushed each other higher, after European Central Bank President Mario Draghi said the institution would "review and possibly reconsider" monetary policy as early as March, when many analysts expected a move in June at the earliest, Reuters said.
"I think people are starting to believe that while we may not be at an absolute bottom, we may be close," said Peter Jankovskis, who helps oversee $1.9 billion as co-chief investment officer of Lisle, Illinois' OakBrook Investments, as reported by Bloomberg. "Oil has been a very strong theme, though I think certainly in months that are heavy in central bank decisions that central bank activity has to a degree overwhelmed oil."
The U.S. Federal Reserve holds its first meeting next week since raising interest rates in December for the first time since the global financial crisis. The U.S. will also release its 2014 GDP report and a slew of other economic data.
"We don't know what's happening on the macro side. We haven't had any U.S. data lately and next week we're going to get quite a bit, " said Bart Melek, head of commodities strategy at TD Securities, as reported by CNBC.
However, he said it's unclear if oil has bottomed or if Wednesday's recovery was just short-term buying.
"Demand for petroleum is not so bad so when you look at it, maybe some of the extreme short positioning is a little unreasonable," Melek said. "I think we're seeing some short covering. I don't think people are going long on this. This is still a very volatile situation."
Meanwhile, some economists and analysts say the global economy has many weak spots and while U.S. jobs and consumer spending data are strong, the U.S. economy has its weaknesses too, which may lead to more declines.
© Copyright IBTimes 2022. All rights reserved.
FOLLOW MORE IBT NEWS ON THE BELOW CHANNELS