Japan Typhoon Mindulle 2016 Update: 2 Killed, 11 Injured After Waves Of Deadly Storms; Third Expected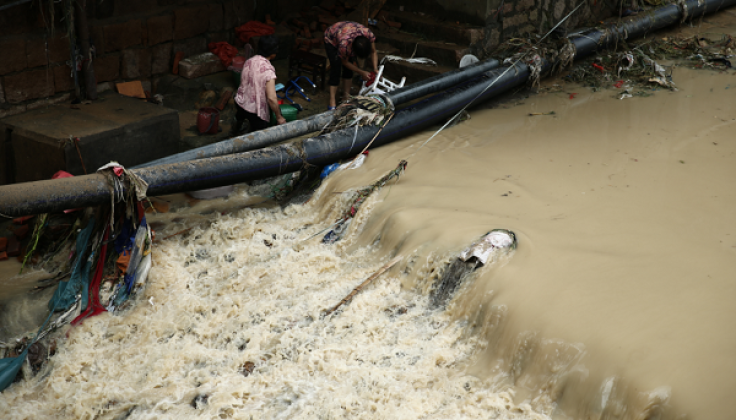 At least two people have been pronounced dead after two rounds of storms touched down in Japan on Monday. According to CNN, a 42-year-old man's lifeless body was found on the side of a flooded road on Monday in Kitami City, Hokkaido. His abandoned car was discovered in a nearby area.
Another woman, 58, was rescued by firefighters in Sagamihara. Per Japanese Times, the woman was clinging to a guardrail on a flooded National Route 129 before she lost her grip. Upon rescue she was found unconscious and taken to a hospital where she reportedly died later during the day.
Eleven people have been injured from Typhoon Mindulle, the second storm to hit Japan's east coast following Sunday night's Typhoon Kompasu.
Typhoon Mindulle's heavy rain, massive waves and strong winds up to 110 miles per hour made landfall around 1 p.m. local Japan time on Monday afternoon, leaving many provinces across Japan flooded while Prime Minister Shinzo Abe's office has issued landslide warnings.
Roughly 380 flights have been canceled as a result of the storms and 105 express trains have been canceled as of Monday.
Thousands have been encouraged to evacuate their homes for higher ground. Evacuation warnings were first given to about 10,000 people in Kanagawa ahead of the storm's arrival. However, the advisory is now in effect for about 100,000 people including those living in Japan's heavily populated cities like Tokyo, Yokohama and Sendai. Up to 15 inches of rainfall is expected in the next 24 hours as Mindulle moves north of Tokyo into the Tokai area.
Despite Mindulle's recent decrease to a low pressure system hovering off of the country's northern coast, a third storm on the opposite side of the country, Tropical Storm Lionrock, is forecast to develop into a typhoon by Thursday. However, Lionrock is slated to avoid much of Japan but hit hard near Okinawa in the East China Sea. The storm is expected to pass by Japan's southern islands on Thursday morning.
© Copyright IBTimes 2023. All rights reserved.