Jeb Bush Black Lives Matter National Urban League Speech: 2016 Candidate's Florida Record Should Concern African-Americans, Floridians Say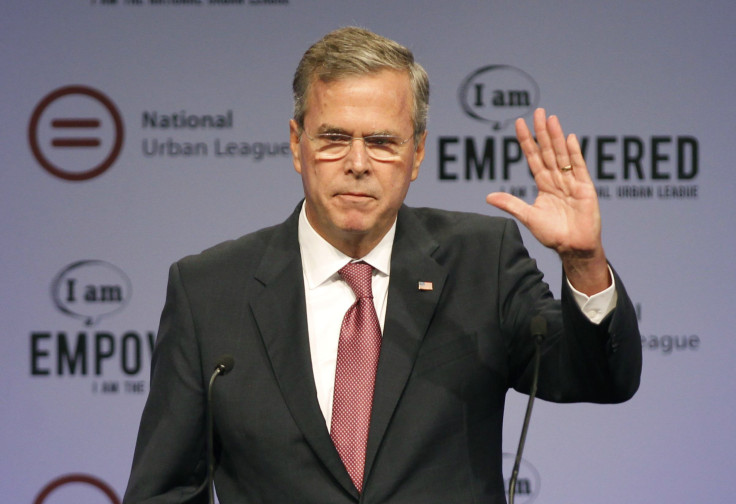 The pitter-patter of applause heard Friday as Jeb Bush stepped to a lectern in Florida to speak about racial and social inequalities seemed to indicate that the state's former governor couldn't pull a fast one on a crowd that was likely very familiar with his record. The conference of the National Urban League, a nonprofit civil rights organization that advocates for African-American equality, hosted Bush, who led the Sunshine State for eight years, and four other 2016 presidential candidates, as they courted black voters.
Bush, a 62-year-old Republican, told the thousands of people packed into a hall at the Broward County Convention Center in Fort Lauderdale that he learned early in his political career not to disregard the plight of blacks and other minorities, who continually face barriers despite their "God-given ability to achieve."
"Yet for reasons out of their hands -- structural, historical, economic -- [blacks] didn't have the same chance at success as their peers," Bush said to the standing-room-only crowd. As he moved through his remarks, pausing for anticipated applause lines, Bush stressed that efficient public education, diverse representation in government and restoration of justice would be part of his plan to help Black America.
Bush has previously said his biggest selling point for the Republican presidential ticket is his appeal to constituent groups that aren't the traditional conservative base, such as African-Americans and Latinos. However, when those groups take a look at his record on economic growth, education and civil rights as governor, some civil rights activists have said minorities would be less inclined to support yet another "President Bush."
"In this country," Bush continued, "we shouldn't be writing people off, denying them a second chance at a life of meaning," he said of a plan to improve the re-entry process for formerly incarcerated individuals, which could include the restoration of voting rights for felons. "You can't have a society where the next generation has less opportunity than we had," he later added, to applause.
Jeb Bush Presidential Candidate Profile | InsideGov
Michael Tyler, the Democratic National Committee's director of black media, said he wasn't convinced by Bush's remarks to the Urban League. "Bush cut taxes for the wealthiest Floridians and presided over a massive increase in income inequality as governor," Tyler said in an analysis of the speech. "[His] record ... proves that he is not the candidate to make it happen. And that's why African-Americans won't vote for him." The Bush campaign did not immediately respond to a request for comment.
Neither Democrats nor Republicans can discount the black vote, especially when President Barack Obama's candidacy helped bring blacks to the polls in unprecedentedly high numbers, political strategists have said.
Friday marked first time that Bush, a son and brother of two U.S. presidents and a two-term governor, spoke to a largely African-American and potentially hostile audience since launching his campaign in the spring. After a year when smartphone videos of police killing unarmed men of color prompted the question of whether black lives mattered to the white majority, the expectation was that Bush would point to his record as governor to show that he would be a good president for minorities.
But Bush did not say that "black lives matter," as his Democratic opponents Hillary Clinton, Martin O'Malley and Bernie Sanders said during their remarks to the same conference audience. Dr. Ben Carson, the African-American neurosergeon who is running for president as a Republican, didn't utter the phrase, either.
Concerns About Influence, Policies
Linda Haywood, a 58-year-old African-American resident of the eastern Florida community of Palm Coast, met Bush when he was governor, following the 2004 death of her husband, Darryl Haywood, Sr., a Florida state trooper killed in the line of duty. Linda Haywood, who met her husband in the 1990s, when the two were officers and partners in the New York Police Department, said Bush personally offered his support to her family.
"He was very, very kind to us," Haywood, now a retiree, said Thursday during a phone interview from Florida. "I remember him calling just to check on me. The only experience that I have had with him in that regard is that he was a wonderful human being."
However, soon after the Haywoods moved to Florida in 1999, the year that Bush took office, they grew concerned with his political influence and his policies. Linda Haywood, who is currently the president of the Flagler County NAACP branch, vividly remembers the feeling of watching the 2000 presidential election as it was decided in favor of Bush's brother, then-Texas Gov. George W. Bush, due in large part to officials' difficulty counting ballots in black voting districts in Florida. Jeb Bush had reportedly recused himself from involvement in the election recount process, which the U.S. Supreme Court eventually settled in the infamous Bush v. Gore case that gave George W. Bush the presidency over former Vice President Al Gore.
"For me, that is his legacy," said Haywood, a Democrat. "I never forgot that."
Governor During Boom Times
There are eight years of Bush's record to scrutinize. Florida had a population of nearly 16 million residents in 2000, according to the U.S. Census Bureau. At the time, 78 percent of the state's residents were white. Blacks and Latinos made up 14.6 percent and 16.8 percent, respectively. [Figures total more than 100 percent because respondents were permitted to check more than one box.] Florida's unemployment rate ranged from 3.8 percent in 2000 to 4.7 percent in 2007, the year Bush left office, U.S. Bureau of Labor Statistics data show. But that rate would jump to 11.2 percent, compared to a rate of 9.9 percent national, just two years later.
Today, Florida is the third most populous U.S. state at 19.8 million people. Whites, Latinos and blacks were 76 percent, 23.6 percent and 16.7 percent of residents, respectively, a 2013 census estimate says. Florida's unemployment rate was 5.5 percent in June, compared to the rate of 5.3 percent nationally.
Under his governorship, Bush helped Florida become No. 1 in job creation and small business startups, he said during remarks that launched his 2016 campaign in June. But critics of that claim -- 1.3 million new jobs, 4.4 percent economic growth and $19 billion in tax cuts, over eight years -- have said he conveniently left out the part about the bubble bursting and erasing those gains in the few years after he left office.
Unemployment Rates By State | StartClass
Housing Bubble's Disproportionate Toll
The bursting of the 2007 housing market, caused by the reckless, subprime-mortgage lending practices of big banks, plunged Florida into a recession that was worse than the national economic crisis. That's because much of the state's growth was due to a short-lived stimulative effect of higher property values and home prices. The downturn took a disproportionate toll on black and Latino Floridians, who continued to face higher rates of home foreclosure and housing insecurity years after the crisis bottomed out, a study by the American Civil Liberties Union showed.
For example, in Miami-Dade County, one in 212 homes had received foreclosure notices in August 2012, according to the ACLU study, compared to a rate of one in 127 homes in the majority-minority community of Homestead. Bush's tax cuts overwhelmingly benefited whites and the wealthy, particularly during the downturn. So while Floridians aren't exactly blaming Bush for causing the housing crisis, some like Haywood were concerned that he wanted to apply Florida's tax policies to the rest of the country, where the black-white wealth disparity is at an all-time high.
"When I moved here, everything was stable," Haywood said of Flagler County, which had been among the fastest-growing areas in the country near the end of Bush's tenure as governor. "Quality of life for minorities went down when jobs tanked. The only things that we're famous for is Disney, which pays minimum wage, and our hotels, which also pay minimum wage."
She added: "[Bush] was along for the ride during the boom, but location and geography had everything to do with it."
Heavier Lift For Minority Students
The former governor's record on education has garnered criticism from both progressives and conservatives, chiefly because of Bush's support for Common Core State Standards, similar to policies that Obama supports, and an executive order that did away with affirmative action in higher education in Florida. The "No Child Left Behind" education reforms championed by President George W. Bush had been widely panned by academics for being light on resources and placing a high value on test-based curriculum. That was a heavier lift for teachers and students in majority black and Latino schools in Florida and most other U.S. states, where achievement gaps between whites and blacks were more pronounced.
Bush's education policies, which held lower-performing schools to a rigid set of standards, drove parents to send their children to live with grandparents who lived in communities with better schools, said Haywood, the Palm Coast resident. In turn, that drove down curriculum quality at schools that were seeing an influx of children, because educators just wanted the students to perform well on the state tests.
"We're fighting that battle in Flagler County because the test scores are now low," Haywood said. "The problem with Common Core standards is that it largely ignores what an individual child needs. That's bad for black students [in low-performing schools.]"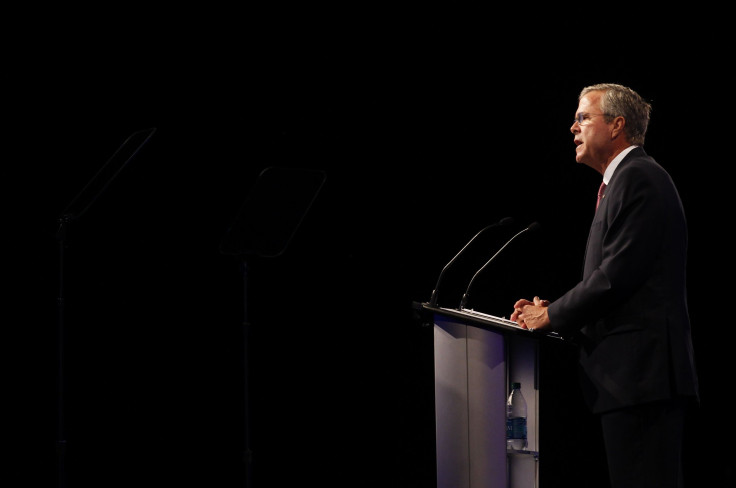 In his first year as governor, Bush signed an executive order that banned affirmative action, or the consideration of the race of a college applicant. The action, which he has championed in speeches around the country, led to a nearly 11 percent decrease in African-American enrollment at selective, four-year universities in Florida between 2000 and 2013, according to an analysis released Thursday by the Center for American Progress Action Fund. Meanwhile, black enrollment at colleges and universities increased 3.5 percent nationally.
"Similar to many issues Republicans are talking about today, the gap between Jeb Bush's rhetoric of inclusion and the reality of the impact of the policies he has enacted is massive," said Arkadi Gerney, the Center's senior vice president of campaigns and strategies.
Brandon Bowden, assistant vice president for student affairs at Florida State University in Tallahassee, said the shrink in black enrollment due to the lack of affirmative action was unmistakable. "There will be so few black students on our campus that prospective students [who are black] will choose not to come here because they see no one who looks like them," Bowden, who is African-American, told the Washington Post in April.
Impact Of 'Stand Your Ground'
Haywood said Bush didn't make race relations better or worse during his time as governor. But some of his policies, such as the state's "Stand Your Ground" self-defense law and voting regulations that civil rights activists have said disproportionately endangered and disenfranchised minorities, have been used in political jabs by Bush opponents.
Even Marc Morial, the National Urban League president and CEO, had criticized Florida's Stand Your Ground law, which Bush enacted in 2005. Years later, the 2012 shooting death of an unarmed black teen by a neighborhood watchman in Sanford, Florida, made Stand Your Ground a lightning rod for black activists.
"The use of Stand Your Ground is why at the very instance the law enforcement there in Sanford, Florida, did not arrest George Zimmerman as they should have, at the very inception," Morial said in a 2013 interview with MSNBC. At the time, Bush said the law was not meant to protect Floridians who claim self-defense after they've pursued a victim. However, he has since championed passage of the Stand Your Ground law at a National Rifle Association forum earlier this year.
Haywood said she agreed that those issues are inherently about racial equality, which she hopes Bush will continue to discuss after his Urban League engagement. "What I'd like to hear him to talk about is a fair wage, fair housing and the fact that the state of Florida has more hate groups than any other state," the local NAACP branch president said.
FOR FREE to continue reading
✔️ Unlock the full content of International Business Times UK for free
offer available for a limited time only
✔️ Easily manage your Newsletters subscriptions and save your favourite articles
✔️ No payment method required
Already have an account? Log in
© Copyright IBTimes 2023. All rights reserved.