Jennifer Lawrence GLAAD Media Awards 2013: New Hair, Flubs Bill Clinton's Name And References Oscar Fall [VIDEO]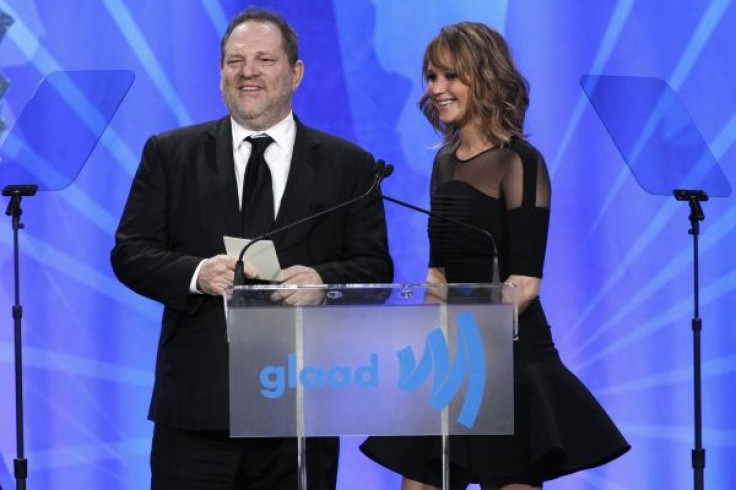 Hollywood's reigning queen of lovable awkwardness, 2013 Oscar winner Jennifer Lawrence, stole hearts at the GLAAD Media Awards in Los Angeles Saturday, while giving a new haircut its debut.
The star of "The Hunger Games" was at the awards show to present the flagship Advocate for Change award to former U.S. President Bill Clinton when she uncomfortably referenced her Oscar stumble and even flubbed Clinton's name.
Regardless, she was still able to steal the show.
"Ladies and gentleman, President Gil ..." Lawrence blurted out. But she soon realized her error and then pronounced "Bill" just right.
"Of all the things to mess up," the actress said, shaking her head. "His name!"
Lawrence, who wore lighter, shorter locks, also took the opportunity to suck up to "Silver Linings Playbook" producer Harvey Weinstein. During her Oscar's acceptance speech, she neglected to thank him and "Silver Linings Playbook" director David O. Russell.
"I just want to say congratulations to Harvey and his wife Georgina [Chapman] on the birth of their new baby boy," Lawrence said. "If he's anything like his dad, he's going to be relentless, passionate, and just about the best mentor any aspiring actor could have."
"You can stop kissing up for forgetting to thank me at the Oscars," Weinstein said.
"I fell on my face!" Lawrence said, referring to her fall at the Dolby Theater while she was walking up to the stage to claim her Academy Award.
The crowd began to cheer wildly at the 22-year-old's self-deprecating response, to which Lawrence bashfully said, "That's nothing to cheer for."
JLaw made one more gaffe before the night was over, calling Weinstein her own name: Jennifer. "It's a pet name," she said as she tried to recover.
The GLAAD Media Awards honor people, companies and creative content that promote the visibility of the lesbian, gay, bisexual and transgender community. Three different ceremonies are held throughout the year in New York, Los Angeles and San Francisco.
© Copyright IBTimes 2023. All rights reserved.