Jennifer Lopez Bares All In Photoshoot For JLo Body Launch On 53rd Birthday
KEY POINTS
Jennifer Lopez launched JLo Body by JLo Beauty and announced its debut product, the Firm + Flaunt Targeted Booty Balm
She took to Instagram Sunday, her 53rd birthday, to share a sexy campaign video for the skincare line
Ben Affleck's wife assured fans and customers that the product "works"
Jennifer Lopez flaunted her toned figure in a nude photoshoot as she announced the launch of JLo Body by JLo Beauty on her 53rd birthday.
The singer-dancer-actress turned another year older Sunday, and she celebrated the occasion by stripping down to her birthday suit to launch her latest business venture.
"I am the age I am, but I feel amazing and happier than ever," Lopez told People, which shared photos from her nude photoshoot. "I feel like I'm just at my halftime right now and just getting started."
Lopez first announced the news via her On The JLo newsletter, telling fans that she is releasing a product to highlight everyone's best "asset" – a Firm + Flaunt Targeted Booty Balm that retails for $65.
She also took to Instagram Sunday to share a sexy campaign video that featured her promoting the balm, which aims to firm the skin's appearance in targeted areas like the backside, hips and thighs, while wearing a black swimsuit.
"Today's my birthday and I am gifting YOU with a special drop of JLo Body FIRM + FLAUNT™ Targeted Booty Balm," she captioned the video.
The "Let's Get Loud" singer also explained that she created JLo Body by JLo Beauty to develop "a skincare routine for the body to address its specific and unique needs."
The product's formula contains pink pepperslim to fade the look of stretch marks, guarana seed extract to smooth, caffeine to tighten, peptides to boost collagen production and powerful hydrators like squalene, shea butter and hyaluronic acid, according to Lopez.
"Working with scientists, we have found that it really does improve the appearance of the skin," Lopez told People. "We're not just taking a random cream and slapping my name on it. It works."
The "Hustlers" star said she's been thinking of a product like this her "whole life" after watching her mother's struggle with cellulite and frustrations with the lack of solutions.
"I remember her wishing that there was some magic formula that was just going to make it disappear," Lopez said. "And the truth is, we know that doesn't exist."
She went on to emphasize the need to take care of not only the face but also the skin from the neck down.
"A lot of people invest in skincare for their face, but they don't invest in self-care and skincare for their body," she told the outlet. "I don't necessarily mean spending money, but instead taking time to cleanse, moisturize, use serums and masks. I want to normalize taking care of yourself. It's not a selfish thing. It's a nourishing thing. If you can't take care of yourself, you certainly cannot take care of anybody else."
The announcement came days after Lopez tied the knot with Ben Affleck in an intimate ceremony in Las Vegas on July 16.
Following their nuptials, Affleck and Lopez headed to Paris for their honeymoon, bringing along his daughters Violet, 16, and Seraphina, 13, and the singer's child Emme, 14.
On Saturday, the couple was photographed stepping out with Violet for lunch in the French capital.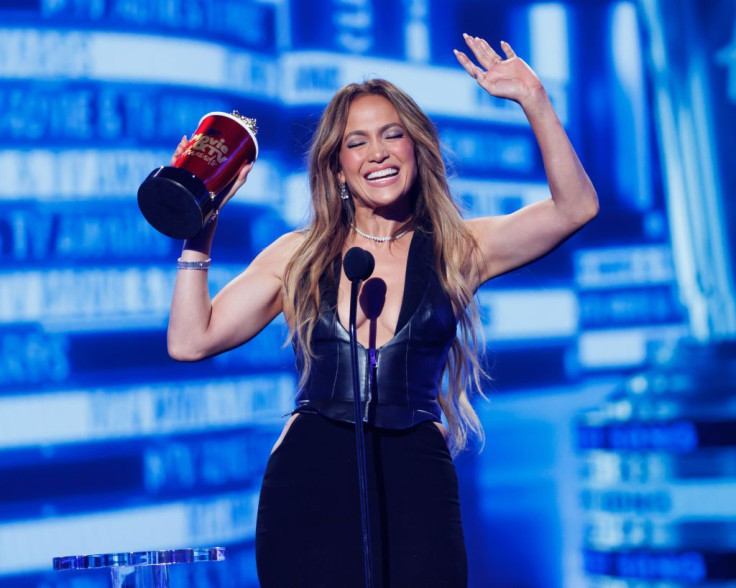 © Copyright IBTimes 2023. All rights reserved.