Jennifer Lopez Feels 'Lucky, Proud' To Be With Ben Affleck: 'It's A Beautiful Love Story'
KEY POINTS
Jennifer Lopez said she and Ben Affleck initially "had a little bit of fear" when they rekindled their relationship last year
She shared that things are different this time around due to the experience they've accumulated since their split in 2004
Lopez said she feels "very happy and lucky" to be in a "loving" relationship
Jennifer Lopez is opening up about her rekindled romance with Ben Affleck.
In a cover story interview with People, the 52-year-old performer dished on her life, career and her second chance with the "Justice League" actor, with whom she reunited in April 2021 — 17 years after they ended their engagement.
"I've never been better," Lopez said. "It's just that we're all in a very beautiful moment."
The "On The Floor" singer went on to gush over her boyfriend, saying, "I feel so lucky and happy and proud to be with him. It's a beautiful love story that we got a second chance."
Lopez and Affleck first dated in 2002 after meeting on the set of their movie "Gigli" but later called off their engagement in 2004 due to the intense media scrutiny into their relationship. The pop diva admitted that they "had a little bit of fear" when they initially reconnected last spring and reignited their romance.
"Before we kind of put [our relationship] out there and we were naïve and it got a little trampled," she said.
However, the "Hustlers" actress said things are different this time around due to the experience they've accumulated since their initial split.
"We both were like, 'Wow, we're so happy and we don't want any of that to come into play again.' We're older now, we're smarter, we have more experience, we're at different places in our lives, we have kids now, and we have to be very conscious of those things. We're so protective because it is such a beautiful time for all of us," she explained.
Lopez added that she feels "very happy and lucky" to be in a "loving" relationship and wants to do everything she can to protect it and keep it safe. "It deserves that, it really does. ... We hold it sacred," she told the outlet.
The singer then shared more details about how her current relationship with Affleck differs from the one they had in the early 2000s. According to Lopez, there's "more of an appreciation and a celebration" for love this time around.
"When you find somebody and you really, really love them and you get a second chance at that? That is a really rare, precious, beautiful thing and we don't take it for granted," Lopez said.
Lopez shares 13-year-old twins Max and Emme with her ex-husband Marc Anthony. Meanwhile, Affleck shares three children, Violet, 16, Seraphina, 13, and Samuel, 9, with ex-wife Jennifer Garner.
When it comes to bringing kids into their relationship, Lopez said she believes love "rules all" and "conquers everything," whether it be relationships, family or work. The "Maid in Manhattan" star added that everybody benefits from a "good, healthy" relationship.
As for what the future holds for her and Affleck, Lopez said she just wants it to be "full of love and happiness" with her kids and her partner.
Affleck also opened up about his rekindled romance with Lopez in an interview with WSJ. Magazine in December 2021, calling their reunion "beautiful."
Reflecting on getting a second chance at love with Lopez, the actor said, "I am very lucky in my life in that I have benefited from second chances, and I am aware that other people don't even get first chances."
Lopez's romantic comedy, "Marry Me," is set to be released on Feb. 11.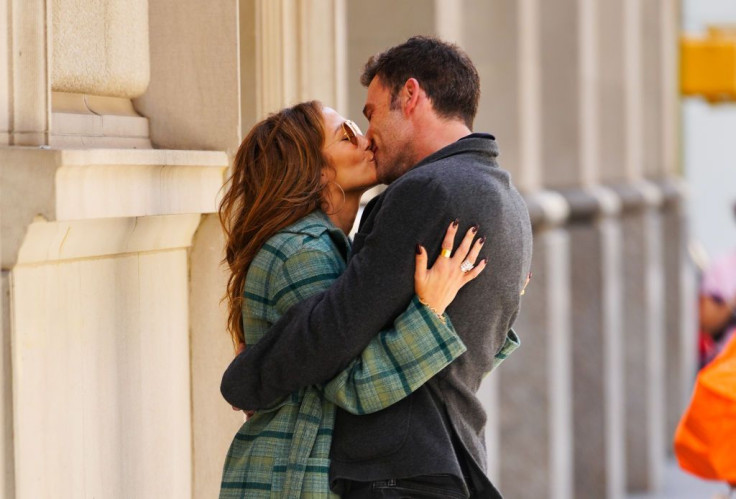 © Copyright IBTimes 2023. All rights reserved.