Jennifer Lopez Films New York City Subway Scene For 'Shades Of Blue' Season 2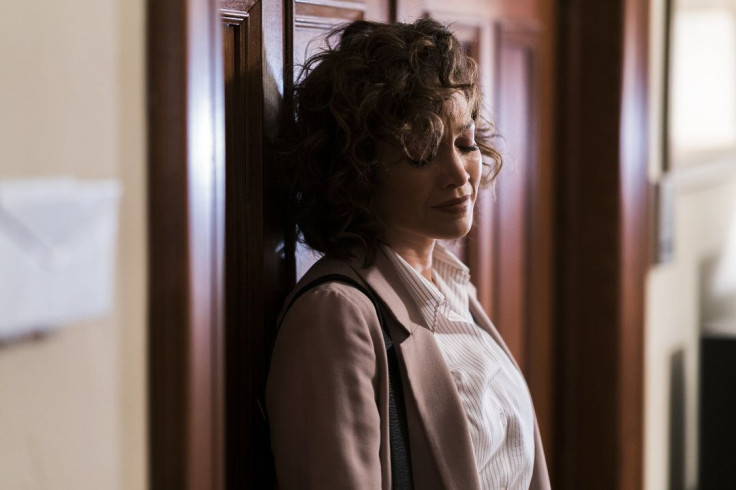 Jennifer Lopez was recently spotted filming some scenes at a subway in New York for an upcoming episode of "Shades of Blue."
In one of the photos posted on the Daily Mail website, Lopez is in character as Detective Harlee Santos as she jumps over the exit doors. Another photo shows the actress heading towards the trains. By the looks of it, Lopez's Harlee is running after one of the bad guys who will be tormenting her and her team in the upcoming episode of "Shades of Blue" Season 2.
Read: Jennifer Lopez shares bloody hands photo from "Shades of Blue" via Instagram
Another snap shows Harlee on board the train with an iPhone in her hands. It seems that she is recording one of the passengers. She's also looking intently at the person she's trying to track down. As of late, it is unclear whether or not Harlee will be able to complete her mission. But another picture shows the lead character heading out of the subway station.
Other than her involvement in the series, Lopez is also gearing up for her new dance reality TV show, "World of Dance," also on NBC. The dance competition is slated to premiere on May 30. Just recently, Lopez posted a short video on her Instagram account inviting everyone to participate in the World of Dance Challenge. Participants from all over the world are expected to follow certain dance steps to one of Lopez's hit songs, "On the Floor." Those who will be selected will be part of a music video starring Lopez, her fellow "World of Dance" judges, Ne-Yo and Derek Hough, and host Jenna Dewan Tatum.
But ahead of the new episode of "Shades of Blue," as well as the premiere of "World of Dance," Lopez first attended the 2017 Met Gala with her boyfriend, Alex Rodriguez. After the event, Lopez graced the "Today" show where she talked about her relationship with the professional athlete. Lopez also said that she thinks Rodriguez is very handsome.
"We had an amazing time. You want all the details? We had a great time that night. We had an amazing time. We went in, we danced, it was awesome," she said. Lopez also dished on Rodriguez's dance skills by saying, "One of the things I love is that he loves to dance. I never said that he couldn't dance. He can dance. He dances the merengue. He dances all the important stuff for me. When the Spanish music comes on, he knows what he's doing."
Lopez was also asked to comment on the nickname that has been given to her and Rodriguez by the netizens. Since they started dating a little over three months ago, they have been dubbed as J-Rod. Throughout the years, Lopez has been fondly called J.Lo. "I don't care. It doesn't matter. I figured something like that would happen," she said. But Lopez doesn't want to be called A.Lo. She said, "I don't like that as much."
Other than their recent appearance at the 2017 Met Gala, Lopez and Rodriguez have also been spending a lot of time together privately. On Easter Sunday, Lopez's and Rodriguez's kids celebrated the occasion together with the couple.
© Copyright IBTimes 2023. All rights reserved.