Jenny Ta to Commemorate Ethereum's Merge with NFTs/IRLs that Celebrate "Vitalik The G.O.A.T."
This article uses affiliate links, which means if you purchase products through these links, we may earn a commission. Click here to see our
T&C
. For licensing please click
here
.
With the Ethereum Merge fast approaching, everyone in the crypto space is waiting with bated breath to see what the massive change to the Ethereum blockchain will bring. While many are speculating, most are wondering how the shift from a proof of work (PoW) to a proof of stake (PoS) system will go.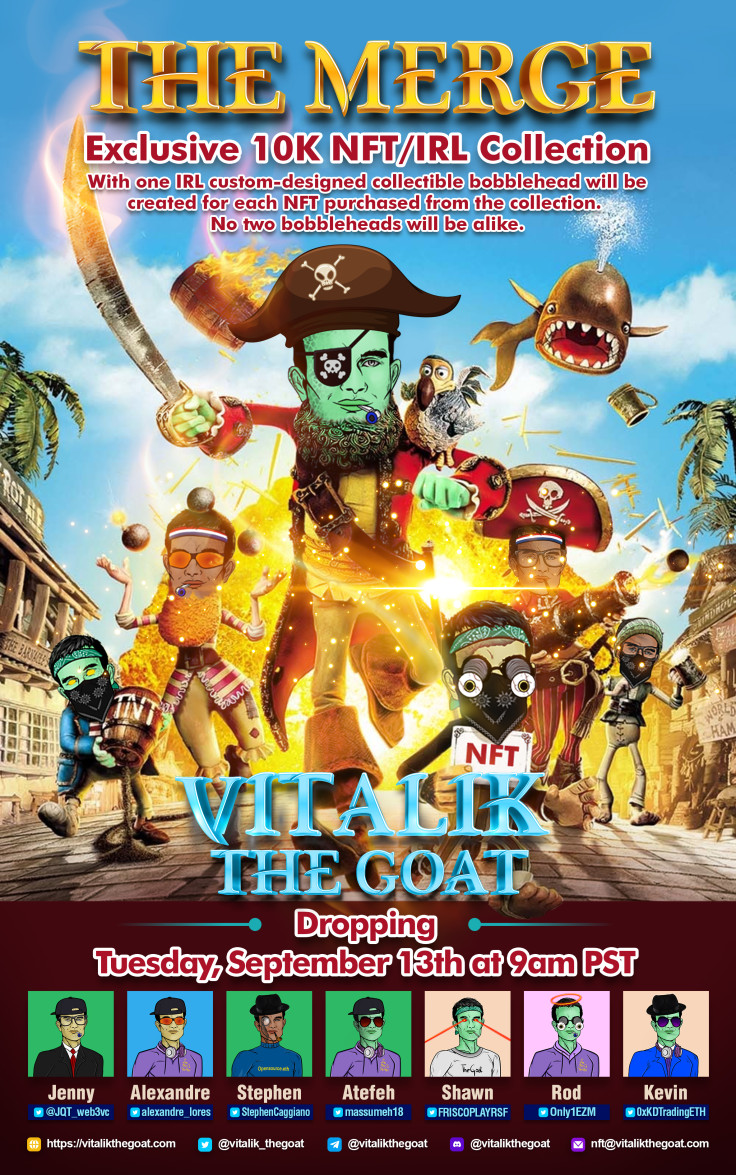 Jenny Q. Ta, CEO of HODL Assets, Inc., cryptopreneur, and tech innovator in her own right, is no different. Jenny is looking toward the Merge with anticipation and optimistic expectation as well. But as she waits to see the final result of the merging of the "old" (the main Ethereum blockchain) with the "new" (the recently developed "beacon" blockchain), she isn't simply sitting around worrying or speculating. She has much more important things to do. Like creating a brand new NFT collection.
As an experienced NFT creator and innovator, Jenny Ta is hard at work on her latest NFT project, a 10K NFT collection with matching IRL toys that she is developing to commemorate the ETH Merge while honoring Ethereum's co-founder, Vitalik Buterin, through the collection she's named after him.
Her "Vitalik The Goat" NFT/IRL toy collection was inspired by a tweet in which NFL quarterback Tom Brady of the Tampa Bay Buccaneers, himself a crypto enthusiast, sent to Buterin praising him for everything he's built in the world of crypto. In the tweet, Brady also said he hoped to meet Buterin one day and signed off with his personal assessment of the NFT innovator, a simple goat icon, effectively calling Buterin the "greatest of all time" (G.O.A.T.).
Jenny was inspired by the tweet, which was graciously and sincerely written to counteract a rash of harshly critical and unkind tweets comparing Buterin unfavorably to Brady.
"The goat image, representing the 'greatest of all time' was very inspiring to me," says Ta. "It really encapsulated just how much Vitalik has accomplished by not only turning Ethereum into the second largest cryptocurrency in the world but by actually making it even bigger than Bitcoin by adding a ton of utilities." To make her point, Ta mentions the fact that while Bitcoin may be the original crypto, it offers zero utilities, making it much less versatile than Ethereum. "So, that tweet really inspired me to honor this young tech genius, a young man who is on the order of an Elon Musk, by creating a 10K NFT and IRL collection to commemorate The Merge."
Jenny Ta's "Vitalik The Goat" collection will feature an impressive 10,000 unique NFTs that will each correspond to an exclusive matching IRL bobblehead toy. One custom-designed collectible bobblehead will be created for each NFT purchased from the collection, and no two bobbleheads will be alike.
Buyers will also be able to select their own NFT and matching bobblehead, which will be available for purchase either via OpenSea or on Jenny's soon-to-launch VitalikTheGoat.com website. This is an advantage for Jenny Ta's buyers, since, unlike her, most other 10K NFT collection sellers use technology to randomly select the NFT on the buyer's behalf. But Jenny would rather let her buyers choose for themselves.
A few other features of note will make the "Vitalik The Goat" collection even more special:
A lottery will be held live on Twitch before a global audience on September 30th to draw 100 of the NFTs in the collection that have been sold by that date. The selected NFTs will be eligible to have their matching bobblehead toy custom-built in Ledger.
Of the 10K collection, 1,000 pieces will be autographed by the entire seven-member team: (1) Jenny Ta (creator/originator of the project), (2) Alexandre Lores (Chief Editor), (3) Shawn Block (Chief Creative), (4) Kevin Daus (Chief of Research), (5) Atefeh (Amy) Yazdi (Chief Communications Strategist), (6) Stephen J. Caggiano (Chief Branding & Growth), and (7) Rod Wright (Chief Analyst).
NFT pricing and quantities for this collection:
500 NFTs: 0.5 ETH (Ethereum)
1000 NFTs: 0.67 ETH
2000 NFTs: 0.75 ETH
5500 NFTs: 1.0 ETH
1000 NFTs: 1.25 ETH
500 NFTs: Additional allotted for promotions
Jenny Q. Ta's soon-to-drop 10K "Vitalik The Goat" NFT/IRL collection is the first-of-its-kind Vitalik Buterin NFT/IRL collection to drop.
Jenny Ta is doing everything in her creative power to make these one-of-a-kind NFT and bobblehead pairs an apt reflection of her immense regard for the young crypto master whose name they bear. Learn more about "Vitalik The Goat" here.
FOLLOW MORE IBT NEWS ON THE BELOW CHANNELS