Jerry Lewis Still Thinks Female Comedians Aren't Funny: 'I Cannot Sit And Watch A Lady Diminish Her Qualities'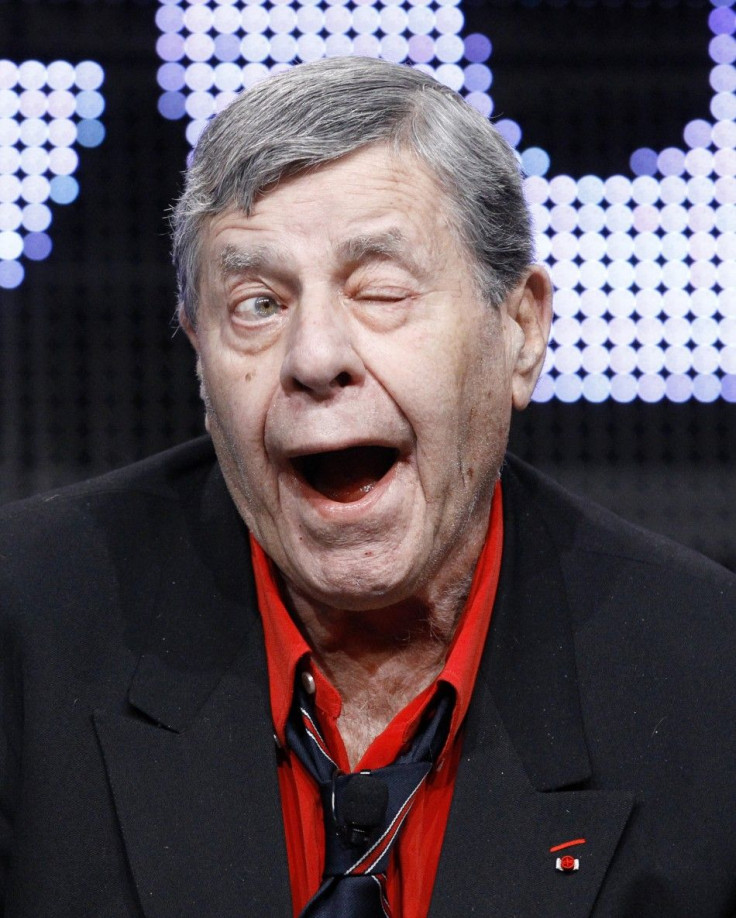 Jerry Lewis has a major problem with female comedians. Despite the massive success of comedians like Tina Fey, Sarah Silverman and Amy Poehler, Lewis just doesn't find female comedians funny. Any of them.
On Thursday, Lewis made an appearance at a Cannes Film Festival press conference to discuss his life and legacy. According to the Associated Press, a journalist asked Lewis about his favorite female comedians. His response: "I don't have any."
"I cannot sit and watch a lady diminish her qualities to the lowest common denominator," Lewis said to the shocked audience. "I just can't do that."
Lewis' remarks about female comedians may be shocking, but they shouldn't be surprising for anyone familiar with the 87-year-old comic's views on women. In 1998, Lewis spoke at the Aspen Comedy Arts Festival and famously remarked that he couldn't stand to watch female comedians. Lewis stated that he couldn't even appreciate Lucille Ball's comedy, preferring to think of her as a machine for making babies.
"A woman doing comedy doesn't offend me but sets me back a bit," Lewis said. "I, as a viewer, have trouble with it. I think of her as a producing machine that brings babies in the world.
Still, no matter how predictable Lewis' comments may be, his accusations that women aren't funny are still troubling. Sure, Lewis is from another generation and may be expected to hold some regressive views, but women have played a major role in the comedy world for decades now. Certainly, women have been comedy stars for as long as Jerry Lewis.
Let's look at the timelines. Jerry Lewis made his first TV appearance with Dean Martin on "Toast of the Town with Ed Sullivan" in 1948. By contrast, Lucille Ball had been appearing in Hollywood films since the early 1930s. By the time her hit TV show "I Love Lucy" premiered its second season in 1952 -- only four years after Lewis' debut -- Ball was the biggest television star in the world.
To put it another way, female comedians weren't unheard of when Lewis was a young man. They certainly aren't a new development that Lewis has simply been unable to cope with in his old age. Women comedians were performing alongside him in his 1950s heyday. At this point, he should have no problem with the concept. It's frankly baffling that more than 60 years after Lucille Ball became an American comedy icon, Jerry Lewis still can't conceive of women as anything other than child-bearing machines.
© Copyright IBTimes 2023. All rights reserved.