Jerry Sandusky Seeking Better Prison Conditions After Two Months Of Being Locked Up 23 Hours A Day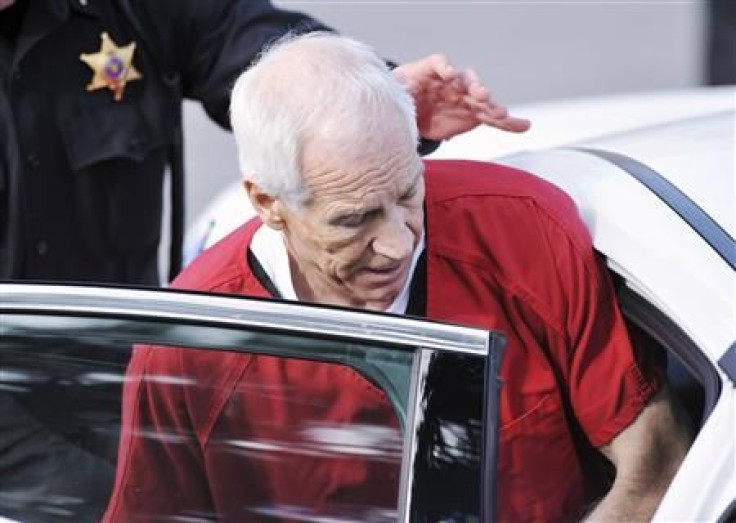 Two months after he was convicted on almost 70 counts of sexual abuse, Jerry Sandusky is seeking better prison conditions. Sandusky, 68, was the center of the Penn State controversy last year when it was alleged that not only had he raped at least 10 children, but that his superiors -- including the University's once-revered head coach, Joe Paterno -- covered up and consequently enabled the pedophilia.
Attorney Karl Rominger told the Associated Press that his client Sandusky, the former Penn State defensive coordinator, is a Level 2 prisoner living in Level 5 conditions, meaning he is locked in his cell 23 hours a day and for the entirety of the weekends. Unlike regular Level 5 prisoners, Sandusky is able to watch television and make two phone calls a month, one more than Level 5 inmates are allowed.
Sandusky was given a 30-60 year sentence but has never wavered from claiming his innocence. Rominger said it was evident that some of Sandusky's shock of the trial and media attention had worn off during a recent visit to Greene State Prison in southern Pennsylvania. It's the same facility where most of Pennsylvania's death row population is housed.
"I was meeting with a man who was again ready to press forward, who has regenerated his energies and has clearly devoted his time and energy to perfecting that appeal," Rominger said. "His fight is 100 percent back … We understand the prison system is trying to balance their concerns about physical safety. We are just looking for middle ground."
Rominger said Sandusky understands the risk of living among the prison's general population but would rather live with fear for his personal safety than be alone for 23 hours every day. A judge will hear the legal arguments on Jan. 10.
Sandusky is also fighting the state pension board's decision to revoke his annual $59,000 pension. The Associated Press reported that the ruling came because he was convicted of involuntary deviate sexual intercourse and indecent assault, which goes against the Public Employee Pension Forfeiture Act, which denies retirement money to any public school employee convicted of a sex crime against a child.
Attorney Charles Benjamin argued that the Act does not apply to his client because the rules were amended in 2004, five years after Sandusky retired. The pension stipulation has been in place since 1970. By September 2012, 13 years after his retirement, Sandusky had collected about $900,000 in pension checks.
© Copyright IBTimes 2023. All rights reserved.